The BBC drama Sherlock won an impressive seven awards at the Emmys, more than any other show, which came as a surprise to many. The three awards most discussed are those for Benedict Cumberbatch and Martin Freeman for best actor and supporting actor, and Steven Moffat for best writing in a mini-series.
It's understandable that these names drew the headlines, but we shouldn't overlook the technical awards that it scooped: for picture editing, sound editing, cinematography and music composition. After all, a large part of Sherlock's success is its distinctive visual and aural identity. It's a good-looking, sleek and modern show that brings the Sherlock Holmes myth up to date.
Despite its seeming ubiquity in the UK when a new series is being broadcast, Sherlock is globally much more of an online phenomenon than a broadcast one. Surprisingly, given the Emmy awards, Sherlock doesn't attract massive ratings in the United States, and is shown on PBS rather than BBC America, which screens Doctor Who. It hasn't crossed over into mainstream American consciousness like Downton Abbey has.
So something else explains the show's runaway success at these famous American awards – it appeals on a very critical level. I reckon this is because there are just so many ways in to the show: it can be appreciated on numerous levels.
Stylish
The programme has a signature look that's instantly memorable. And Sherlock himself is always represented as having innate style, right from the first series. His trademark coat (a Belstaff "Milford", if you're interested) became an instant bestseller. And we knew that Jim Moriarty was a worthy foe in the series one climax, when he announced that his suit was by Vivienne Westwood.
Despite this concentration on fashion the moments of comedy and the bickering between Sherlock and John ensure that it doesn't come off as pretentious or self-important. The visual and audio effects, for example the trademark appearance of text on screen when Sherlock (and later, the villain Magnussen) is "reading" people, make the experience of watching and listening to the show feel like sharing flashes of Sherlock's consciousness.
And then there are the stories, which can be followed and appreciated for the way that, increasingly, they weave together disparate clues and characters. Or, viewers can explore and analyse them as free adaptations of various elements of the original stories by Sir Arthur Conan Doyle. Given all this, the series stands up to, and in a way requires, multiple viewings in order to appreciate details missed the first time around. Perhaps it's these aspects of Sherlock that transcend barriers of language and culture and contribute to its global success – it's hugely popular in Japan and China.
London calling
Then again, Chinese and Japanese consumers are known to seek out traditional British brands, and Sherlock manages to brand itself as a seductive mixture of old and new Britain. London, in particular, is presented as a blend of modern skyscrapers and Victorian buildings and curiosities, like the fake house-fronts at Leinster Gardens that featured in His Last Vow.
Instead of taking place at the Reichenbach Falls in Switzerland (as it does in the books), Sherlock's supposedly fatal struggle with Moriarty in series two played out on the roof of St Bart's Hospital. And then of course there's the infamous house in Baker Street (filmed on North Gower Street). These landmarks, invested with new significance by the show's fans, have become part of a touring circuit for Sherlock's worldwide following. There's a "heritage" version of Britain on display that isn't too far removed, in its international appeal, from that of Downton Abbey (which swept the board at the Emmys in 2011) .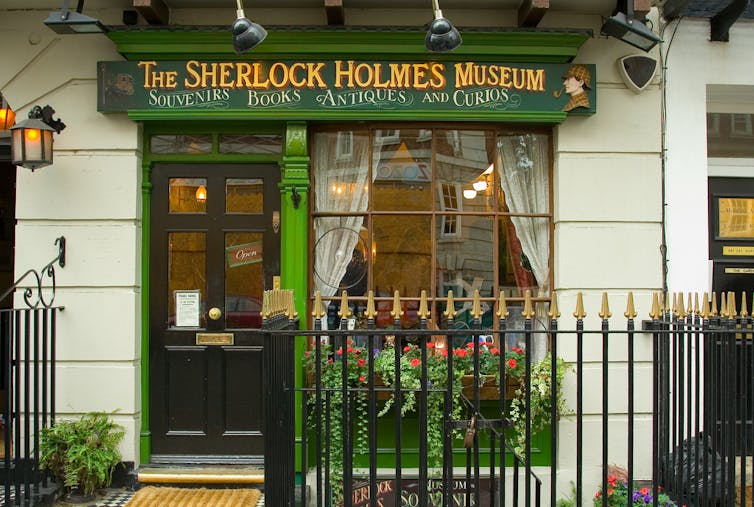 Ultimately, Sherlock attracts devoted audiences because of its peculiarities in a world of formulaic television. Internationally, it's a phenomenon, but a cult phenomenon. The casting of Cumberbatch and Freeman has been critical to its success, and has helped make both actors rising international stars. Ironically, this has made it ever more difficult to film more Sherlock episodes due to their other commitments.
So the show will continue to attract value from its scarcity: sporadic series of three feature-length episodes, and a mooted forthcoming Christmas special. What's more, both Sherlock and John have a misanthropic edge to them that, even in a TV landscape after House, still feels bold.
At the time, the writing in series three attracted criticism for foregrounding character relationships at the expense of crime-solving, but again, this is an example of Sherlock going its own way instead of following a conventional TV detective formula. It's interesting to note that this formula is much more noticeable in Sherlock's American rival, CBS's series Elementary, which stars Jonny Lee Miller as an English, modernised Sherlock working in New York.
So yes, Sherlock capitalises on the British heritage angle, alluding to, without explicitly referencing the Holmes stories' Victorian roots. But it's by insisting upon its right to be complex, unruly and morally ambivalent that the series has struck a chord with viewers across the world.