UKIP is assembling at Doncaster Racecourse for its annual conference, riding high on some major victories over the past few months and preparing for a by-election that could well secure the party its first seat in the Commons and, next year, for a general election that will see the leader himself, Nigel Farage, contesting a parliamentary seat.
Farage is in a buoyant mood and the two-day meeting is being billed as UKIP's biggest ever. With the 2015 election just around the corner it's worth looking at the big questions that will define this growing party and the campaigns of its rivals in the coming months.
Will Douglas Carswell's defection pay off?
The biggest UKIP story of the year was without doubt the defection of Conservative MP Douglas Carswell to Farage's team. It was a big blow for David Cameron and has prompted a by-election in his Clacton constituency, to be held on 9 October.
Carswell was always a maverick MP. He is not only a Eurosceptic but an arch-libertarian, taking many contrary positions to the Conservatives. Cameron may not actually be that upset to see him go but he didn't want to have to fight a by-election this close to the general election.
It is a rare and politically brave position to resign your seat, swap parties and re-contest. But Carswell has gambled that he has a strong personal vote in Clacton. That, combined with strong UKIP polling will carry him into the Commons.
Will more Tories defect?
Much of the chatter after the Carswell defection concerned which Tories would follow him. It has not gone unnoticed that Stuart Wheeler, the former Tory donor and now UKIP treasurer, has been wining and dining potential defectors for a while now.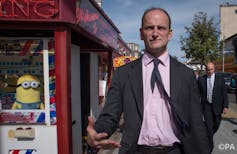 Few of these have as good a chance as Carswell at getting straight back into the Commons as a UKIP MP, though. There are two varieties of Tory Eurosceptic – the hard, who want a referendum on the UK's membership of the EU, and the soft, who want to see EU reform. Both groups reason that Cameron still gives them the best chance of realising either scenario so Carswell may be the only one to defect, unless Tory polling takes a nosedive nearer the election.
Disgruntled Tories are currently focusing attention on David Cameron and William Hague, pushing for Scottish MPs to be barred from voting on English issues in the House of Commons and are likely to be distracted by the "English question" for a while to come.
Will Farage win South Thanet?
This is not as straightforward as it may seem. Farage does have roots in the constituency in which he is campaigning and UKIP won seven of the eight local council seats in May 2013, as well as topping the poll in the European Parliament elections in 2014. Farage is a stronger household name than ever and is certain to garner a substantial personal vote.
But South Thanet will be a three-way contest. Labour won the seat from Jonathan Aitken in 1997 and held onto it until 2010. That's when Laura Sandys, a rare pro-European Tory, won the seat with a 7,600 majority. She has since decided not to contest it again in 2015.
Farage is not guaranteed a free run. A July poll of marginal seats put UKIP ahead in the constituency but only by a couple of percentage points from Labour. What's more, the Conservatives have selected a former Ukipper to run for them. That complicates matters because it makes anti-Farage votes less likely to flow to the Tories. UKIP's strength is currently in second-order elections. The party has had success in local and European elections for which turnout is low but it it is relatively untested in bigger battles.
Despite all this, the smart money will be on Farage making it over the line in South Thanet.
Will Labour benefit?
The answer to this one is both yes and no. The Carswell defection is bad for Cameron; it is a distraction and it knocks a hole in his policy of delivering EU reform and then a referendum. Labour is still holding out before committing to an EU referendum. The opposition should benefit from division in the Tory ranks but research has shown that UKIP is also taking votes from Labour.
UKIP has performed well in the low-income, working-class, marginal constituencies in which Labour should be making ground but isn't. Labour needs to take the UKIP threat seriously and can't sit back and watch the Tories squirm.
Can UKIP go mainstream?
UKIP is best known for its anti-elite, anti-immigration, and anti-Europe message. While UKIP has always held policies in this libertarian vein, such as flat tax, it has never had someone with the communication abilities of Carswell to get them across to the public.
Carswell has been one of the most prolific thinkers in British politics over the past few years. He has focused in particular on how to reform politics by devolving power to local constituencies through referendums on important issues and on recalling votes for citizens who are unhappy with the performance of MPs and other elected officials. His Euroscepticism stems from his belief that Britain needs to stand alone in the world and develop itself into a liberal trading hub like Singapore.
This means liberalisation, deregulation and a total focus on export over consumption for national economic policy. Whatever the viability of these policies, or the public's willingness to embrace them, they bring much greater diversity to UKIPs policies.
Will UKIP hold the balance of power?
This is the nightmare scenario for each of the main parties. With the expected implosion of the Liberal Democrat vote in May 2015, UKIP could pick up as many as nine seats from the Conservatives and potentially (though admittedly implausibly) two or three seats from Labour. This could potentially give Farage the role of kingmaker in a hung parliament. Farage is of course talking this scenario up – and the anomalous position of Scottish MPs voting at Westminster helps him.
When the campaign proper gets going, UKIP's anti-EU message may get drowned out by more prosaic concerns, such as the economy, and it may not make such huge gains after all. Farage holding the Commons to ransom may therefore be the least likely scenario – but in politics, prediction is a dangerous business.
These are all questions that will be answered fairly soon but one thing is certain now – UKIP will play a central role in both the campaign and the result of the coming election. Farage is stronger than ever and is revelling in the trouble he can cause in the fall-out from the Scottish referendum. As long as Cameron, Clegg and Miliband keep giving him material, he'll continue to use it.