The front page of Saturday's edition of the Sydney Morning Herald on the weekend was dominated by a story about the actor Rachel Griffiths and her husband, artist Andrew Taylor "playing swapsies" with their family roles.
It was noted in the article that Griffiths, well known internationally for her roles in such American television series as Six Feet Under and Brothers & Sisters, had moved with her family back to Australia. She was now supporting her husband's work after he had been a stay-at-home dad caring for their three young children over the past ten years. Griffiths was spending more time at home while Taylor prepared for two exhibitions of his paintings.
According to the article, before the move back to Australia, Taylor had made dinner each night for the family and had taken time off from his painting during school holidays to look after their children. In the meantime, Griffiths had been kept busy working long hours on her acting jobs.
Why is this couple's role-swap headline news? Why it is so intriguing that Taylor had regularly made dinner and cared for his children while Griffiths was elsewhere, earning a presumably handsome salary as a televison actor?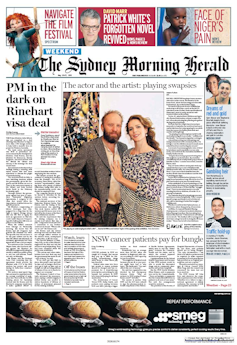 As long as 40 years ago, the second-wave feminist movement called for women to be released from carrying the major responsibility for housework and childcare. Yet the idea that a mother would pursue her career and be the main breadwinner while her partner puts his career second to family duties still makes the front page of a major broadsheet.
Griffiths' fame as one of Australia's most successful actors in Hollywood and her return to Australia after a decade away is surely part of the newsworthy aspect of the story. But Griffiths and Taylor's role swap is used to illustrate the rarity of their domestic arrangement.
Later in the Herald's article, statistics are quoted from recent research by the Australian Institute of Family Studies. These show that in Australia stay-at-home fathers not employed in paid work account for less than 5% of families with children younger than nine. In less than 1.5% of families the mother the full-time breadwinner while the father works part-time in paid employment.
There is very little in-depth research available on the Australian situation to account for men's reluctance to take on the primary caring role for their families. The fact that men still earn more on average than women in Australia is an obvious reason why fathers are far more likely to be the primary breadwinner. Sociological research into this topic in countries such as Belgium and Canada and the US has discovered that economic reasons are central to a couple's decision for the woman to work full-time while the man stayed at home.
This research has also shown that men who stay at home often find they must deal with social stigma. Negative reactions may come from the mothers with whom they are interacting daily as part of their childcare activities and who may be reluctant to accept them into their social groups. Men may feel isolated from other men and be the target of critical comments from their male friends and relatives.
Stay-at-home dads may struggle with their masculine identity and sense of self-worth because of the strong relationship between family care work and femininity. Some men deal with this by continuing to engage in male-dominated leisure activities or part-time paid employment.
Women, for their part, may feel ambivalent about relinquishing the care work to their partners while they take on the primary breadwinner role. This is again because of the strong association of femininity with caring work. The concept of the "good mother" is also influential in women's feelings about going out to work. This concept suggests that mothers should put their family's needs above their own and that the working mother is less capable of this than the stay-at-home mother.
Even the highly successful Griffiths commented in the Herald story that she was "loving" spending more time with her children while they were "still young" and that she did not have "a huge interest in doing the 80-hour weeks". These comments suggest that her past choices about work may have caused her some disquiet.
Despite these negative aspects of couples swapping roles, sociological research has also shown that there are many positive aspects to fathers staying at home.
When men do take on the primary carer role it often results in greater gender equality in the division of labour and in men's support for women in the workplace. Men who stay at home comment that they realise how demanding childcare and housework can be and also how valuable it is for the family's well being.
Role swapping has the potential to gradually change assumptions about how "good mothers" and "good fathers" should behave.
Media attention given to celebrities such as Griffiths can be useful in the beginning to challenge these assumptions, even while highlighting the still unusual nature of such a domestic arrangement.