It was at a 1913 meeting for the Women's Social and Political Union (WSPU) in London that suffragette Emmeline Pankhurst cried: "I would rather be a rebel than a slave."
Pankhurst was a militant campaigner for women's voting rights, a calling that meant she and many others were imprisoned repeatedly by British authorities.
The story of the political opposition experienced by these early-twentieth-century activists is told in the upcoming film Suffragette (2015), which made headlines this week after Pankhurst's words were used in a marketing campaign to promote it.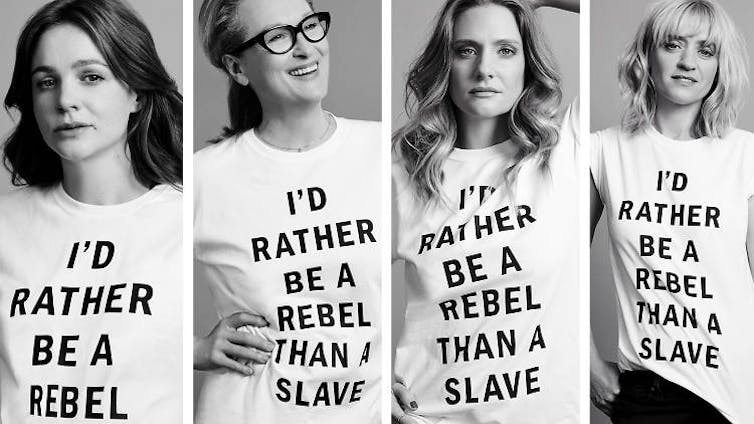 Response to the campaign – which involved the film's stars, including Meryl Streep (who plays the role of Pankhurst), donning t-shirts emblazoned with the contentious slogan – was swift:
Buzzfeed noted people's "upset" reactions and Vulture deemed the choice of slogan "unfortunate", while The Mary Sue described it as "tone-deaf".
So why the outcry? Pankhurst's quote speaks to one of the greatest rifts in the history of feminism. Not only does it suggest an analogy can be drawn between women and slaves. It also suggests that slavery was a choice, ignoring the competing privileges and injustices derived from race and class.
It demonstrates how the interests of women of colour are seen as peripheral to women's rights activism, when in fact they should be at its centre. In the United Kingdom, the United States and elsewhere, such language has been used to overlook how racial, class and gender oppression intersect.
A history of antislavery and women's rights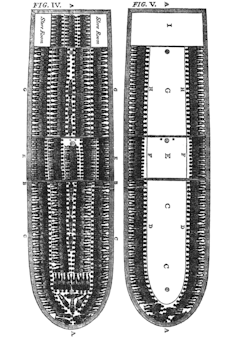 Prior to the expansion of the Atlantic slave trade, liberty versus tyranny – slavery versus freedom – were linguistic flourishes frequently used by Enlightenment philosophers.
Though this language had not yet attained clear racial overtones, hypocritical paradoxes soon emerged.
The political theory of Enlightenment philosopher John Locke relied heavily on the rhetoric of liberty versus tyranny. But, according to James Farr, Locke was "a merchant adventurer in the African slave trade" who promoted England's colonial policy.
A similar lexicon inspired protofeminist philosophers and social reformers. Mary Astell, in Some Reflections Upon Marriage (1730), asked:
If all Men are born Free, how is it that all Women are born Slaves?
As Kathryn Kish Sklar and James Brewer Stewart demonstrate in Women's Rights and Transatlantic Antislavery in the Era of Emancipation (2007), the nineteenth-century foundations of the antislavery and women's rights movement were intertwined.
For many social reformers, rhetorical slippage occurred when describing the oppression of abducted and enslaved Africans and that of women, so racial overtones became increasingly common.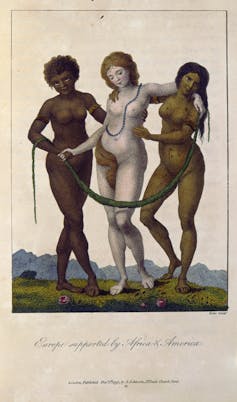 Women "may be convenient slaves", Mary Wollstonecraft wrote in A Vindication of the Rights of Woman (1792), "but slavery will have its constant effect, degrading the master and the abject dependent."
Historian Moira Ferguson observes more than 80 such comparisons in Wollstonecraft's book. Some refer directly to chattel slavery in European colonies; others focus on slavery as a metaphor for unfreedom.
Similarly, British poet and printmaker William Blake's 1796 etching, Europe Supported by Africa and America, linked the oppression of women to racial exploitation in European colonies.
Alongside the power imbalances borne of colonialism, this rhetoric had negative implications for the way Europeans engaged with non-white peoples. Ferguson describes the rhetorical reliance on slavery as "Anglo-Africanism":
a colonialist discourse about slavery that unwittingly intensified negative attitudes towards Africans in general and slaves in particular.
The comparison between women and slaves became even more prevalent amongst US social reformers. Here, chattel slavery was so much more tangible because of its geographic proximity.
This analogy was ingrained in the reform vocabulary of US antislavery and women's rights reformers such as Sarah and Angelina Grimké and Elizabeth Cady Stanton. These women were also pioneer suffragists for movements in the US and the UK.
However, Indian and other non-white women were also intrinsic to transnational women's movements. African American women such as Sojourner Truth, Mary Church Terrell and Ida B. Wells were at the forefront of the antislavery, women's rights and anti-lynching movements.
But internationally, Leila J. Rupp argues, white women reformers tended to forge bonds between one another.
In addition, prominent white suffragists like Stanton sidelined the efforts of women of colour. They also infused their women's rights arguments with white supremacy, using violent language to justify what they saw as the greater importance of white women's rights.
Laura Clay, the founder of Kentucky's first suffrage organisation, wrote:
The white men, reinforced by the educated white women, could "snow under" the Negro vote in every State, and the white race would maintain its supremacy without corrupting or intimidating the Negroes.
Similarly, Rebecca Felton, the first female Senator in the US, argued:
I do not want to see a negro man walk to the polls and vote […] while I myself cannot vote at all. […] If it needs lynching to protect woman's dearest possession from the ravening human beasts – then I say lynch, a thousand times a week if necessary.
The history of women's rights, suffrage and feminism is infused with white women's racist diatribes. Such utterances demonstrate a systematic misunderstanding of racial and class oppression.
Making and remembering history
So how does Suffragette fit in? It is a film that clearly has good intentions.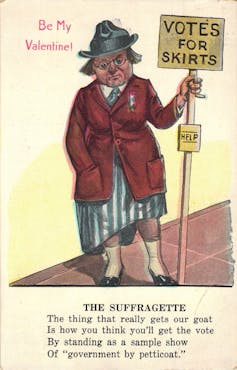 It will likely have a historically sound narrative, pass the Bechdel test and doubtless be uplifting.
Suffragette seems particularly concerned with the exploitation of working class women, an issue that can be overlooked due to the tendency to focus on privileged middle-class white women.
It will also create positive images of defiant suffragists, unlike the ridicule produced by anti-suffragists or the negative popular culture depictions of characters such as Mrs Banks from Mary Poppins (1964).
But even Mrs Banks echoes Pankhurst when she encourages women to "cast off the shackles of yesterday" in the song Sister Suffragette.
When creating historical memory, however, there is the constant danger of repeating the problems of the past.
Much black feminist scholarship critiques the power hierarchies of feminism. As bell hooks writes in Ain't I a Woman (1981), nineteenth-century black women understood that "true freedom entailed not just liberation from a sexist social order that systematically denied all women full human rights."
In All the Women Are White, All the Blacks Are Men, But Some of Us are Brave (1982), Gloria T. Hull, Patricia Bell Scott and Barbara Smith identify another key paradox: if scholars of race are primarily concerned with men, and scholars of gender focus on white women, where do women of colour fit in?
This gap is where the theory of intersectionality comes in. Since oppression and privilege are derived from many different sources – gender, race, class, ethnicity, religion – the way these factors interlock must not be taken for granted, as they have been in the past.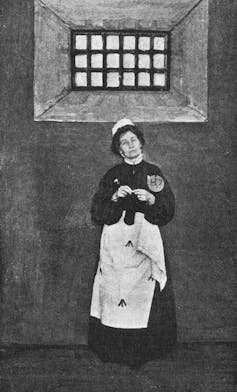 The way British suffragettes used the language of slavery and tyranny, according to Laura E. Nym Mayhall, led them toward militant social protest. Routine imprisonment and force feeding meant their references to "shackles" did not necessarily mean chattel slavery.
Yet, as the Pankhurst quote demonstrates, they also did mean slavery. Specifically chattel slavery? Sometimes yes, sometimes no; but suffragists were certainly aware of the connection, and exploited it largely for the benefit of white women.
This permeated the historical memory the suffragettes created. Emmeline's daughter Christabel Pankhurst entitled her history of the British movement Unshackled: The Story of How we Won the Vote (1959).
Even today, the politics of remembering is tainted by the tendency to remember white women's history. This system of erasure is repeated by the celebrations surrounding the suffrage centennials.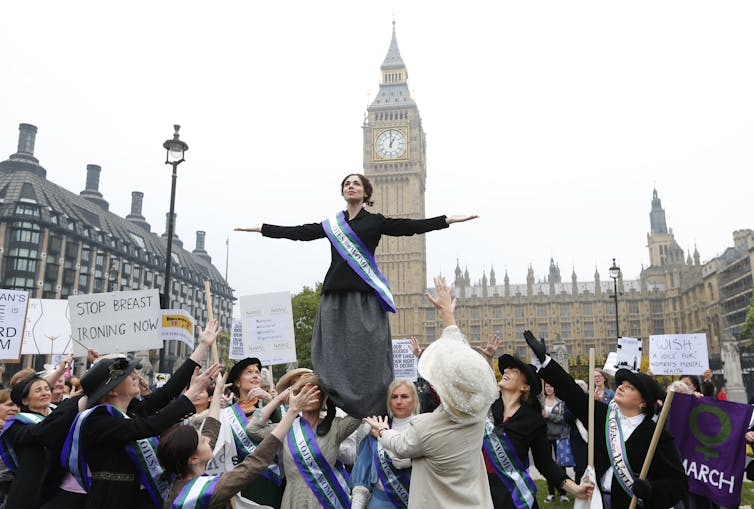 Rebel, yes; slave, no
From a historical perspective, then, the use of this Pankhurst quote is not only accurate; it's all too familiar.
If we look to Pankhurst's many other speeches, as Bustle suggests, we would certainly find less offensive quotations. But we would also find more of the same.
In a June 1912 editorial for the WSPU newspaper Votes for Women, Christabel Pankhurst wrote:
Woman Suffrage […] is a case of one sex being held in bondage by the other sex.
And Emmeline Pankhurst's autobiography My Own Story (1914) concluded:
For men to remain silently quiescent while tyrannical rulers impose bonds of slavery upon them is cowardly and dishonourable, but for women to do that same thing is […] merely respectable.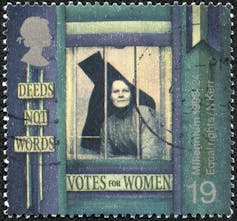 To understand the suffragettes, we need to consider what they said and why they said it; to view them as the fallible products of their time as well as the radicals they were.
And today, it is worth emphasising that Meryl Streep, Carey Mulligan, Romola Garai and Anne-Marie Duff are rich, privileged, white women who are celebrity movie stars – certainly not slaves.
There is a perversity in claiming otherwise when racial discrimination and domestic violence remain very present concerns; ISIS are selling Yazidi women as sex slaves; and thousands of adults and children continue to fall victim to human trafficking worldwide every year.