Earlier this year, Pittsburgh Pirates outfielder Andrew McCutchen wrote an essay for the Players' Tribune titled "Left Out." In the article, McCutchen describes growing up in Fort Meade, Florida – a small town where most families scraped to get by – and how that affected his ability to play sports.
…nobody outside of Fort Meade knew who I was… When you're a kid from a low-income family who has talent, how do you get recognized? Now, you have to pay thousands of dollars for the chance to be noticed in showcase tournaments in big cities. My parents loved me, but they had to work hard to put food on the table, and there wasn't much left over.
According to McCutchen, had it not been for the generosity of a coach who was willing to cover his travel expenses and tournament fees, he might have never been able to play with the best, flourish as a ballplayer, be noticed and, eventually, become a first-round draft pick.
Many young athletes aren't so lucky, and the escalating costs are a growing concern on sidelines and in bleachers across this country. Ultimately, the price of play threatens something fundamental about sports for our kids: the expectation of a level playing field and an egalitarian spirit.
One family's burden
When researching my book about the business of youth sports, I documented many ways that commercialization is changing and distorting sports activities for children. In the process, I interviewed dozens of children, parents, coaches, sociologists, economists – and one blogger.
The blogger was a Cincinnati-based father of three named Fran Dicari, who had titled his blog StatsDad. For an entry titled "Youth Sports Costs," Dicari meticulously recorded each sports-related purchase made by his family over the course of a year. By the end of the year, there were 43 different items ranging in price from a few dollars to more than US$1,000.
Dicari listed two dozen recycled golf balls ($10) and a pair of softball socks. He recorded two soccer trips to Dayton, Ohio and baseball trips to Kentucky and Indiana. Finally, there was a baseball tournament that took the family all the way to Cooperstown, New York (accommodations alone cost $1,000).
The final total? The Dicaris' youth sports bill for the year amounted to a whopping $8,921.
Others speak out
Though Fran Dicari's blog tracked one family's spending, it wasn't an outlier. Many parents have made an uneasy peace with the expense of youth sports, but others are less sanguine.
I heard from a number of parents who noted the burden youth sports can have on a family's budget. Here's a sampling of their responses:
I'm a single mom and having kids in travel soccer is very expensive (well, whether you're a single parent or not – it's expensive). Now teams have parents on monthly payment plans (like a car payment!).

Parents will stop at no cost to pay for the best coaching or equipment for their kids. I have seen thousands of dollars spent on nonsense items and camps because of names and name brands, without any considerations for what they may be getting in return.

It's sad to me that youth sports are really not all about true talent anymore. With the new technology and travel and showcase teams being where all the scouts go it's turned into a rich person's game. If you don't have the money, you are a lot of steps behind…

When I think about how much we've spent over the years, I'd say we're nuts.
Sport sociologist Jay Coakley has written extensively on the economics of youth sports. As he explained to me, "If you're not upper middle class or middle class with three credit cards, you're going to have a hard time keeping your kids involved in sports at a relatively elite level. The average household income in this country is about $52,000. The cost of one kid playing can be six or seven thousand dollars. Where does that leave the average middle-class family?"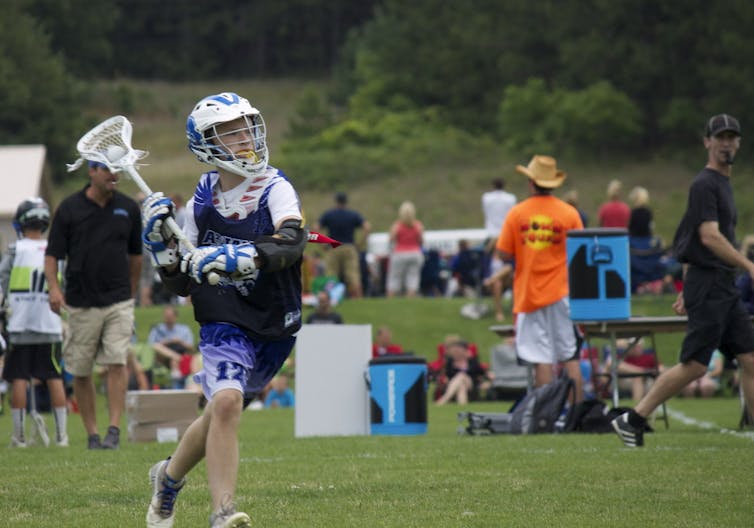 Keeping up with the Joneses
It's not difficult to understand why youth sports have attracted an unprecedented level of attention, from conglomerates like Nike to individual entrepreneurs: there's huge demand.
About 41 million children participate in sports each year, and many parents are eager (too eager) to spend if it means even a remote chance of giving their child an edge. This arms race has whipped up a frenzy that, at times, turns comical. Have you heard of training DVDs for babies and infants? (I'm not joking.)
The youth sports economy has been estimated at $5 billion. That's probably low considering the spending that goes on beyond the core categories of equipment, registration fees and instruction. For example, if your child has traveled to a different state for sports, you've probably paid for a hotel room, a meal at a fast-food restaurant and a hotel bed.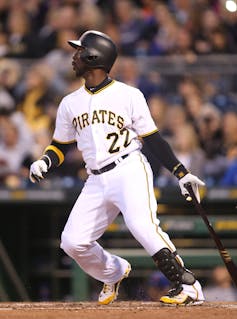 Most troubling are the effects on low-income families: it's no longer a given that a child with a desire to play sports will have the opportunity. As McCutchen details in his essay, many poorer areas or neighborhoods lack basic infrastructure, such as recreation centers or safe athletic fields, while public funding for these facilities in most municipalities has dried up.
Despite marvelous sports organizations that serve disadvantaged communities – Soccer in the Streets, Girls on the Run and Squash Busters, to name a few – these organizations do little to solve systemic problems of inequality in youth sports.
Misplaced priorities
Youth sports too often are driven by what adults are seeking – prestige, validation, perhaps a college scholarship. This isn't just the overly ambitious moms and dads. We're all vulnerable. It's in our DNA.
As sports psychologist Richard Ginsburg once told me, "The question isn't whether we're emotionally invested in our children, because we are. It isn't whether we see ourselves in our children, because we do." Kids typically take a more practical view. In study after study, they say they play sports to have fun and to be with friends.
Most children who play organized sports won't be great athletes. They won't play for their college teams. (In most sports, fewer than 5% of high school athletes will have that opportunity.) And they certainly won't go on to earn millions of dollars as professional athletes. (The odds against that are longer than hitting the lottery.)
For the overwhelming majority of children, playing sports is about acquiring skills that, as they age, will carry over to other aspects of their lives: learning to be a good teammate, gaining self-confidence and dealing with adversity.
It's important to remember that those things do not require the latest, most expensive piece of equipment.
---
This article is part of our youth sports series. To read the others in the series, click here.