In the end, Scots pulled back from the brink. After a referendum that saw support for independence start well behind in the polls, it grew over the long campaign. Dennis Canavan, former Labour MP who chaired Yes Scotland, was relaxed in acknowledging this imbalance at the start of the campaign. "I like climbing mountains," he told the Scottish National Party conference in March 2013. His presence at that conference was something he had never imagined would happen earlier in his political career as a Labour diehard. But his appointment as chair was a statement of where Yes needed to win support if it was to win the referendum.
But ultimately, Yes Scotland failed to overcome the lead that its opponents maintained throughout the campaign. There were signs that Yes had moved ahead in some polls in the final week but the trend never gained enough momentum.
There will be debate in the coming weeks, months and indeed years as to what stopped the break-up of Britain. Supporters of independence will blame BBC bias, UK government interference and the resources available to the No side. They will take some comfort that support for independence has risen much higher than had been expected by almost any commentator. But under the terms of the Edinburgh agreement, victory was defined simply in terms of which side won most votes.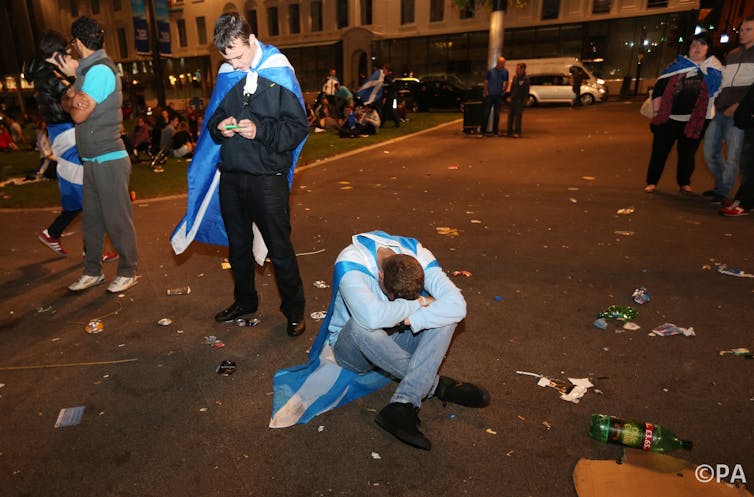 It is unclear what halted the shift to Yes. Labour will claim it was the intervention of former prime minister Gordon Brown and his emotional appeals to British nationalism in the final days of the campaign. Tories will claim it was the equally emotional appeals of prime minister David Cameron allied with the funding to the No campaign from Tory donors. In reality, it was a mixture of these and much more.
At the heart of this referendum, as in so many electoral contests, was a battle between hope and fear. Supporters of independence have accused their opponents of scaremongering – "Project Fear". The No strategy was to portray independence as a leap in the dark. Yes supporters insisted that these scare stories were absurd -– and indeed some were. No doubt someone will bring some of the most outlandish together in a book or some alternative medium but the strategy had an impact. Many voters may have doubted some, even most, of the claims from No but there was enough uncertainty in people's minds to ensure a No victory.
It may not have been an inspiring victory but that matters less to those campaigning for the Union than just winning. The Union is secure for now. But a commitment had to be made to give Scotland substantially more powers. That had not been part of the plan at the outset. Anyone who imagines that this referendum has settled the Scottish question for all time will be very disappointed. The third option – more powers – may not have been on the ballot as Scottish first minister Alex Salmond had wanted but he can at least take comfort in knowing he has succeeded in securing that.