The small South Korean town of Pyeongchang, host of this year's Winter Olympics, has suddenly become the epicentre of one of the most dangerous games in world politics.
Amid escalating tensions over North Korea's nuclear weapons program, and just after the United Nations and United States stepped up their already extensive sanctions regime against North Korea, an Olympian-cultivated olive branch has been offered.
North Korean leader Kim Jong-un's New Year message suggested the country might after all participate in the Winter Olympics just over the border. High-level talks between the parties quickly ensued in the truce village of Panmunjom in the Demilitarised Zone (DMZ).
Discussion, though, was not limited to the Opening Ceremony and figure skating. It extended to wider co-operation between the countries (including talks between their respective Red Cross organisations) and, crucially, to mitigating military tensions. A communication hiatus of more than two years between countries still formally at war has been ended by international sporting ties that bind.
Now, a substantial contingent of North Korean delegates – including athletes, coaches, senior officials, cheerleaders, artists, journalists, observers and a taekwondo display team – will enter South Korean territory for the Olympics. This will be a symbolic demonstration of reconciliation, and even of a mood for reunification projected to the world.
This is a classic instance of sport diplomacy – a concept popularised by the "ping pong diplomacy" between the US and China in the early 1970s.
Sport diplomacy provides a path forward
Suggestions of sport's special capacity to open doors have been around since the Olympic Truce offered safe passage for athletes and their entourages in the Ancient Games. It was also a key plank of the philosophy underlying the Modern Olympic revival.
Sport, though, has long been a manifestation of "soft power".
The Australian Sports Diplomacy Strategy contains the benign-looking goals of "connecting people and institutions", "enhancing sport for development", and "supporting innovation and integrity". But the other goal, "showcasing Australia", principally concerns promoting the export of the country's sporting and other goods and services.
Despite these doubts about the motivations behind sport diplomacy, in the immediate Korean context it is difficult to imagine many other overtures from outside the formal political apparatus avoiding immediate condemnation as sanction-busting treachery.
This is a significant diplomatic breakthrough considering the conflict-laden atmosphere. North Korea's continual testing of its long-range missiles has destabilised diplomatic relations among countries in northeast Asia and beyond. The tit-for-tat war of bellicose rhetoric between Kim and US President Donald Trump has exacerbated this problem.
---
Further reading: Five assumptions we make about North Korea – and why they're wrong
---
South Korea, a US ally and North Korea's estranged sibling, has seized an opportunity by inviting its northern neighbour to the party. Harnessing the notion of the Olympic Truce and describing the event as a "peace festival", South Korean President Moon Jae-in persuaded the Trump administration to postpone joint military exercises scheduled to take place during the Olympics.
No doubt Kim sees diplomatic advantage in being represented at the Olympics and in the myriad photo opportunities provided by the DMZ meeting, the Opening and Closing Ceremonies, sport contests, and the North Korean faces in the crowd.
The US is not running the show, and the presidents of the two Koreas may even agree to meet. This would give an impression, however misleading, that the US is reduced to the status of observer.
But it is naïve to see diplomacy as a zero-sum game - as if, like the sport event itself, an agreed score and a clear winner always transpires. Diplomacy is as much about theatre, performance and impression management as formal negotiations and the texts of treaties.
This may be a global shadow puppet show, or it might help thaw the frozen relations between North and South Korea. It's possible to hold both positions as the complex elements of the long, tragic history of the division of Korea and its exploitation by global superpowers merge and collide.
How sport and politics can mix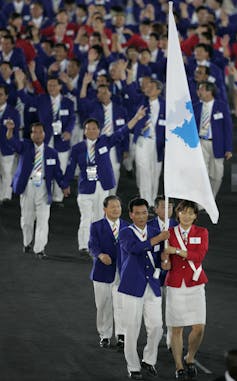 More than half a century of ideological conflict and cultural disconnection has created a deep cleavage, and it is unwise to expect too much of a one-off sporting exchange. After all, the two Koreas did march together at the Sydney 2000, Athens 2004 and Turin 2006 Olympics.
Former South Korean president's Kim Dae-jung reconciliatory Sunshine Policy toward North Korea won him a Nobel Peace Prize, but it did not prevent the prospect of a nuclear sun for the rest of us.
North Korean officials have refused to discuss denuclearisation in their bilateral talks. Kim is undeterred in celebrating his nation's military achievements, including the successful launch of a long-range missile that so disquieted most of the 206 nations affiliated to the International Olympic Committee. But at least those competing in the snowy landscape of Pyeongchang will feel a little safer now.
Ironically, the empty mantra that "sport and politics don't mix", so often used to bludgeon activist athletes, organisations and journalists, has been muted regarding this Winter Olympics.
---
Further reading: Sport, Sochi and the rising challenge of the activist athlete
---
Its mixture of sport, politics and diplomacy is a modest but meaningful sign of hope that peace may one day come to the Korean peninsula.