Theresa May, the British prime minister, has now delivered two speeches on the March 22 Westminster terror attack: an emotive address outside 10 Downing Street the evening after the incident, and a powerful statement to the House of Commons the next day. In both, and under tremendous pressure, she did a remarkably good job.
Though undoubtedly shaken, she managed to reach out to the country, as a whole. She might also have risen above the back-and-forth political battles – the endlessly divisive Brexit, or the possibile second Scottish referendum – that threaten to define her public persona. Instead, she conveyed a sense that this battle is something much bigger.
That came through particularly strongly in her speech to the House of Commons the next day. May used the word "terrorism" nine times, but unlike her speech the night before, it was never accompanied by emotive adjectives such as "sick" and "depraved". Instead, she assumed a more businesslike tone. Right from the start, she wove into her speech a sense of continuity and history: Britain has faced such challenges before and shown "resolve" that will never waver in the face of terrorism. Democracy and British values, she asserted, will "prevail".
This was not pure national chauvinism. Given she was drawing on values of "free speech, liberty, human rights, and the rule of law", she could easily have retreated into romanticised visions of the past, invoking the spirit of Winston Churchill or Margaret Thatcher. But instead, she presented a very modern vision of "a place where people of all nationalities and cultures gather to celebrate what it means to be free".
Reaching out to the world, she talked of governments working together and named the countries whose citizens suffered at the hands of a nameless terrorist. Here, she came across not as the leader of today's more closed-off, introverted Britain, but of a Britain at the forefront of fighting for freedom.
Though there are parts of the world where people may not see Britain's dedication to freedom in quite the same light, there could be no dispute over the dignity with which she offered condolence.
Who we are
Again, reaching out on a human level, she talked about the sacrifice made by PC Keith Palmer – the policeman killed outside the Palace of Westminster – in the simplest of language, sharing condolences on behalf of the nation without resorting to any form of hyperbole. The day demanded a simple message, of people going about their business and getting on with their lives – small acts of heroism in towns and cities up and down the country.
That country currently looks very divided, especially in the aftermath of Brexit, but the message here was that London's pain is everyone's pain. May made it plain that what she was describing did not stop at Britain's borders. Given what's happening in British and European politics today, the image was incongruous: the sort of land without boundaries that Britain has, for now, apparently decided not to be.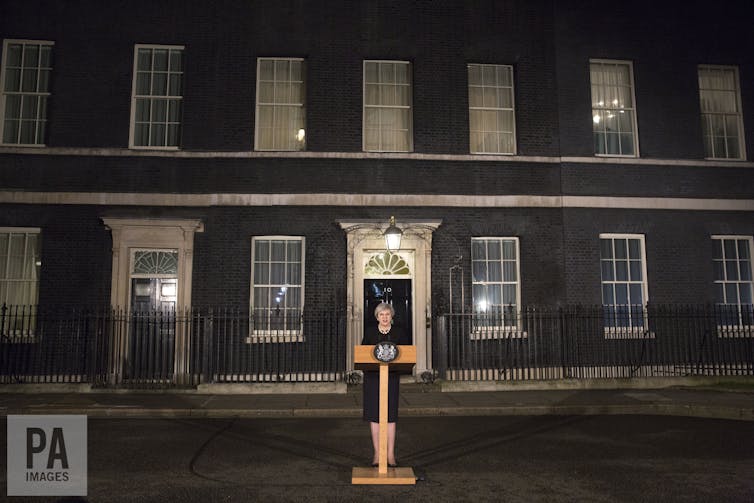 Yet just as May spoke of this tragedy bringing out the best in humanity, she also managed to restate the best of what Britain sees as its core values. Foremost among those is the importance of civic duty; the "greatest response", she said, "lies not in the words of politicians, but in the everyday actions of ordinary people".
To be sure, within all of this was a sense that security is going to get tougher. Beyond the talk of normality, many in London and Britain at large will fear that things will be less than normal for a long time. But again, it's important to think of the rhetorical road May chose not to take.
It would have been easy to carry on with some of the divisive language of recent times, and draw comparisons with other terror campaigns of recent decades. She declined to do so. With that choice, she stepped out of the shadow of Margaret Thatcher and the hawkish persona some observers and opponents are trying to project onto her.
I am no fan of May's politics, but I have to commend her for speaking not as the prime minister, but as the voice of the whole country. That is a rare thing for a leader to achieve.