British Prime minister Theresa May faces economic shock if London departs the European Union's single market after Brexit. She needs the salvation – even if it's distant and illusory – of a US-UK trade deal. She also needs to burnish the urn of the "special relationship". This had been tarnished when Trump warmly embraced Nigel Farage, who he suggested would make a good ambassador, before he had a fleeting thought about 10 Downing Street.
Trump, after antagonising and insulting a series of leaders and their countries, was happy for a photo opportunity with someone whose name isn't Vladimir Putin.
This was the backdrop to May's first visit to meet newly inaugurated President Trump. She will have had the now-ritual "front of the queue" mantra at the forefront of her mind. She has beseeched the Trump administration for a declaration of negotiations, even if they won't take place for years. In return, Trump got the prime minister's nod, smile and her discreet silence on the size of his inaugural crowd.
It was telling how high May was willing to leap to escape Europe for the welcoming shores of the US. "Dawn breaks on a new era of American renewal," she proclaimed during her speech to the Republican Party conference, as "President Trump's victory – achieved in defiance of all the pundits and the polls" came from "the hopes and aspirations of working men and women across this land".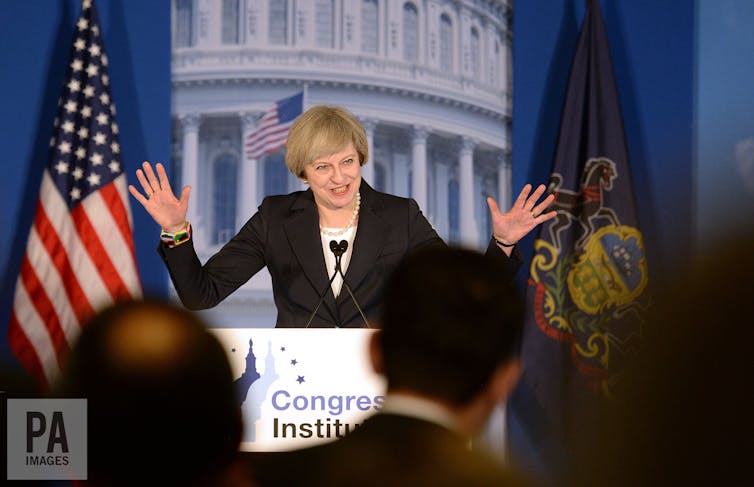 In that same speech, Churchill was invoked not once, twice, nor even thrice, but four times. Inevitably, May referred to his 1946 speech in which "Anglo-Saxon powers" defied the Iron Curtain. Now, again, the US and UK will lead, May declared, and all others will follow.
For this illusion, May was even willing to put aside inconveniences such as Trump's endorsement of torture ("it absolutely works"). While telling British papers she would ensure Britain did not follow the waterboarding, not a word on the matter made it into her speech – nor did she answer a direct question on the subject from the BBC.
As the two leaders stood together after their initial meeting, Trump declared that the special relationship has been "one of the great forces for justice and peace" over the years. But none of this averts the problems down the road.
Indeed, May – despite carefully-placed references to NATO and a firm line against Russia – has probably stoked a bit more suspicion from Europe by cosying up to a man who thinks NATO is obsolete and Putin is a fine role model. She even pledged to keep working to convince her fellow European leaders to spend more on NATO, claiming to have received assurances that Trump is "100% behind" the defence alliance.
The bump of Brexit departure has in no way been softened by this meeting. European leaders are unlikely to be pleased by the implied meaning in Trump's assertion that "a free and independent Britain is a blessing to the world" – nor by the very clear message in his view that "Brexit is going to be a wonderful thing for your country".
Trump, for his part, will soon be beset by agencies who don't like him, senators (both Democrat and Republican) ready to cut him down, and the burden of constructing a policy that is more than 140 characters.
And, of course, there is the grand deception. The US and UK will daily find that they not leading the world – as Trump and May strike their poses, other countries will be making their own arrangements.
But why quibble? This meeting was not about the long road. It was short-term politics to keep eyes off the horizon.