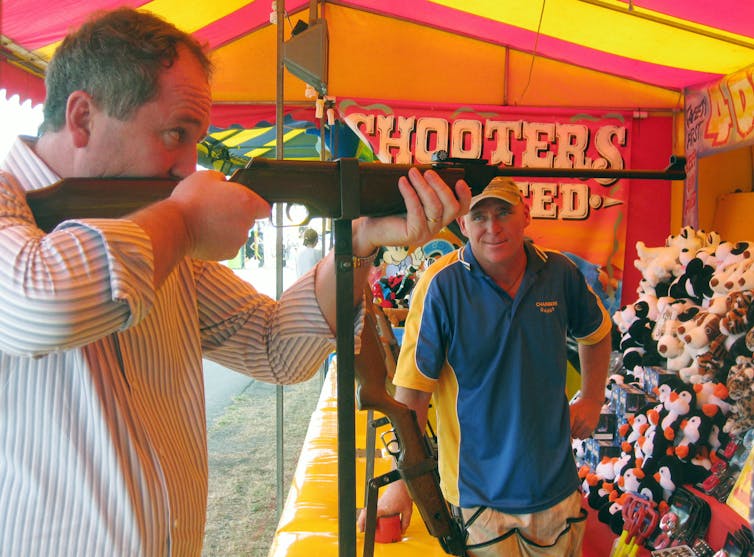 Barnaby Joyce is the good boy these days. He's in the Coalition leadership group and hasn't voted against his colleagues once in this parliament. But he still holds the record as Parliament's prime floor crosser of the past decade.
Figures prepared by the Parliamentary Library for 2003-2013 showed Senator Joyce crossed 28 times – and he only arrived in the Senate in mid-2005.
Joyce, Nationals Senate leader who is now running for the seat of New England, is a country mile ahead of anybody else as an official rebel. The runner up is another National, Ron Boswell, a former Nationals leader in the Senate, who has crossed nine times.
Indeed the Nationals, despite being in a tight coalition with the Liberals, have been inveterate floor crossers.
NSW National senators Fiona Nash and John Williams come in equal third, with seven crossings each.
Among the 47 Coalition MPs who crossed 163 times in the decade were 18 Nationals.
The Liberals were headed by Alan Ferguson (a senator from 1992-2011) and Judi Moylan, one of the Liberal moderates active on the asylum seeker issue, who retires at this election.
There are no Labor MPs in the floor crossing list. Crossing the floor invites expulsion from the ALP. And obviously crossbenchers are not included.
In this parliament 12 Coalition MPs have crossed the floor in either the House or the Senate, a total of 16 times. Moylan heads the list (three crossings).
WA National Tony Crook. Crook started on the crossbench but then joined the Nationals party room – while there, he crossed twice. Liberal moderate senator Sue Boyce also crossed twice in this parliament.
Boyce's earlier crossing, in 2009, was a very high profile one – it was to support Kevin Rudd's emissions trading scheme legislation and occurred just after Tony Abbott became opposition leader. The legislation was still defeated. After losing the leadership and going to the backbench Malcolm Turnbull also crossed on the ETS.
The 16 Coalition crossings in this parliament followed 20 in the Rudd years. The Howard period (1996-2007) saw 36 crossings. Malcolm Fraser (1975-83) had a restless backbench, and 111 floor crossings occurred. Robert Menzies' long reign (1949-1966) saw 164 crossings. From 1949, there have been 504 crossings.
The figures do not include the recent crossings on the local government legislation.