As prime minister Tony Abbott completes a whistle-stop tour of Asia, Australia's "place in Asia" is an ongoing discussion.
Abbott hailed the "shared values" that enabled Australia's free trade deal with Japan and now heads to China for crucial trade talks.
But the Australian mainstream sees itself as fundamentally separate from our Asian neighbours across most economic and cultural dimensions.
This mindset is challenging enough in trade and person-to-person ties. Transport infrastructure and city planning just don't feature sensibly in discussion between Australia and its developed Asian neighbours.
Abbott has invited the Koreans to invest in yet more roads, but we have continuously spurned a long-held Japanese interest in Australian high speed rail opportunities.
Two problematic and emblematic cultural preconceptions hold Australia back from fully engaging with our region in the field of urban planning and infrastructure.
The first is the idea that Asia is "too different" to be relevant to our experience. The second is the even more problematic idea that we have nothing to learn from Asia (while they should presumably listen intently to us).
This intellectual blockage is possibly caused by an Australian infrastructure inferiority complex arising from decades of lost opportunities - rather than some weakness of planning policy or cities in developed Asia.
It also originates from insufficient distinction between developing Asia and developed Asia (incorporating Japan, Korea, Hong Kong, Taiwan and Singapore).
Let's be real here - Australian cities are planned appallingly and have some of the most unsustainable living patterns and transport outcomes of all the world's developed cities.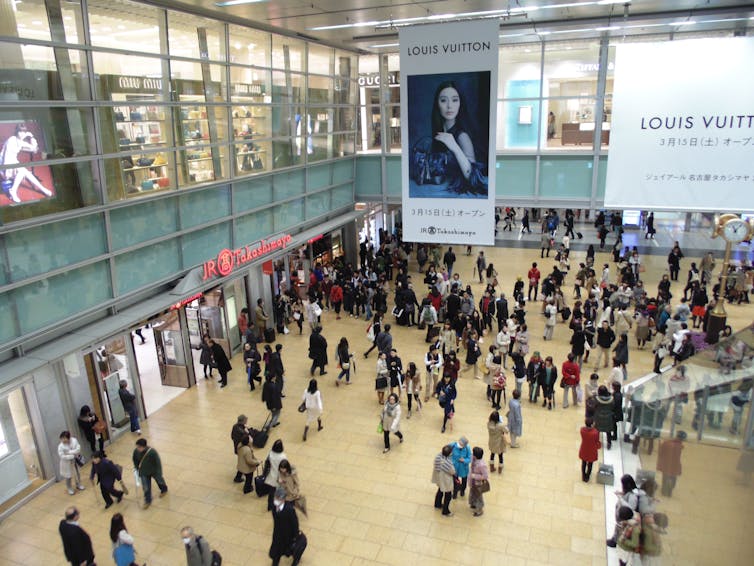 Places like Melbourne have done okay recently with downtown urban design and renewal. But at a broader scale, we have failed to develop mass transit systems capable of meeting commuter demands.
This hurts our cities and it hurts our trade opportunities in the infrastructure, planning and city design sphere.
Sydney has recently decided on a light rail corridor where a metro was needed. Melbourne struggles to launch any coherent response to rampant ridership growth on trams and trains.
Brisbane remains in cloud cuckoo land with its bus obsession - when only strategic rail-based interventions can shape its future growth.
Australian cities have spent the past 30 years riding the complacency of a car culture based on local vehicle manufacturing.
Major road projects formed the core of cynical pork barrel politics, draining the vast bulk of our infrastructure dollar.
Australians need to take a serious look at what major Asian cities - such as Tokyo - have achieved in infrastructure and urban policy over recent decades.
Tokyo coped with a massive influx of internal Japanese economic migrants during the second half of the 20th century. It did so through radical investment in metro rail, combined with judicious attention to zoning, parklands and community assets, which has led to the dominance of rail as majority mode of travel.
Other cities such as Singapore and Hong Kong have heavily oriented city planning to rail, with new metro stations opening yearly to bring distinct benefits of convenience and livability.
Japan's high speed rail has also played a core role in that country's economic and scientific development. Recently the Chinese have invested in a great and growing system of fast inter-city connections.
By contrast, successive Australian governments at all levels have turned their backs on transit as a tool for policy, economic development, and urban structure.
Infrastructure Australia was clearly due for an overhaul, but as a country we can't afford a replacement that exists only to rubber stamp destructive road pork.
Tony Abbott has said he wants to be the 'infrastructure prime-minister' but his reported obsession with the virtues of the private vehicle over public transport can only be understood as an outdated and defeatist ideology.
This thought process has no place in influencing contemporary infrastructure policy.
We should look carefully at the emphasis Asia has placed on high-speed inter-city rail. These systems are now the backbone of advanced economies around the world, while only Americans and Australians remain unconvinced.
By censoring our discussion, we miss out on a fuller appreciation of 21st century infrastructure thinking and urbanism. Some great planning ideas and examples are available right on our doorstep.
Perhaps its time for a little less lecturing, and a little more learning.