The idea of being a "citizen of the world" is often associated with global elites – those who shelter their wealth in offshore tax havens or invest their way to citizenship wherever they choose using a "golden visa" route.
This was the "international elite" that the British prime minister, Theresa May, targeted in her conference speech in the wake of the Brexit vote when she argued that: "If you believe you're a citizen of the world, you're a citizen of nowhere." Her comment draws from a common and longstanding stereotype of cosmopolitans as rootless, uncommitted elites.
The journalist David Goodhart refers to what he calls a tribe of mobile "global villagers" who are likely to identify as citizens of the world. This is the image of individualistic high flyers who benefit from globalisation and want a borderless world. They live in their "global-citizen bubble" and value autonomy and mobility over local and national attachments, community and belonging.
The reality is far more nuanced and complex.
Cosmopolitans come from many backgrounds
May's "citizen of nowhere" comment caused widespread controversy. There was a backlash on social media and critique from Londoners, journalists, rival politicians, and the philosopher Kwame Anthony Appiah – who has long challenged the assumption that cosmopolitans are rootless.
Those who embrace cosmopolitan values or see themselves as "global citizens" come from a broad range of social backgrounds and from all over the world, constituting not one, but many tribes. These include working-class labour migrants, lower-class Creoles in Mauritius as well as young people who have moved to study and globally mobile, middle-class career professionals.
I studied such a group of professionals from 14 different countries including France, Britain, Italy, Mexico, the US, Azerbaijan and Finland, who are living and working in Amsterdam. My research showed how they construct and share a cosmopolitan identity and sense of belonging. This means that they feel less attached to their nation of origin and cultural background. As one British interviewee told me: "I always denounce my nationality."
But at the same time they also maintain their different national or ethnic identities and cultures – albeit as ingredients in what some of them called the "melting pot" of their diverse community. They embrace the idea of being a "global person" who has lived in different places and who does not identify with either home or host country. As one French interviewee put it:
If I go home to France, the only people I can relate to are people who have also lived other places, who have been abroad. There is this new nationality which is globalism, you know. I have a French passport, but I don't feel French. I have lived in Holland for 15 years, but I don't feel Dutch either.
This however does not mean they are rootless. They are proud "Amsterdammers" who have put down roots in the city and call it home. They have become a new kind of "local" – and live lives just like other middle-class professionals. They work, become unemployed, change careers, buy homes, get married and start families, mostly of mixed nationality. Some have Dutch partners, but many are of other nationalities. They form strong and lasting friendships with people from all over the world that often endure when people move on to other places.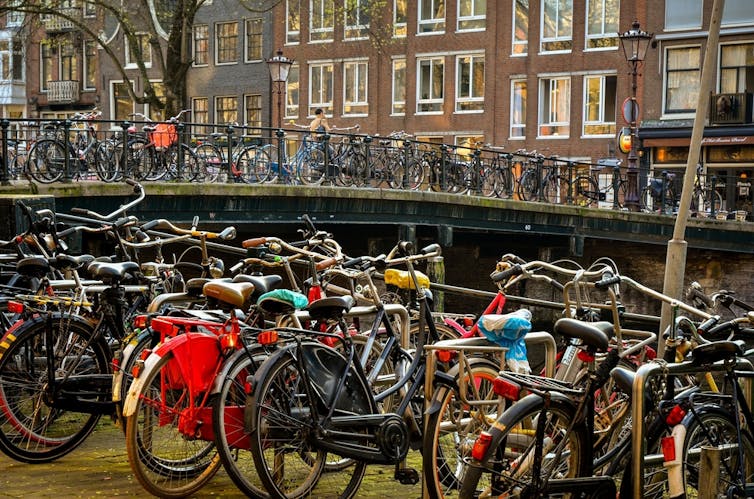 Not a byword for 'openness'
Some of the people I interviewed referred to their identity using terms such as a "non-nationality" or "an international nationality". Such a sense of belonging produces its own "us-versus-them" dynamic, in which "them" refers to people who are seen as "monocultural", or "too narrow-minded" and "can't cope with people from different cultural backgrounds" as some interviewees described to me. This is not an attitude of unlimited openness.
Nor does identifying as a citizen of the world necessarily involve allegiance to humanity as a whole, or to one definition of global culture. This is a cosmopolitan identity that is local and grounded. It takes shape in the context of diverse social networks in specific places, often in urban environments.
As one interviewee with a mixture of Tanzanian, Ugandan and German backgrounds explained:
I surround myself with people from everywhere generally speaking. I don't know any other way than being with people from different places.
Opportunities to be part of diverse, international communities are predominantly accessible in larger metropolitan cities. For those who do not have access to such social networks, a sense of non-belonging might become dominant. Some of the people I interviewed talked about their experience of "monocultural environments" and it was consistently a negative one.
They talked about feeling uncomfortable, not fitting in and feeling like they couldn't trust anyone. One for instance had lived for a short while in a town in Switzerland where her husband is from and where there was little diversity and no international community. Before long they moved on to Sydney, Australia.
Feelings of non-belonging can further intensify when a rhetoric of exclusion based on national identity gains ground, such as in the wake of the Brexit vote in the UK. A recent KPMG survey suggested that many highly qualified EU nationals are considering leaving, mainly because of a perception that British society has changed. Half of those surveyed said they felt less valued and welcomed in the UK since the EU referendum.
The ability for people to move to new countries also cannot be taken for granted. Research shows that visas have become increasingly difficult to secure for those who are not citizens of OECD countries. The election of Trump to the US presidency and the UK's vote for Brexit mean further restrictions on migration and global mobility are on the cards. British citizens, for instance, are unlikely to retain the right to free movement in the EU after Brexit, and vice versa.
These developments mean that some people who have moved across national borders now face an increasingly uncertain and precarious future.