With the start of the 101st Tour de France only one day away, the topic of doping in cycling will no doubt start to rear its ugly head. While the riders cover 3,664km in 21 stages over three weeks in an extraordinary feat of human endurance, the aftershocks of the Lance Armstrong affair continue to colour our approach to the event and its champions.
Armstrong was meant to be the saviour of modern day cycling as it sought to recover from the Festina scandal of 1998. He was credited with an intense attention to detail and dedicated scientific approach to his preparation; his cycling team was revered for a scientific and systematic approach to training and racing. Both parties were seen as having "too much to lose" to be caught up in the doping scandals that surrounded the sport during the late 1990s and early 2000s. Unfortunately as we now know, this was not the case.
So where does this leave the current crop of cyclists as they push out on the start from the start line of this year's Tour? Even the most cynical of us hope that the riders are clean, or at least cleaner than the previous decades. The anti-doping debate is also testament to the hope that people involved in the sport want change, and want to believe that professional cycling has cleaned up its act.
Media, sponsor and fan pressure is starting to force teams to take a "zero tolerance" stance on doping, and is undoubtedly behind the decision of Union Cycliste Internationale (UCI) President, Brian Cookson, to create the Cycling Independent Reform Commission (CIRC). Cookson's actions have won many admirers including International Olympic Committee President, Thomas Bach, who said he was "impressed" with the UCI's efforts to stamp out doping in the sport.
Change on the horizon?
But is the attitude towards doping in cycling actually changing in the peloton itself? It is difficult to say for certain. Thanks to the history of the sport there will always be scepticism about whether riders are clean. It is unfortunate, but inevitable, that riders and teams who carry the yellow jersey that has been stained by years of doping and cheating, will be questioned. It was no great surprise that many in the sport viewed Chris Froome and Team Sky's dominance at last year's Tour with a level of suspicion.
The introduction of the biological passport for athletes in 2008 appears to have had an effect on athlete behavior and attitudes towards doping in the sport. The biological passport monitors certain parameters of a cyclist's blood over time, making it more difficult for them to dope without detection. The passport does not test for specific banned substances, rather for the manipulation of blood parameters that suggest doping has occurred. Encouragingly, the biological passport has stood up to legal challenges. But it will take more evidence to show that the biological passport provides a long-term deterrent to doping within the sport.
So, why is doping such a big issue in cycling and other endurance-based sports? Well it improves performance, quite significantly, and in some cases by as much as 6% according to research work by Yannis Pitsiladis. Therefore, assuming that professional cycling is cleaning up its act, the Tour should be significantly slower than the 1990s and 2000s. This can be tracked as the Tour often visits the same routes and mountains year on year, affording historical comparisons.
Sports scientists such as Ross Tucker from South Africa have performed these comparisons, which demonstrate that from 2009, the average performance speed and power outputs of top tour riders fell by 5-10%. This is apparent from the fact that the tour winners of 2010 to 2012 being barely able to make the top ten in tours from the 1990s and 2000s.
Cycling power output carries with it some important physiological implications because the cyclist/bicycle system is "closed": physiological power can be directly measured as mechanical power by a power meter on the bike. Therefore it is possible to estimate, with a few assumptions, what kind of physiology determines a given output. The performances of some riders in the Armstrong era were such that it is hard to believe they were the result of the "normal" training processes, however gifted they were.
In time, technological, training and nutritional advances might slowly narrow the gap between recent performances and those of the 1990s and 2000s. Last year Chris Froome's ascent of the main mountain stages (Ax-3-Domaines and Mont Ventoux) matched the level of performance seen in the Armstrong era.
Speculation and accusation
Unsurprisingly following Froome's performance in the mountains fingers started to be pointed at both him and Team Sky. Following a period of concerted pressure from the media, Sky eventually released Froome's power data for "expert" review. Dave Brailsford, Team Sky Principal, suggested that their reluctance to release Froome's data was due to the actions of "pseudo scientists" who misinterpret power output data either inadvertently, or deliberately, to make it say more or less what they want.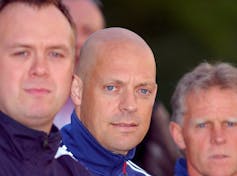 In some respect Brailsford is absolutely correct, there are many things that influence performance which power output data alone fails to capture (weather, race tactics, equipment calibration), making definitive conclusions difficult. It would be a misapplication of science to accuse a rider of doping due to an unrealistic performance, even though many do.
But secrecy and refusal to openly discuss performances inevitably leads to the speculation about their veracity. What most people strive for is a cleaner sport: at times there appears to be a polarised approach, either look to the future and deny everything from the past, or examine every detail and challenge every performance which from time to time leads to unfair accusations. A balanced approach is probably somewhere in the middle.
At the weekend, all eyes will turn to Froome and Team Sky as Tour favourites. Their performances are currently seen as the benchmark for the rest of the peloton, as well as cycling fans who want to know what it takes to win the Tour.