Big cities and places with internationally renowned attractions have long been the most popular tourist destinations. Even today, Chinese tour companies in Australia, for instance, mostly focus on the biggest cities – Sydney, Melbourne, Brisbane – and landmarks like Uluru. But modern tourism is starting to take a slightly different path, regional travel, which creates economic benefits for towns and also leaves tourists with a better impression of a country.
Unpublished research undertaken by one of us (Elizabeth Turenko) while working as a tour leader in Ukraine in 2013-2014 confirmed this. Feedback from guests travelling on a group tour to Europe showed 80% preferred to visit "well-known" large cities, mostly capitals, when it came to choosing a tour.
Most of the time, though, these tourists were disappointed because the cities did not live up to their expectations. But, the study revealed, 75% of tourists enjoyed travelling to smaller towns when they did decide to visit them as part of a tour.
Big cities are losing their local flavour
There is no doubt the major cities are attractive and are still perceived as the essence of a country for many tourists. Yet the question remains: are these cities actually showing the "real country"? At a time of globalisation and global cities, to what extent do the larger cities still give tourists "the taste" of local culture.
Rural Tourism Marketing Group CEO Joanna Steele writes:
In the past five years tourism has seen some big changes. Large numbers of travellers have lost interest in cookie-cutter restaurants, lodging and attractions. Instead, they want local food, local attractions and connection to the lifestyles of local people.
The best places to experience that are often small local towns and villages. Here life hasn't yet been adapted to tourist needs and the authenticity feels right.
Turenko also investigated the tourists' preferences during a group bus tour in Europe. The main program involved a one-day visit to Amsterdam and a second day on which tourists could spend their free time in Amsterdam or go on a group trip to Volendam, a small town 20km away. The 90% of the group who opted for the town visit were very satisfied with their decision.
So, was there anything special about Volendam? Not really.
Much like many small towns in the Netherlands, Volendam has limited tourist attractions, these being mostly its built heritage (wooden buildings) and cultural assets (a museum and a cheese factory). When surveyed, the visitors explained they enjoyed the glimpse into the local culture and the routine life of the locals.
The tourists appreciated going to local shops and eating at local restaurants far away from standardised brands and international franchises. They felt they could feel the "soul" of the country.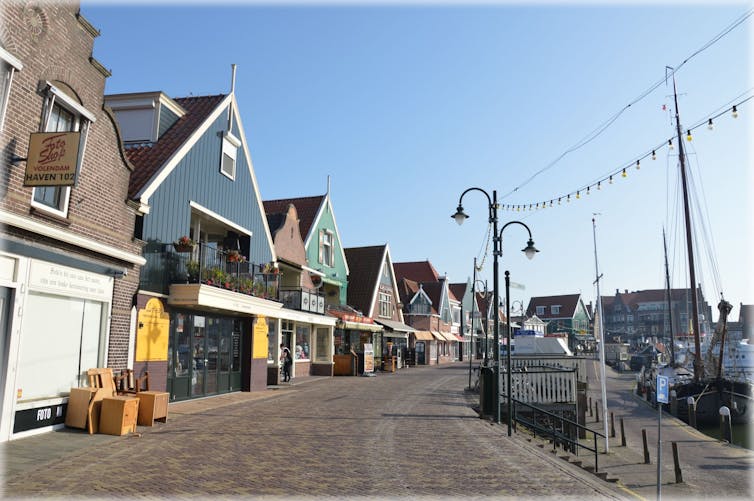 At the time of this 2014 survey, cities and holidays at the coast were the main attractions for visitors to the Netherlands (36% and 22%, respectively). But interest in the countryside and touring the Netherlands (12% and 10%, respectively) has been increasing.
Finding a local tourism niche
Let's be frank: smaller towns and villages have not been dormant, and many have jumped at the opportunities offered by tourism. We all have heard about farm holidays, horse riding, wine tasting tours, nature guided walks and so on.
Building on this, innovative regional tourism practices have been recognised worldwide for displaying a breadth of approaches and end products. A good example in Ireland is Ballyhoura, "a world where the little pleasures of sharing everyday things with the locals in Ballyhoura – talking with them, walking with them and sharing a joke – is possibly the greatest attraction of them all!"
Despite a lack of outstanding tourism resources, the area became a successful tourism destination thanks to a very personalised marketing method. Visitors even received a welcoming letter. The focus on "promoting a genuine rural experience and warm welcome" creates an incentive for more local start-up enterprises and for a co-operative, closing-the-loop process of quality control.
Longreach and Winton are Australian towns that have taken advantage of distinctive local histories and features such as old mines and fossil beds. Longreach has the Australian Stockman's Hall of Fame and the Qantas Founders Museum, while Winton's Australian Age of Dinosaurs Museum offers "products" of the natural environment such as dinosaur stamps and bones.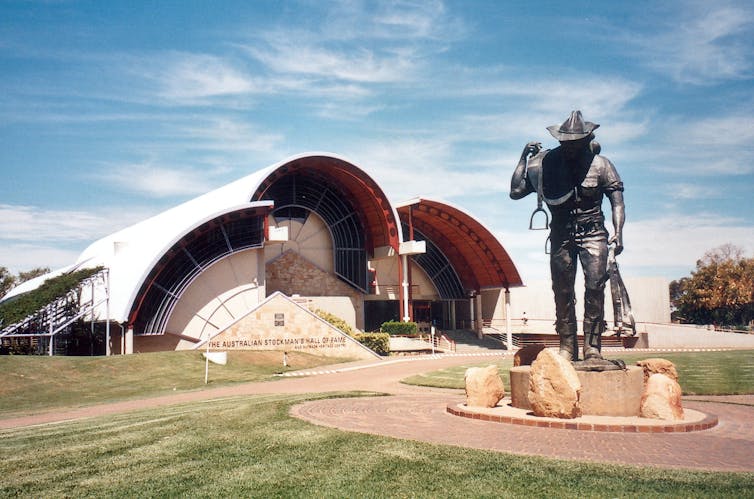 Yet all attempts have not been met with success. Many smaller towns are slowly disappearing in Australia. Main streets with closed shops and abandoned business are not uncommon.
The combination of lack of employment and population ageing and loss is a chicken-and-egg situation. The various levels of government are acutely aware of this, and tourism offers a possible way out of the dilemma facing these towns. Several recent initiatives have shown how tourism can contribute to the development of these areas when innovation, expertise and community participation are brought together.
Charleville in far west Queensland offers a great example of this, with the outback town working on making the most of its clear nighttime skies, far from the city lights. An extension to the Cosmos Centre and Observatory, funded by state and local governments, has boosted visitor numbers in just one year. The extension displays fun and serious facts about planets and life in space, enhanced by interactive media.
For the town of fewer than 4,000 people, the growth in tourism is like a nice spring rain after a long dry season. It's another reminder of why rural tourism can be "the perfect small town business idea".