City and local governments anchor our democracy. They do so by providing opportunities for local communities to address their interests and needs of living in the 21st century. To prepare for the next decade, the City of Melbourne has undertaken public consultations to refresh its strategic goals.
Melbourne City Council has a responsibility beyond those who live and do business in the city. Its capital city role and status have direct impacts across metropolitan Melbourne.
Future Melbourne 2026 provides an opportunity for the city council to recognise its role as a collaborative city. It should be proactive and acknowledge the role of the city across metropolitan Melbourne. This requires increased collaboration working toward a metropolitan authority where our collective futures lie.
All the metropolitan city councils need to work together to achieve a post-carbon and resilient future for all Melburnians.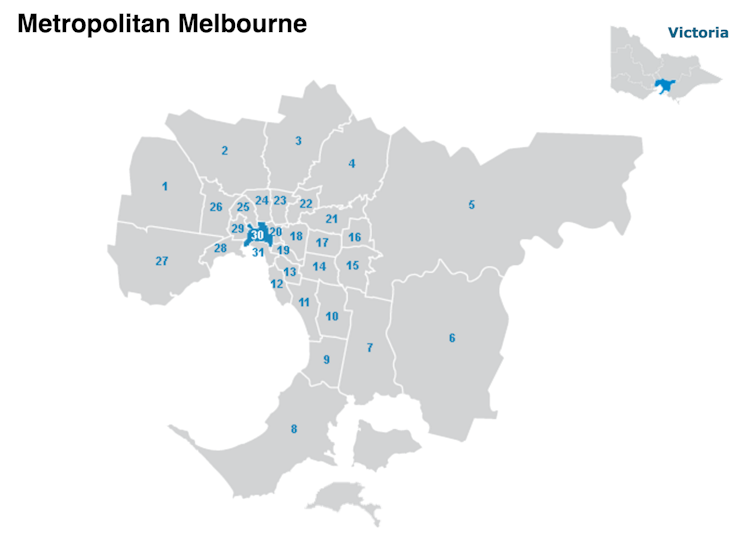 Melbourne City Council has over recent decades developed and implemented polices to deliver a liveable and sustainable city. The council has set the bar high in undertaking work to become a post-carbon and resilient city. This has received national and international recognition.
The rapid growth of Melbourne's metropolitan population, from its current 4.3 million to an anticipated 7.7 million by 2051, presents the challenge of working toward a sustainable region. Meeting energy, water, waste, transport and food needs will require whole-of-government collaboration between federal, state and local levels.
Models of metropolitan governance
An interim collaborative approach would encourage us to consider governance models such as the Greater London Authority (GLA) and the Greater Sydney Commission (GSC).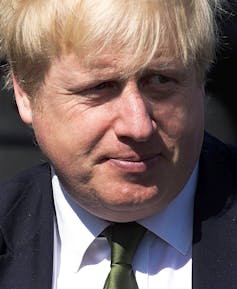 The London Assembly, which comprises 25 councillors plus the mayor of London, governs the GLA. With a population of eight million and encompassing 32 boroughs plus the City of London, the authority may well provide a blueprint for our future.
The New South Wales planning minister has established the GSC to promote the integration of state and local government decision-making for the Sydney metropolitan region. It is led by Chief Commissioner Lucy Turnbull, a former lord mayor of Sydney. The commission's membership includes economic, social and environment commissioners, plus six district commissioners reflecting the interests of the current 41 local government authorities.
Starting the groundwork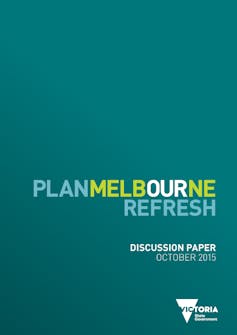 The City of Melbourne should start the groundwork for a Greater Melbourne Authority.
The first step is to identify the city as a collaborative city in Future Melbourne 2026. This means working in partnership with metropolitan city councils to develop projects and activities that make progress towards a post-carbon and resilient region in energy, food, water, waste and transport.
An example of how Melbourne City Council has already initiated metropolitan action is "Resilient Melbourne". The council delivers this Rockefeller Foundation-funded initiative in collaboration with the other 30 metropolitan city councils. The project began in 2014 and is developing a strategy to:
… foster the long-term viability, safety and wellness of our interconnected communities and municipalities.
The state can drive a metropolitan agenda through Plan Melbourne, the Victorian government's planning strategy to 2050. It was released in 2014. In October 2015, the state Labor government announced an update known as Plan Melbourne Refresh.
The refresh has focused on climate change, housing affordability and updating Plan Melbourne to reflect current government transport commitments and priorities. In the foreword to Plan Melbourne Refresh, Planning Minister Richard Wynne writes:
I want to see us build a city that sets an example to the world for environmental sustainability, social equity, enhanced liveability and economic strength.
Such a vision will require the support and actions of all 31 Melbourne metropolitan city councils.
To achieve this vision we need to establish a Melbourne Metropolitan Commission. It would include representation from metropolitan city governments for collaborative decision-making to achieve integrated strategic planning for all Melburnians.
The ministerial advisory committee for Plan Melbourne Refresh recommended that the Metropolitan Planning Authority be retained. However, the board lacks authority, a broad agenda and local government representation.
The OECD's 2015 report, Governing the City, presents a range of metropolitan governance arrangements. The report provides advice for cities seeking more effective co-ordination for strategic urban growth involving transport and spatial planning. The report says:
A governance model depends on the capability to address three principal challenges: co-ordination, action and trust.
Metropolitan Melbourne needs to provide for a population almost doubling in the next 35 years in a carbon-restrained world. It must be resilient to climatic, economic and social shocks. To achieve those goals, we will need a metropolitan governance structure that delivers a whole-of-city approach.