In the shadows of Broken Hill's rich mining history lies a legacy of contamination and regulatory failure that will likely outlive any benefits locals derive from mining.
One in five children aged under five in Broken Hill have blood lead levels above the current national goal of ten micrograms per decilitre (μg/dL). And the trend is headed in the wrong direction.
Our research, published today in the journal Environmental Research, shows children are exposed to contaminants in play areas. Metal-rich dust accumulates continually on play surfaces and is readily picked up on the hands of children as they play. When they touch their mouth, they ingest the metal particles.
To pre-empt claims children are ingesting historical sources of lead, such as leaded gasoline and paint residue, we used lead isotopic analysis to show the most likely source of contamination is from the lead ore body that is still being mined.
Lead and human health
Lead is a neurotoxin, a poison that acts on the nervous system; children are particularly susceptible because their brains and bodies are still developing. Elevated blood lead is linked to permanent cognitive impairment measured in decreased IQ and has also been linked to a greater likelihood to commit crime later in life.
Although the current (under review) national goal for blood lead is 10 μg/dL, there is overwhelming evidence showing that damage occurs at levels below 5 μg/dL.
Following significant and successful efforts by Broken Hill's Lead Health Program, childhood blood levels declined significantly from their peak in the early 1990s.
But recent improvements in screening participation have revealed that the problem is now worse than previously thought. The proportion of children aged 12 months to five years with a blood lead level above 10 μg/dL has risen from 12.6% in 2010 to 21% in 2012.
It is unfortunate for the children of Broken Hill that the successful Lead Health Program no longer exists in its own right and is only a poorly funded component of the Broken Hill Child and Family Health Centre.
Contaminated playgrounds
We measured the amount of metal-rich dust that could be picked up on the hands of children at public playgrounds in Broken Hill. We found that, on average, the amount of lead on hands after ten minutes play was 72 times the amount on hands before contact with play equipment.
Although there is no Australian standard specifically for lead on hands, the Western Australian government set a goal in 2007, for the clean-up standards in Esperance, that outdoor surfaces accessible to children should not exceed 400 μg/m2.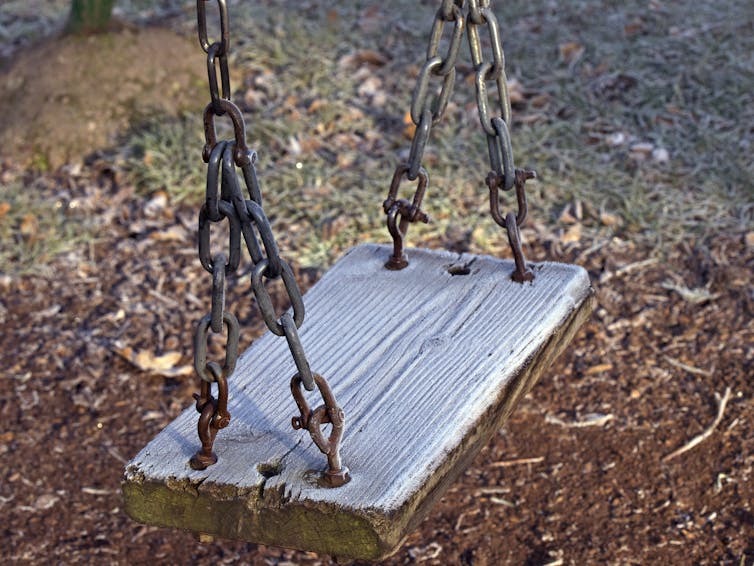 Our study found that, after playing at one particular playground, a child's hand could have the equivalent loading of 60,900 μg/m2 – more than 150 times the goal set in WA and significantly higher than levels recorded in the smelter city of Port Pirie.
As well as playgrounds, dust falling across most of the city and any outdoor surfaces is contributing to the harmful metal residues already present in the soil contaminated from more 130 years of mining activity.
Lead in soils
Soils in playgrounds also had elevated lead. The National Environmental Protection Measure (2013) sets a soil lead standard of 600 mg/kg for recreational spaces. Three of the six playgrounds we tested exceeded this standard and four exceeded the lower residential standard of 300 mg/kg, which may be a more appropriate standard as it also applies to daycare centres.
Of the other metals we analysed (arsenic, cadmium, silver and zinc), no soil samples exceeded the relevant Australian guidelines. However, it is worth noting that Australian standards for soil metal are more liberal than our international counterparts.
California, Canada, and the United States Environmental Protection Agency set soil lead guidelines at 80 mg/kg, 140 mg/kg and 400 mg/kg respectively. Norwegian soil guidelines specifically limit soil used in children's playgrounds to 60 mg/kg. Only one playground in Broken Hill had soil below this level.
Lead dust from mining
Our data, combined with data collected by mining companies as part of their environmental monitoring, show that surfaces in Broken Hill are recontaminated daily. And they indicate that contemporary mining activities are the most likely consistent source of airborne lead and other metal-rich particles.
Although the bulk of mining today occurs underground, ore is processed at the surface and can generate large amounts of dust. It is unlikely to be a coincidence that the most impacted playground we measured was located at Zinc Lakes, less than 400 metres from an active ore processing facility.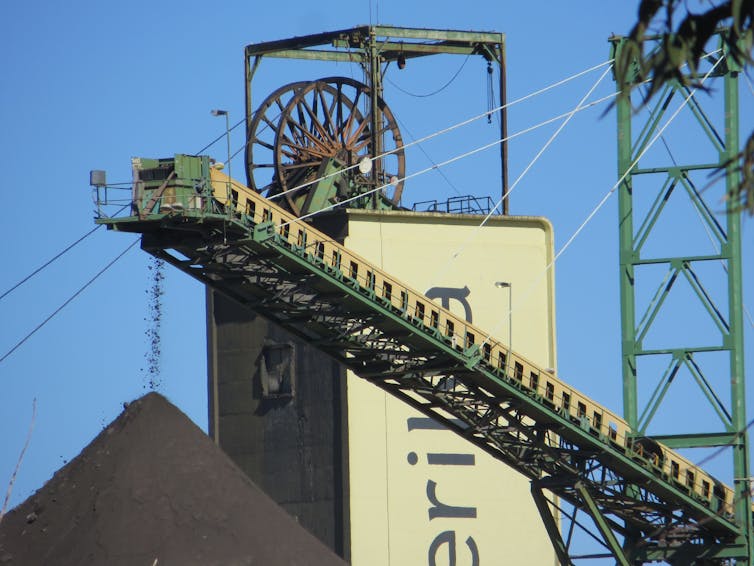 Importantly, arsenic, cadmium, lead, silver, and zinc levels on hand wipes each correlated significantly with the amounts of the same metals deposited on wiped surfaces for each day, demonstrating a common source for the contamination of hands and dust-collecting surfaces.
What can be done?
The high likelihood of recontamination from ongoing lead deposition makes it unlikely that common approaches to containing lead and other soil metal contamination, including topsoil replacement and remediation techniques, would be effective in Broken Hill.
Broken Hill is not alone with this problem either; similar work in the smelting towns of Port Pirie in South Australia and Mount Isa in Queensland has shown that environmental contamination is persistent and pervasive and that effective regulatory controls are often lacking.
Some of early responses to the problem have been positive, with the mining company Perilya putting notifications on their Zinc Lakes playground that users should wash their hands after play. The Council is also following suit with similar signage on their playgrounds.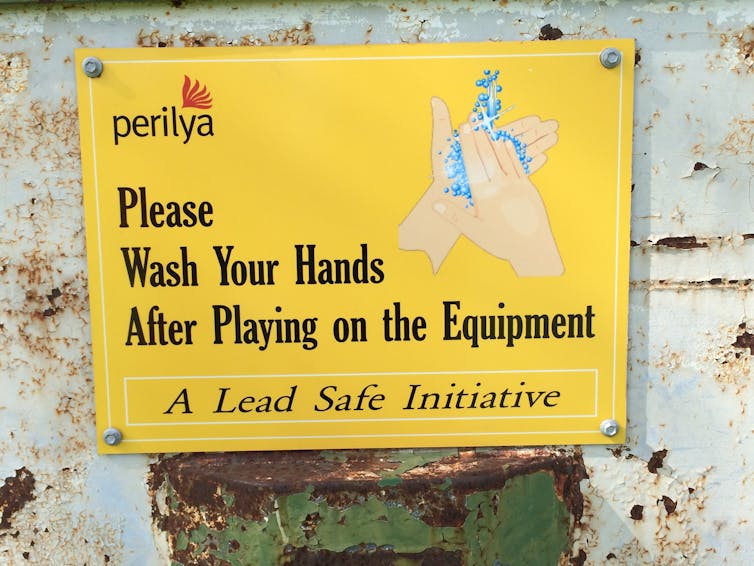 In Broken Hill, there is currently no independent monitoring of air pollution. The monitoring that does take place is being carried out by the companies doing the polluting and is restricted, in the main, to their lease or adjacent areas and not in the larger residential environment. This monitoring does not include measurement or regulation of arsenic or cadmium, which are also known to cause significant detrimental health outcomes.
The approaches used to measure air pollution from mining activities in Australia rely on data averaged yearly as a benchmark. As a result, short-term spikes in emissions are not accounted for, potentially downplaying the risks.
The Environmental Protection Authority (EPA) has an important role to play in setting effective limits for pollution and in the monitoring and enforcement of those limits for the benefit of communities in vulnerable locations.
Recently, questions were raised about the NSW EPA's willingness – or ability – to fulfil this role.
We need to explore more flexible monitoring programs, and to regulate and better manage the contamination risk in places such as Broken Hill. This is particularly important for communities that are already acknowledged as being significantly disadvantaged.
People should not continue to suffer from the lingering impacts of industrial activity in their environments. Residents of mining and smelting towns should be able to live, work and play in the knowledge that their environments are clean and safe, and that effective pollution regulation will keep them that way.
To lower exposures permanently and reduce the cycle of contamination, the New South Wales government needs to make a significant financial commitment to start a new Lead-Free Children's Health Program. While any such program needs to be independent, it will have to engage with and involve the whole community, the city's mining companies and government at all levels.
UPDATE 13 February: The New South Wales Government today announced a five-year $13 million program to address the issue of lead contamination and elevated blood lead levels among children in Broken Hill.