People smuggling has cost the lives of at least 1,199 people between August 2008 and November 2013. Those fortunate enough to survive these tragedies at sea face enduring trauma: mandatory detention, loss of rights, and now, temporary protection visas (TPVs), which the Coalition reintroduced in October.
TPVs grant protection to successful applicants who arrive in Australia without a visa or whose case was undecided at October 18 this year. Some refugees have waited for one to two years for their visa due to security checks or review processes, and now they will only get a TPV.
Ordinarily, temporary protection is used internationally for a mass influx of refugees. This is currently occurring with Syrian refugees and previously occurred with Iraqi refugees. TPVs are certainly not one of the internationally recognised three durable solutions to the asylum seeker issue: voluntarily return home (when safe), local integration or a third-country resettlement.
Howard's TPV 1 to Abbott's TPV 2
The first temporary protection visa (TPV 1) was introduced in October 1999 as a deterrent to asylum seekers arriving by boat. After its introduction, the number of arrivals increased until the Pacific Solution was implemented in September 2001.
Under TPV 1, it was possible to get a permanent visa after 30 months on the TPV, provided you still met the refugee criteria. In practice, most cases took around four to five years to be decided.
TPVs – both old and new versions – provide a visa for three years only, and holders can only apply for a further protection visa while in the country. Holders of the new TPV cannot get a permanent protection visa, only another TPV if they again meet the protection visa criteria; whereas most of the holders of the old TPV could get a permanent visa if they met the refugee criteria again.
A TPV refugee can work, but has no entitlement to a return visa if they travel outside of Australia. TPV refugees cannot sponsor their spouse of dependent children while they have a TPV, unlike those holding a permanent protection visa.
Currently, the pathway to a permanent visa is only through very exceptional circumstances under what is known as a waiver of the "No Further Stay" provision. It is not enough for a TPV refugee to prove that they still meet the refugee criteria after three years, as that will only give them another TPV. This is different to the Howard-era TPV 1.
One consequence of TPV 1 was that in 2000 and 2001, many more women and children were arriving on boats to reunite with their partners here on a TPV. The SIEV-X, which sank in October 2001 and resulted in 353 deaths, had a significant number of spouses and dependent children of TPV-holders on board.
By the time the TPV 1 was abolished in August 2008, the ban on other onshore applications had also been removed. This meant that many other onshore visa options became possible, such as a partner visa. Those who married Australian citizens could also apply onshore for a partner visa rather than be forced offshore to apply.
A number of studies by psychologists criticised the serious adverse effects of TPV 1 on the mental health of the refugees.
One report noted that the:
Certainty of residency to persons recognised as refugees seems to be essential for recovery from trauma-related psychiatric symptoms. Families and social groups that are not kept together or reunited maybe at greater risk of prolonged mental disorder.
Under the Abbott government's new TPV 2, there is no provision made for family reunion. Also, the ability to access further education will be affected by the TPV refugee needing to pay overseas student rates unless exemptions are made. Aside from not being able to get a permanent visa, the other provisions are the same as TPV 1.
The TPV was a key plank in the Coalition's asylum seeker policy in the lead-up to the election. Previously, the TPV had little – if any – deterrent value, but now it is purely punitive, as it applies to the thousands already in the process of applying for refugee status.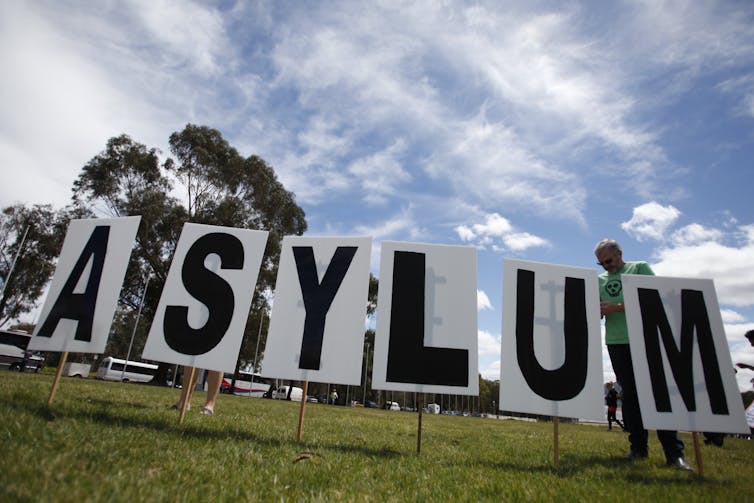 Opportunity for reform
Next week, the Greens will move a disallowance motion in the Senate to scrap the TPV legislation. This is not the first time such a disallowance motion has been attempted on TPVs. In 2003, a regulation which required all onshore refugees to be granted a TPV first before a permanent visa was disallowed in the Senate.
If this forthcoming disallowance is successful, it means those already granted a TPV are stuck with it (as the disallowance does not apply retroactively), but others would then be entitled to a permanent visa. If the motion is disallowed, the government cannot reintroduce the substantially same regulation for six months – by which time the new Senate will be set to sit.
Legislation must provide a statement of compatibility with human rights. Remarkably, the explanatory memorandum attached to the reintroduction of TPVs last month states that:
The Statement's overall assessment is that the Regulation is compatible with human rights because it advances the protection of human rights and to the extent that it may limit human rights, those limitations are reasonable, necessary and proportionate.
How a provision that prevents a refugee from reuniting with their immediate family (who may also be in danger) "advance[s] the protection of human rights" is a complete mystery. It seems that government policy trumps human rights, even of a potentially traumatised population group such as refugees. Not only that, it will further traumatise them by forced separation.
Politically, it is not clear how the new Senate would vote on a disallowance motion. In the meantime, "punish the refugees" remains the policy and the law.