As usual, this year's Dark Mofo has drawn a crowd of thousands from across Australia and the globe. Despite being known for its dark subject matter and evocative themes - this year it is Silence - the festival has become a family event and from dusk, the streets start to fill with a mass of rugged-up people of all ages, including small children.
This year, I am exploring the festival with a dear friend and her very excited three-year-old daughter, little A. As an inexperienced "child handler" and non-parent, I wonder: Is it possible to experience and enjoy art, particularly Dark Mofo art, with a little person?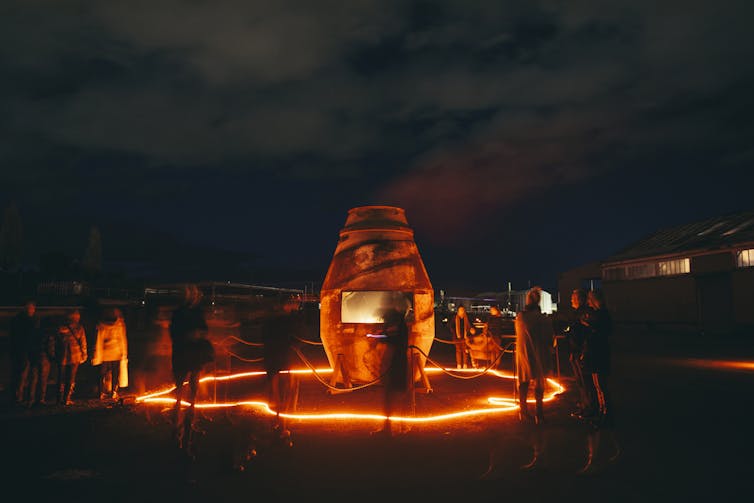 Our adventure begins at the fringes with a trip to Occasions at Contemporary Art Tasmania. We are greeted with a drink and make our way into the main gallery space, which smells like fresh dirt. It is set up like a low-fi garden bar with potted plants, ottomans, geometric furniture and couches. The artist and host, Isabel Lewis, is DJing at a small booth creating an ambient soundscape of voice and synthesizer. We sit down, look around and share a quick "Is this it?" glance. Conscious of A's limited attention span, we psychically agree to finish our drinks and make a respectful exit. Meanwhile, A runs off and starts climbing the furniture.
A few minutes later, she has explored most of the plants and surfaces and we can feel the window of entertainment closing fast. A boredom tantrum starts to build and we gather our belongings. As we move towards the exit, Isabel (the artist) intersects our departure and invites A to describe the scent that is being pumped out of a black box she is carrying that resembles a hard drive. "Outside", A yells, "dirt and plants!"
The artist nods and tells us that the scent is her interpretation of a garden developed in collaboration with the Norwegian chemist Sissel Tolaas. The smell we had initially dismissed as simply soil, is this constructed scent.
We pay closer attention and note that the scent captures wet soil, freshly cut grass and the mingling of plant leaves, sunshine and moisture. As we sit together and talk, platters are passed around with fresh treats. Soon we are a little community, sitting together, eating, smelling each other's hair (yes, indeed) and sharing stories about art and what it means to live a good life.
This is the work. Indeed, Occasions is not an installation, but rather the resulting social interactions and individual experiences created through the bringing together of different sensory elements: sight, smell, hearing, taste, and touch. Presented over three evenings, Occasions changes in response to the audience, featuring different scents, food, sound and performance.
The difficulty with this work is that it is largely dependent on the host to facilitate an entry point for impatient visitors (like us) wanting an immediate spectacle. However, given time and when understood as an encompassing experience, it draws attention to the importance of mindful engagement with our senses and the simple joy of being in, and sharing, an environment.
Curiosities and laser
The next day we start our art journey early after a recommendation to visit to Wunderkammerama by Milan Milojevic at Rosny Barn on the Eastern Shore. Drawing on the idea of the Wunderkammer – 19th century cabinets of curiosity – this exhibition is an immediate win for all.
The exhibition draws on Luis Borges' 1957 Book of Imaginary Beings. In it, a collection of objects and images of hybrid creatures and fantastical scenes create a storybook space that cleverly melds elements of scientific illustration and inquiry with myth and imagined worlds. The colourful and intensely detailed works, including paper constructions, digital prints, miniature sculptures and theatrically lit dioramas, are rendered all the more wonderful by the joy and amazement of A's delighted and curious reaction to them.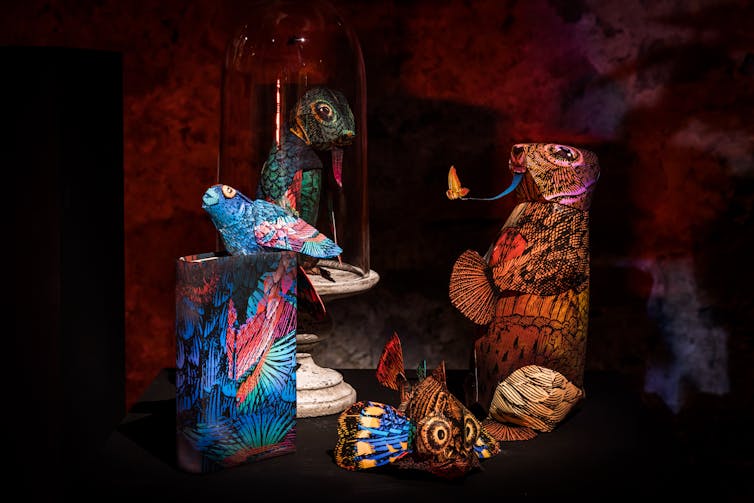 The intimacy of Wunderkammerama is contrasted by a subsequent visit to the immersive spectacle of Dark Park opposite the Centre for the Arts in Evans Street. As we enter, we are immediately drawn to Chris Levine's large-scale laser installation iy-project, set to an ambient electronic soundtrack by Marco Perry and Robert Del Naja (of Massive Attack fame).
With a primary palette of neon red, pink, blue and purple and repeating lines and geometric patterns, the work has an 80s aesthetic that conjures links to Tron, Max Headroom and past imagined futures. Most of the crowd gathers between three LED-topped towers from which lasers and smoke emanate. Viewed from a distance, the work appears like a retro imagining of an alien landing in which the visitors communicate through the subtle interplay of light and sound.
An unfortunate consequence of the impressive scale and spectacle of the work is that the experiential elements are easily overlooked. Indeed, the movement of the eye across from tower to tower creates a residual sine-wave pattern effect. The interaction between smoke and laser also results in layers of clearly delineated clouds. There are moments, too, in which the sound is echoed in the coalescing shapes and shimmering threads of the laser.
Sacred geometries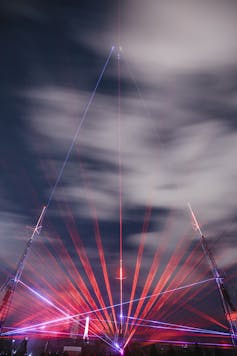 The work is also connected through laser light trails to an industrial shed at the back of the park. A series of red lights guide us to the site and we see the companion piece iy-project 136.1 Hz. This work is more intense. The soundtrack includes chanting and a rumbling bass that passes through the body, warming the chest with deep vibrations. Combined with three MONA cross signs, in succession through the space (two physical structures and one composed of shadow), the work has religious and transcendent undertones.
While viewing the work, a friend comments that Levine's installations are, in fact, based on sacred geometries and meditation frequencies. These connections, like the subtleties of the previous work, are clearly lost on A, but watching her, laughing and trying to touch the strings of laser light, we are reminded that it is enough that art is felt and experienced individually.
We return to the entry area of Dark Park with the aim of seeing Alfredo Jaar's Sound of Silence. We practise being quiet (as requested) and make it past the huge facade of intense fluorescent light into the internal viewing chamber, before realising the work - both in subject matter and with moments of loud sound and flashing light - is a poor choice for a small child. Reflecting on the life of photojournalist Kevin Carter, it provides a deeply moving insight into the story behind one of the most iconic press images - the Pulitzer prize winning photograph The vulture and the little girl taken during the Sudanese famine - and the personal toll of witnessing human violence and suffering.
We leave and quickly follow up this intense encounter with a closing visit of Daniel Boyd's Hello Darkness. Presented in another warehouse setting, Boyd's work consists of a light installation and series of video projections. Dots are the connecting feature. The four video works, presented in pairs, are composed of black screens with transparent circles that simultaneously reveal and obscure underlying images.
I recall seeing Daniel Boyd's Darker Shade of Dark as part of the 2012 Asia Pacific Triennial at The Gallery of Modern Art in Brisbane. At that time, I was captivated by his work, which, presented in darkness on crisp screens, created connections to constellations, stars, the passing of time and connected histories. In this instance, however, ambient light diffuses the image intensity and audience members position themselves between the projectors and the screen, dancing and allowing their bodies to be momentarily enveloped by dots.
While this configuration certainly enables a more playful experience of Boyd's work, it changes from a more contemplative and profound reflection on interconnection and Aboriginal understandings of cosmology to a mere entertaining spectacle. A asks if she can play in front of the projector. Recalling the profundity of the earlier encounter, and conscious of the other people viewing the work, we encourage her to watch instead.
As it nears 7pm, the cold and crowd intensifies. It is time to go home. We still have a lot more to see: Death Masks, Winter Feast and Outposts, just to name a few. However, even these early experiences illustrate that while not all encounters are suitable for a small child, Dark Mofo is not just a festival for adults and late-night partygoers interested in the weird underbelly of contemporary art.
It is a family, and extended family affair, in which even sombre themes like Silence are an invitation to engage with a variety of viewpoints drawing attention to the value of connection, curiosity, mindfulness and reflection. Even the child-averse can find great joy in the company of a three-year-old, especially when the child highlights the wonder of intuitively experiencing art.
Dark Mofo runs until June 21 in Hobart.