Here's how Office of Management and Budget Director Mick Mulvaney has tried to justify the Trump administration's bid to cut or scrap many safety net programs:
"We are no longer going to measure compassion by the number of programs or the number of people on those programs. We are going to measure compassion and success by the number of people we get off of those programs to get back in charge of their own lives."
In other words, Mulvaney is arguing that the main criterion for a program's success should be whether it leads to self-sufficiency. But as researchers who have studied ways to evaluate social services, we don't think this metric makes sense in this case.
Evaluating government programs
Determining whether a government program works involves looking at its goals and whom it's supposed to help.
Congress created and has sustained a safety net to help people meet basic needs and reduce poverty, and these are its goals. Many of the people who benefit from it are already working or cannot work because of a disability.
In short, government-provided social services and benefits are often not simply handouts on the road to a job that will pay the bills for Americans temporarily facing hard times. They also make it possible for the working poor, the disabled, the elderly and children living in poverty to get the food, shelter and medical care they need to survive.
The proposed cuts are surprising because many of these programs enjoy widespread bipartisan support, according to polling by the University of Maryland's Program for Public Consultation.
Energy and food aid
Our research involves looking at how funders and providers of social programs assess the work they do.
In one study, we surveyed 145 funders and providers. The average respondent told us that the most important reason they assess outcomes is to see if their programs are accomplishing their goals. Based on follow-up interviews with a subset of this group, we learned that their goals varied depending on the purpose of the program. For example, early childhood education programs can measure the academic achievement of the kids who benefit from it a few years later, and teen pregnancy prevention programs may assess success based on how many participants get pregnant before adulthood.
If you apply this basic standard to the programs the Trump administration seeks to cut, the evidence indicates safety net programs are meeting their goals.
Take the Low-Income Home Energy Assistance Program (LIHEAP), established by Congress in 1981, which helps poor Americans pay their utility bills. That program, which the Trump administration wants to eliminate, targets the elderly, disabled and households with young children. By helping to keep the heat on when it's cold out so no one in a household freezes and the air conditioning humming during heat waves, it's clearly aimed at meeting basic needs.
Research about its effectiveness, including a study by Anthony Murray of the Federal Reserve Bank of Richmond and Bradford Mills of Virginia Polytechnic Institute and State University, shows that the program works. They note that LIHEAP significantly reduces energy insecurity – a measure of whether people have enough home energy to meet their basic needs. Eliminating the program would increase energy insecurity among low-income Americans by 18 percent, they calculated.
The Supplemental Nutrition Assistance Program (SNAP), popularly known as food stamps, is another safety net program on the chopping block that appears to be working well. The program's explicit purpose is reducing hunger, and research indicates that it achieves this goal.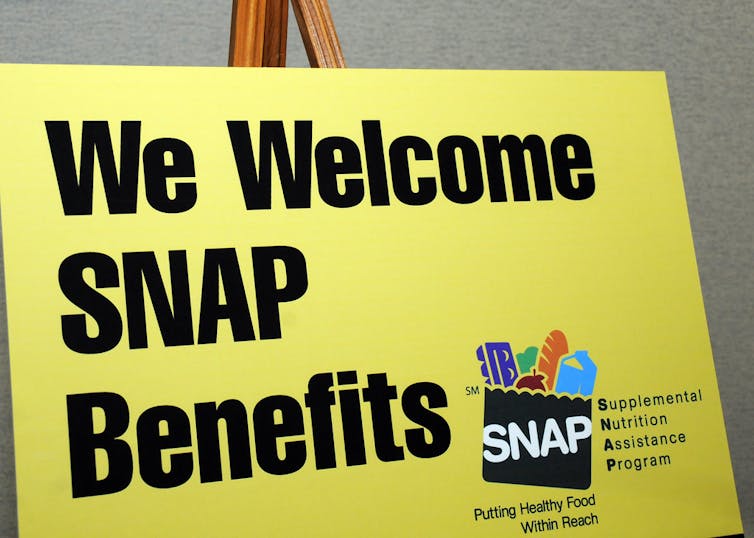 One recent study from The Urban Institute, a think tank that researches government policies, found that getting food stamps reduced the chance that eligible Americans would would go hungry by approximately 30 percent. Analysis by the Center for Budget and Policy Priorities, another think tank that evaluates government policies, found that food stamps kept or lifted 10.3 million Americans out of poverty – an additional sign it is an effective piece of the safety net.
Yet, Trump's reductions would cut federal spending on food stamps by US$193 billion – more than a 25 percent reduction – over 10 years.
Other safety net programs are also at risk. The proposed federal budget would decrease housing assistance for 250,000 people, cut $1.8 billion from public housing and eliminate after-school programs serving the poorest members of our society. In addition, it would add to the House-approved health care bill's $834 billion in Medicaid cuts by taking another $610 billion from the program over a decade, further reducing health insurance coverage for low-income and disabled Americans.
In short, the Trump budget conveys skepticism about the idea of even having a safety net.
Mulvaney's standard
Self-sufficiency is certainly an appropriate way to measure the success for some social programs, such as job-training initiatives – which Trump's budget request would slash by 40 percent despite the president's own explicit support for vocational training. But does Mulvaney's view that a declining number of beneficiaries should be the primary indicator of success for every program designed to meet basic human needs make sense?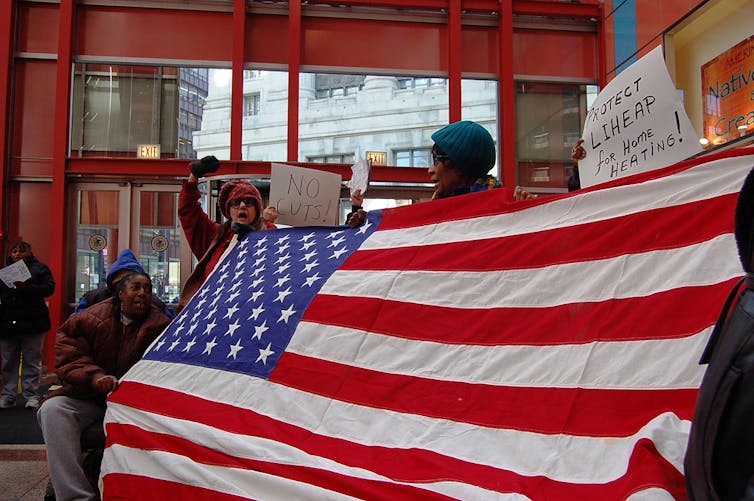 Here are the kinds of people the proposed safety net cuts would affect: severely disabled parents who can't afford food for their toddlers. An elderly couple who can't foot their heating bill in the winter. A single mom working two jobs and nevertheless struggling to feed her three children with what she earns. It makes little sense for the government to deny assistance to these people because they can't get a job or because they have a job but don't earn enough to make ends meet.
The Agriculture Department, which oversees food stamps, says that 75 percent of the Americans receiving those benefits in 2015 were children, elderly or disabled. Further, it reports that among households that included someone able to work, more than 75 percent included someone who had held a job in the year before or after receiving food stamps. Many others worked for low wages while receiving benefits. LIHEAP serves a similar population.
Leaving aside the question of why so many low-income workers don't earn enough money to feed their families, what would it mean for children, the elderly and the disabled to be more, as Mulvaney puts it, "in charge of their lives"? Doesn't our society want to spend money ensuring the very neediest and most vulnerable people don't starve or freeze to death?
As researchers, we embrace evidence-based decision-making. We are confused by Mulvaney's metric of success. We want to know why, if experts have deemed these popular programs a success, the Trump administration doesn't seem to agree.