It is easy to ascribe Donald Trump's recent policy decisions on immigration to his temperament. The US president's executive order temporarily halting the country's refugee programme and suspending visas for citizens of seven, Muslim-majority countries, are in line with his xenophobic rhetoric on the campaign trail.
The pressure on Mexico to finance the construction of a wall on the US-Mexican border is also a direct follow-up to his vitriolic statements on "bad hombres".
It is equally tempting to blame the new administration's immigration policy on Trump's lack of respect for the rule-of-law and his need for continuing media and public attention. Particularly so as Trump has proposed policies that are unlikely to reduce any terrorist threat and can be easily overturned by federal courts.
But the history of Middle Eastern politics teaches us to approach immigration policies less as consequences of elites' personalities, and more as instruments in the quest for political power. Both Trump's policy on Mexico and his recent executive orders are reminiscent of measures adopted by Middle Eastern elites as bilateral strategies of coercion.
Remittance and visa restrictions
In early 2016, Saudi Arabia threatened to impose limits on the amount of money Lebanese migrants could send back home as a way of pressuring Lebanon into clamping down on Hezbollah. The Saudis, and other Gulf states, having declared Hezbollah a terrorist organisation in March 2016, realised that they possessed an effective, and relatively cost-free, mechanism of exerting pressure on Lebanon, which relies on migration to the Gulf Cooperation Council states for 70% of its remittance income.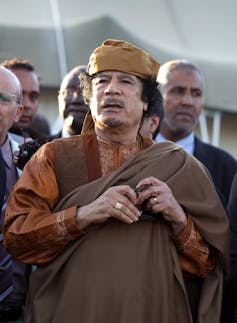 A few decades ago, Libyan leader Muammar Gaddafi would frequently implement – or threaten to implement – controls on Egyptian workers' remittances as a way of putting pressure on the Egyptian government. When Egyptian president Anwar Sadat announced the creation of a Unified Political Command with Syria and Sudan in 1977, Gaddafi announced that "Sadat, in his behaviour, intends to oblige us" to act against Egyptians. Libya duly ceased the issuance of new work visas as authorities expelled thousands of Egyptian workers.
If this strategy sounds familiar, it is because it featured prominently in Trump's presidential campaign agenda. In March 2016, Trump sent a two-page memo to the Washington Post detailing how he would threaten to halt illegal migrants' money transfers to Mexico unless the country paid for the construction of the wall. "It's an easy decision for Mexico," Trump wrote. "Make a one-time payment of US$5-$10 billion to ensure that US$24 billion continues to flow into their country year after year."
Deportations, Saudi style
Beyond remittance and migration restrictions, Middle East elites have also used deportation as a strategy of coercion amid neighbourhood tension. When Yemen failed to denounce the Iraqi invasion of Kuwait at the UN Security Council (where it was a non-permanent member) in September 1990, Saudi Arabia expelled around 800,000 Yemenis over the following two months. Other Arab states followed Saudi's example and deported more Yemenis. The domestic upheaval that ensued in Yemen and the collapse of migrant remittances had destabilising effects that paved the way for the 1994 Yemeni Civil War.
Palestinians in Kuwait had a similar fate, and the entire community faced discrimination and, consequently, mass deportations when Palestine Liberation Organisation leader Yasser Arafat failed to denounce the Iraqi invasion in 1990.
Trump's executive order barring entry to citizen from seven Musim-majority countries – Iran, Iraq, Libya, Syria, Somalia, Sudan, and Yemen – needs to be understood through the lens of the US administration's immigration strategy. This will undoubtedly become much clearer in the new few weeks, but the Washington Post has already identified how the ban excludes any country where the Trump Organisation has business interests. Though it's worth pointing out that the seven countries were initially singled out for extra visa checks during the Obama administration.
Beyond the human cost involved in the use of immigration policy as a geopolitical strategy, the US administration should keep in mind a second lesson from the Middle East experience: target states often devise a retaliatory strategy. This may involve countermeasures or, in the case of Egypt and Libya, a border war in 1977. Iran has already declared it would ban entry to US citizens in response to Trump's actions, while the New York Times has begun talking of the making of a trade war with China. Not surprisingly, the number of voices criticising Trump's strategy as bad foreign policy is increasing daily.