The ongoing humanitarian tragedy of Kobanê has raised serious questions about the future of the Kurds. The unstoppable advance of Islamic State (IS) over the last few months has already scrambled the power dynamics of the region, while Western-led air strikes have so far failed to bring IS to its knees – putting Kurdish movements in Syria and Iraq under tremendous pressure.
But the new Kurdish crisis is not confined to IS-controlled territory. On the other side of the border in Turkey, formal negotiations with the Kurdistan Workers' Party (PKK) were supposed to start in October; instead, the PKK has been shelling Turkish outposts, while Turkey has now sent its jets to bomb PKK targets in Northern Iraq.
The ceasefire struck between the two sides in March 2013 is fast becoming a distant memory. But of course, storm clouds had been brewing for a while.
Lucrative hostilities
Even by the end of 2013, the PKK's top field commander, Cemil Bayik, had issued a stern warning to Ankara that its suspected backing of anti-Kurd Islamist rebels in Syria might force the PKK to relaunch its insurgency in Turkey. True to his word, the PKK has now sent back all its fighters who were pulled out of Turkey as part of the ceasefire process.
Bayik accuses Turkey of taking no action to save Kobanê from IS. That chimes with mounting domestic and international pressure on the Turkish government to start a fuller military intervention against IS, either by deploying ground forces or at least by allowing the transfer of military assistance to the Kurdish YPG (People's Defence Units) fighters in Syria.
Turkey has so far done neither, and that has fuelled suspicions that this is a deliberate tactic. IS's war against all Kurdish military forces has dealt severe damage to the Kurdish forces, and that could ultimately be considered a major favour to Turkey – strengthening Ankara's position just before the formal peace negotiations with the PKK are due to begin.
However, there could be another way of interpreting these dangerous unfolding developments over the Turkish peace process from a different angle: and that might be to do with what the parties to the conflict in Turkey will lose out by making peace.
30 years of fighting in south-eastern Turkey has created a strong and profitable war economy on which various parties are deeply dependent, one that includes major drug and human trafficking operations. In bald economic terms, continued war might just offer more stability than peace, since all these revenue streams would probably have to close down.
The road not taken
It did not have to be this way. The 2014 presidential election campaign offered a glimpse of a less sectarian, divisive and violent way forward for Turkey, in the form of Kurdish politician Selahattin Demirtaş.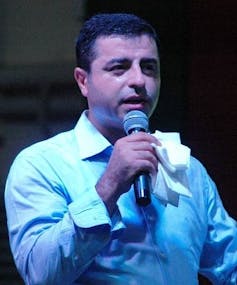 A member of parliament since the age of 34, Demirtaş not only managed to increase his party's votes in those elections; he also brought a much needed normalisation to the political landscape of Turkey, adopting a conciliatory approach and voice and trying to reach out to all peoples of the country. He talked about peace from the human security perspective, placing his emphasis on solidarity with all oppressed groups across the country.
In an interview just before the elections, Demirtaş said:
I know that Alevis trust in me, Kurds trust in me, Turkish progressives and democrats trust in me, women and youth trust in me, Armenians, Assyrians and Yazidis trust in me, ecologists and green movements trust in me. Now if all of these different groups have gathered around our principles and trust in us and are feeding and strengthening our hope, our job is to make sure we do not disregard or disappoint any of them and take this struggle to victory.
In other words, he showed that it is possible for a Kurdish politician to appeal to the entire country, positioning the HDP as a major threat to all mainstream parties in the country – or at least as a kingmaker, deciding who wins elections in such metropolises as Istanbul, Ankara and Izmir.
At the same time, Demirtaş has also shown Kurds that they could actually do without the PKK. He embodies the hope of a new way of doing Kurdish politics without fighting, agitation, division and separation, and instead, as part of a more democratic and prosperous Turkey.
But instead, the sun seems to be setting on the chances for a lasting peace. The main actors to the conflict on all sides do not seem to have any interest in the full demands of peace, and they clearly have no interest in giving up the things the continuing conflict allows them to control, manipulate, gain and exploit.
In the end, as in so many other frustrated peace processes, war still pays more dividends than peace. IS's onslaught on Kobanê obviously serves its own jihadist ends, but by wrecking the Turkish peace process, it has given new life to other pernicious interests besides.