Earlier this year, Turner Prize nominee Duncan Campbell said that in making films he attempts to find what the writer Samuel Beckett termed "a form that accommodates the mess". It is exactly this search that characterises the 2014 Turner Prize exhibition.
Both Campbell himself and James Richards succeed with their films. Both artists are adept in splicing appropriated footage with their own in order to raise very specific questions for the viewer about authorial perspectives and the politicisation of the writing of history. But for the other two – Tris Vonna-Michell and to a lesser extent Ciara Phillips – the format and requirements of exhibition formality have sadly compromised the work itself. And to such an extent that the content seems to be missing.
The Turner Prize exhibition was always going to present a challenge for these two. This is because they're not in the business of making artefacts that are typically housed in a gallery such as Tate Britain. But this was exactly why I was excited to see them in the shortlist. I knew the format required by the gallery space itself would present a real challenge and, more excitingly, the fact they were shortlisted was an opportunity to potentially bend the typical rules of static Turner Prize exhibitions. Finally, the Tate was endorsing a wider variety of contemporary art.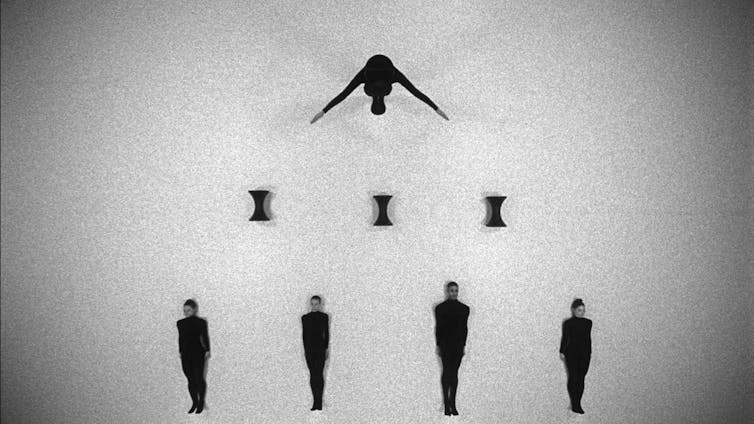 Bottled it
No such luck. Both Phillips' and Vonna-Michell's subject matter relies heavily on engagement with their audience. And so both faced a choice of how to present it within the framework of a conventional art space. Sadly, both shirked the complexities involved in doing so, instead opting to exhibit documentation of the work and to display props from the event.
Because of this, their work presents in a very distorted way. Take Vonna-Michell, for example, whose work typically involves a live medley of improvised rhythmic story-telling. As a viewer, you are compelled to listen. The stories are mainly about himself, about his search for his own history in relation to his German/Canadian roots. He goes to Leipzig, he goes to Japan. As a viewer, the only reason you're still listening is because he's there in front of you. He's pleading with you in the moment to listen to him and presents you with images to "evidence" the idiosyncratic detail in what he is saying. And there is something potent within that – something urgent – which speaks volumes about a basic connection between people and their verbalised histories.
But in this exhibition, Vonna-Michell has presented a film of his performance, Finding Chopin: Dans L'Essex, along with two displays of photographs on light-boxes. This seems to me to be for no other reason than to avoid the logistics of live-ness that so distinctly characterises his work. The use of film as a medium feels unconvincing, particularly within the company of Richards and Jamie Campbell, whose own video work functions precisely to unravel and deconstruct the framework of the medium itself. Next to them, Vonna-Michell's film comes across as sincere at best and naive at worst.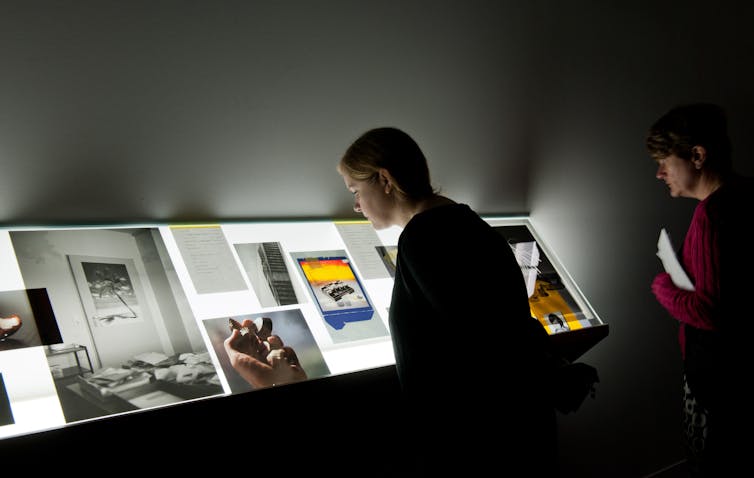 In Things Shared, Ciara Phillips presents us with a monumental screen-print installation. Again, I'm left scratching my head given what I know about her work. Print-making is always a starting point for Phillips, a means to bring together different communities and discourses that address broader issues of labour, solidarity, democracy and capital. The most interesting aspect of the work isn't the actual prints, but rather what print-making enables her to bring about. However, her Turner exhibit strangely distorts these concerns by instead monumentalising the final prints in an overhung visual display. It all seems quite arbitrary, strange to see the work presented in this way; over amplified for the sake of filling a room. As with Vonna-Michell, she's tried to circumvent the mess that the event itself would demand. But it seems to have taken with it the content.
The work itself
Not so with James Richards' work. His archives of images are collated to produce video collages that draw together disparate elements into an experiential – and very tactile – whole. Rosebud takes censored photographs from art books in a Tokyo library – including photographs from Robert Mapplethorpe and Man Ray that have the genitalia scratched out – and intersperses them with his own footage and peripheral sensory sounds. Closely framed shots of flowers over a twitching anus (rosebud?) give way to a budgie being fondled, then on to footage of roadside shrubbery at night. An amplified sensual soundtrack provokes a strange visceral response to the image. Despite its graphic content, Rosebud maintains a subtle openness with the viewer. We're left to make connections for ourselves.
Duncan Campbell's 54-minute film, It for Others 2013, closes the exhibition. It's an intelligent study in four chapters that takes under its lens how objects become commoditised. Inspired by Chris Marker and Alain Resnais's Statues Also Die, 1953, the film addresses the fetishisation of African art and the impact of colonialism on African heritage.
In a collaboration with a dance company, we watch dancers attempting to illustrate Karl Marx's Capital Volume 1. The narrator anxiously questions the use of a black dancer within it. Although the film was made last year, it seems particularly poignant given the recent closure of Brett Bailey's Exhibit B at the Barbican. The duration of the work may put some viewers off, but the wait is rewarded.
I was excited by this year's shortlist. It was varied, original. Finally, I thought, we're going to see some mess in the Tate. I understand the format of this exhibition, that it is based on the previous exhibition through which the artist was nominated. These are four very relevant young artists, who (for once) are interested in issues bigger than themselves. But this key interest is only communicated in half of the exhibits. It would seem that formality got the best of some.