When, in 2005, the University of Chicago entered into a US$81 million renovation of a major library building, one of the primary goals was to ensure that the university's collection of printed books in the social sciences and humanities would remain under one roof.
That goal was achieved six years later. However, it also meant that a good part of the library's print collection, while technically being "under the library roof," was moved "under the ground." The renovation included a subterranean automated system that can store and retrieve up to 3.5 million books.
Chicago's library project could well represent the end of an era – the era of colleges and universities expending millions of dollars so that printed books can be housed in on-campus libraries.
In my 25-year career as an academic librarian, I have witnessed the explosion of digital technology into academic life and played a part in the ongoing struggle to balance digital information with the familiar solidity of print in academic library collections.
While I believe there will always be a place for the book in the hearts of academics, it is far less likely there will be a place for the book, or at least for every book, on the academic campus.
Changing goals of costly shelf space
Keeping a printed book in a library is not cheap.
The most recent analysis pegs the total cost of keeping one book in an open library stack (the kind that allows browsing) at $4.26 per year (in 2009 dollars). High-density shelving, a less costly alternative to open stacks, comes at $.86 per book, per year (again, in 2009 dollars).
And given the costs, academic financial officers blanch at proposals to build new on-campus storage capacity for thousands, in some cases millions, of books.
This is not to say that academic library construction and renovation have come to an end. But rather than being conceived of as on-campus book warehouses, academic libraries are today being reimagined as spaces in which learning, collaboration and intellectual engagement take center stage.
Look at the following examples:
At Virginia Commonwealth University (VCU), the web page providing information on the construction of a new library building for the Monroe Park campus proclaims:
90% of the new space will be for student use, not for storing books or materials.
The University of California, Santa Barbara (UCSB) is in the midst of an addition and renovation project that will add 60,000 square feet of new library space and renovate 92,000 square feet of existing library space.
The stated goals of the UCSB project include such desiderata as "expanded wireless access," "additional and enhanced group study and collaboration spaces," and a "faculty collaboration studio." Additional book capacity is not part of the plan.
Even more extreme, the University of Michigan's $55 million renovation of its Taubman Health Sciences Library (completed in 2015) has removed all print books from the library in order to accommodate classrooms and "collaboration rooms."
An entire floor is now devoted to "clinical simulation rooms" where medical students hone their diagnostic and clinical skills through simulated hands-on practice.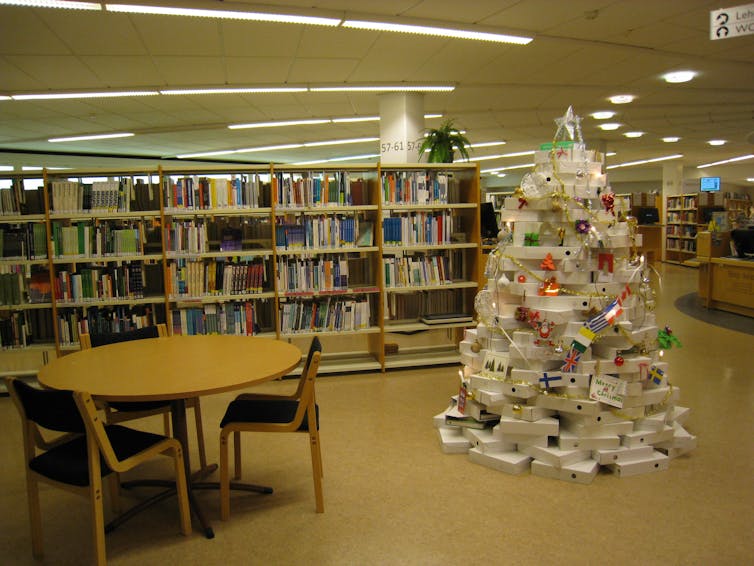 All these are part of a mainstream trend in which the printed book, though still part of the academic library ensemble, is being relegated to the role of supporting player rather than the lead actor.
New ways of storage
In the face of these changes, academic librarians have no choice but to take action. Their challenge, though, is that there are simply too many print books and not enough on-campus space to store them.
The most obvious solution to too many books is "weeding," the library profession's term for removing books from a collection. While weeding creates space for new books, it has significant labor and disposal costs. Also, it can meet with stiff resistance from faculty and students.
So an increasingly popular strategy for managing overcrowded stacks is moving books to high-density, low-cost, off-campus storage.
This too can be met with resistance from faculty and students. For example, at Syracuse University, faculty reacted with with what was described as "fury" when campus librarians planned to move low-use books to an off-campus storage facility.
Even so, the practice has become routine for many academic libraries. As of 2014, an estimated 75 high-density academic library storage facilities have been built in the US.
Often located where land is cheaper and more plentiful than on crowded college campuses, climate-controlled high-density storage facilities house books and other library materials in space-saving compact shelving. While the items in such facilities are not browseable, their bibliographic records remain in the library catalog and the items themselves can be recalled if needed by a library user.
This number includes facilities that serve a single library. But it also includes several shared mega-facilities, such as:
The Research Collections and Preservation Consortium (ReCAP) – a [partnership](http://recap.princeton.edu](http://recap.princeton.edu ) of Columbia University, The New York Public Library, and Princeton University – houses more than 12 million volumes.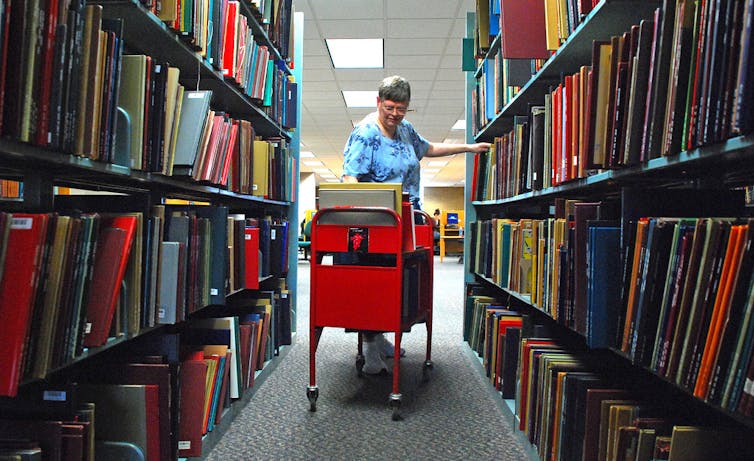 The Minnesota Library Access Center – serving the University of Minnesota along with a consortium of smaller libraries around the state – has a capacity of 1.5 million volumes.
The University of Texas and Texas A&M shared repository, which opened in 2013, has a capacity for over one million volumes and is designed to be expandable to a two-million-volume facility.
The statewide Ohiolink system includes five regional repositories whose shared capacity approaches 10 million volumes.
The combined University of California Northern and Southern Regional Library Facilities have the capacity to house a combined 13 million volumes.
But because of the high costs involved, books are also being weeded out as they are moved.
Rather than keeping five copies of Book X, each deposited by a separate library, a shared storage facility may keep only a single "best copy" to be shared by all the contributing libraries.
Things have gone so far that Texas' high-density repository is home to books that are the shared property of both the University of Texas and Texas A&M, a rather astounding state of affairs for anyone familiar with the length and depth of the rivalry between the two institutions.
Future of campus libraries
Besides building shared repositories, academic libraries are also developing distributed storage projects as a way of reducing the pressure on library stack space.
Rather than relying on large repositories, distributed storage schemes are based on multilibrary agreements. A member library agrees to hold an archival print copy of a bound journal or monograph so that other members of the consortia can dispose of their copies.
Academic librarians have formed a task force to investigate the creation of a distributed shared monograph archive on behalf of HathiTrust, a shared digital preservation repository containing the scans of millions of printed books belonging to a coalition of academic libraries.
The proposed HathiTrust monograph archive will allow those same academic libraries to reduce the footprint of their on-campus collections by relying on shared archival copies of low-use, mostly public domain books whose full texts are available digitally via HathiTrust.
While there is certain to be resistance to any future plans to move books out of campus book stacks, the inescapable calculus of more print books and less on-campus space to house them will, in the end, overwhelm resistance.
Academic library consultant Lizanne Payne accurately sums up the current situation:
On most campuses, library shelf space is finite and even shrinking. Gone are the days when a proactive library director could argue successfully for a library expansion to house more books.
Traditionalists may not like it, but there is plenty of evidence to suggest that, in the long term, campuses will not require ever more space to house printed books.