The Norwegian writer Karl Ove Knausgaard is the most recent export of a particularly Scandinavian expression of personal struggle. This ethos of resistance to larger socio-political forces, coupled with individual vulnerability, has become a Scandinavian trademark. It is especially noticeable in recent crime TV drama such as The Killing and The Bridge.
In most American crime drama, vulnerability exists but only to be overcome. In the Scandinavian narrative, by contrast, vulnerability is emphasised as that which makes the hero a better investigator or homicide detective.
The popular Danish crime drama The Killing starring Sofie Gråbøl as Sarah Lund also weaves a multitude of stories around its core narrative. It gives the background of all the murdered victim's family, as well as the politics of Danish society. Lund displays equal measures of strength and vulnerability.
Who will forget Lund's knitted jumper that seemed to emphasise a fragile humanity adrift in a sea of corruption? It isn't a coincidence that the jumper is from the struggling Faroe Islands, still under the sovereignty of Denmark.
Series 3 of the popular Swedish-Danish crime drama The Bridge will be released this year. It features Saga Norén (Sofia Helin) as the homicide detective who shows symptoms of Asperger's Syndrome. The word saga itself is the Icelandic equivalent of One Thousand and One Nights.
True to its protagonist's name, The Bridge offers a complex network of stories. Even when one aspect of the crime is resolved, numerous other interlinked stories emerge.
Stalling death through narrative
As in crime fiction, a dead body is also at the centre of Knausgaard's ongoing autobiographical project My Struggle. The author's father died a slow alcoholic death. The series began as a result of Knausgaard's effort to liberate himself from the influence of his abusive father.
Apart from documenting his struggle, the book itself has met with great opposition due to the nature of his disclosures. These arguments also end up being incorporated into later volumes.
My Struggle begins in 2008, a decade after the father's death. Feeling the symptoms of an emerging midlife crisis, Knausgaard feared that he would follow in his father's footsteps.
Instead of simply accepting his fate, Knausgaard chose a far more complex option. He took on the challenge of writing out his predicament. Without ever denouncing his father, no detail is spared. By relentlessly giving voice to his struggle, it is as if he stalls death for 3,600 pages. Knausgaard is the Scandinavian Scheherazade who prolonged her life by getting the King hooked on stories.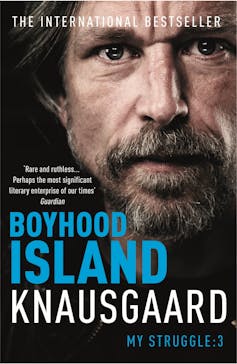 My Struggle has received great acclaim in Scandinavia and in the English-speaking world. The first three volumes currently available in English translation have topped bestseller lists in the US and UK. The fourth volume is going to be released in April this year.
Knausgaard's prose style impresses at the level of detail. Where a century ago Proust famously rendered the experience of eating a pastry with marvellous exactitude, Knausgaard does the same when describing seemingly mundane events: a drop-off at daycare, a visit to the toilet, the passing of clouds.
The heart of the struggle becomes apparent in the sixth and final volume of the book. This volume (I read it in Swedish translation) includes an essay of 400 pages about Hitler's Mein Kampf (My Struggle is published as Min Kamp in Norwegian) as well as several lengthy theoretical musings on the role of literature today. What emerges is a powerful riposte to prevailing academic notions of the self as product of its surroundings rather than an agent in its own right.
What's heroic about Knausgaard's project is that he resists this theoretical dictum. In My Struggle, subjective agency is radically foregrounded in the way it resists fate. Death, to Knausgaard, becomes synonymous with the ease with which human beings are absorbed into the social setting they have produced.
Death means merging with consumer objects, sheepishly subscribing to fashionable ideologies, giving up, losing one's identity. Knausgaard's "I" refuses to submit to these pressures.
A Scandinavian attitude
What do Knausgaard and the female investigators in The Bridge and The Killing have in common?
Saga and Sara unravel complex patterns of crime by attempting to get under the skin of the perpetrators and to think like them. Knausgaard similarly takes second-guessing his detractors to new heights.
Ultimately, what they share is the ability to see their own vulnerability mirrored in their adversaries. Rather than attempting to disentangle life's complexities, the Scandinavian ethos of struggle piles them on, like the densely knitted yarn in Sarah Lund's jumper.
The attraction of these Scandinavian versions of conflict is in the way they refuse easy solutions to intractable problems. They engage audiences around the world because they do not offer a black and white view of the world. Rather, they offer more nuanced points of view and therefore more humanity.