Many of the details surrounding the recent fatal police beating of Tyre Nichols in Memphis, Tenn., are still unknown or disputed. The rest may seem confusing.
Yet in many ways, all you need to know is how the encounter started: With Nichols expressing confusion as to why he had been stopped, and one officer replying that he would "knock your ass the fuck out."
In approaching Nichols as someone hostile — an enemy on a battlefield, rather than a member of the public — the police in this case brought nearly 400 years of American history to what was allegedly a routine traffic stop.
The first English authorities in the Americas sometimes imposed martial law over the early colonists, while the Puritans of New England added a range of Biblical laws to everyday life. By the mid-1600s, however, most North American colonists enjoyed the unequal protections of English law, which gradually became more equal for their descendants.
Roots in Barbados
A different pattern emerged on Barbados, settled by the English in 1626 and by far the wealthiest of the colonies after its shift to sugar production in the 1640s. To plant, cut and boil the sugar canes, they imported more than 10,000 West African slaves that decade.
---
Read more: Five ways the monarchy has benefited from colonialism and slavery
---
For the first time, an English overseas community held a large population of presumably "brutish" and "pagan" peoples as permanent captives.
The English assumed that the African slaves could never become part of the lawful population of Barbados. And so, in 1655, the island's governor decreed that all Black defendants were to be tried in special courts of "oyer and terminer ("to hear and determine")," which were normally used only against the most extreme criminals, like witches or traitors.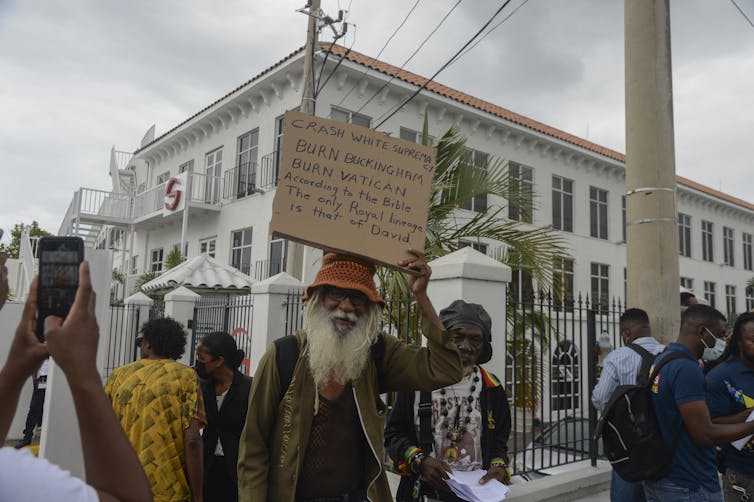 The idea was formalized in a set of Barbados laws in 1661. Whereas every son and daughter "of the English nation" would henceforth enjoy due process of law, every Black slave was subject to new slave courts (akin to oyer and terminer) and slave patrols (groups of armed and mounted white people).
These laws spread word-for-word to the English colony of Jamaica in 1665, and from there to South Carolina in the 1690s and Virginia in 1705.
Racial slavery waxed and waned in North America over the next century and a half, shrinking during the revolutionary years of the 1770s and 1780s and then exploding with the rise of cotton in the early 1800s.
South of Pennsylvania, the core institutions of slave courts and slave patrols remained and indeed expanded in the early United States.
White authorities were very clear as to the rationale behind these courts and patrols: Black people were neither citizens (like white men) nor members of households (like white women and children). Rather, they were an "internal enemy," a hostile and alien element within the lawful community.
Slavery's violence endured
Conservatives often point out that American slavery ended 158 years ago. That's true. It's also true that the northern countryside of the 19th century was famous for not needing much of a police presence, because almost everyone in that democratic stronghold felt protected by and responsible to the law.
Yet it's equally true that slavery was a central feature of American life for more than 200 years. Some of its most violent practices endured long after the Civil War ended as white militias — reconstituted slave patrols — repressed freed peoples' rights to vote, go to school and hold property throughout the late 1800s and well into the 1900s.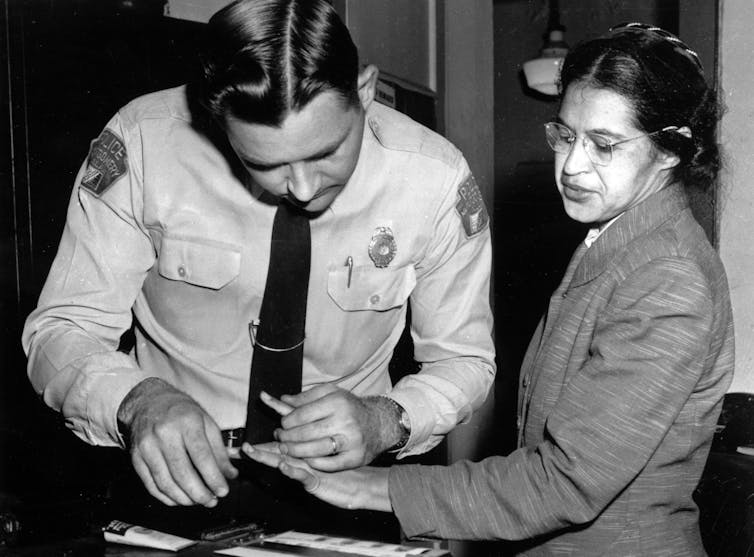 In other words, during an era of European imperialism across Africa and Asia, the U.S. continued to hold a subordinate group captive within its borders. It was a kind of internal empire that also expanded its reach over North America in a series of "Indian wars" in the 1870s and 1880s.
"Next to other western democracies," notes the legal scholar Mugambi Jouet, "America has historically had a far bigger proportion of racial and ethnic minorities." Few of those minorities have fit easily within the constitutionally recognized community of "the people."
The significance of this simple fact cannot be overstated. American democratic principles of equality before the law came earlier to the U.S. than to Europe or Canada. Nonetheless, those principles grew alongside the raw violence of slavery and colonialism, requiring citizens — or the armed groups charged with protecting them — to hold captive the alienated victims of slavery and colonialism who also lived inside the nation.
The result was a pattern of law enforcement that repeatedly adapted to the dizzying pace of change in America.
Even as modern police departments emerged in the late 1800s and early 1900s, for example, presumed criminals such as labour activists or "uppity" Blacks were regarded as existential threats to the lawful population. These sentiments fuelled violence by the U.S. National Guard, by hired thugs known as Pinkertons and by lynch mobs.
Broken windows, bloody landscapes
The most recent echo of the pattern is the so-called "broken windows" philosophy of policing that emerged in the 1980s and 1990s.
The basic idea here is that fear of violent crime is itself cause for police intervention, requiring pro-active investigation of suspicious places, such as buildings with broken windows or of suspicious persons, often Black men.
In 2013, a federal judge ruled that New York City's "stop-and-frisk" policy, one of the most aggressive outgrowths of the broken windows philosophy, violated the Fourth and 14th amendments to the U.S. Constitution.
But in the face of violent crime, both real and imagined, many communities continue to turn to new variations on the old theme, treating whole swaths of the population as internal enemies to be approached with guns drawn — including, apparently, police officers who are themselves Black.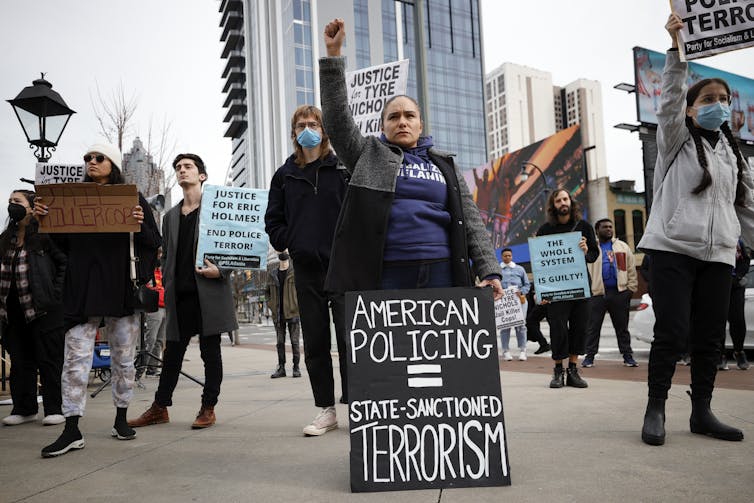 In Memphis, for example, the police launched the SCORPION (Street Crimes Operation to Restore Peace In Our Neighborhoods) unit in 2021 to combat a surge in murders by flooding the streets with quasi-undercover agents in black hoodies who used traffic stops as opportunities to find drugs or guns.
It's important to understand the deep and broad appeal of this approach in an apparently fearful country where there are more guns than people and where mass killings are shockingly routine.
It's equally important to trace the approach itself to specific historical moments, so that clear alternatives can become imaginable — perhaps even possible.