Why does the U.S. have troops in South Korea?
A groundbreaking diplomatic event — the planned summit on June 12 between North Korea's Kim Jong Un and President Donald Trump — may be in jeopardy. The actions of U.S. troops in South Korea are at the center of that conflict.
North Korea's official Central News Agency stated that recent South Korean-U.S. military exercises were a "deliberate military provocation" that insulted North Korea's recent peaceful overtures.
But the exercises, "Operation Max Thunder," are regular events for U.S. and South Korean troops, who have trained in tandem since the end of the Korean War, waged from 1950 to 1953.
A divided country
That war officially split communist, Soviet-aligned North Korea from democratic, U.S.-aligned South Korea, a physical embodiment of Cold War politics that pitted communist and democratic nations against each other.
Ever since the split, the U.S. has assisted South Korea in military training and stationed a semi-permanent military presence on the peninsula to deter North Korean aggression.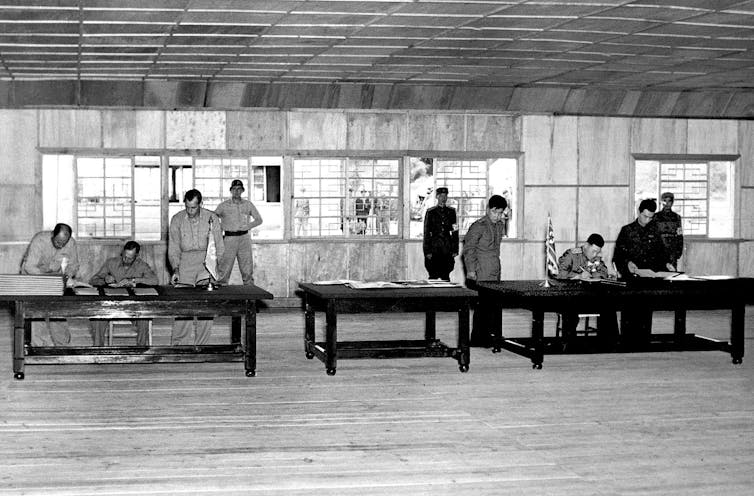 Sixteen months after the Korean War armistice, the U.S. Air Force and the South Korean Army conducted their first joint exercise, "Autumn Season," which tested weapons systems' ability to interact and whether the two countries' forces could adequately communicate in simulated combat.
U.S. and South Korean troops still jointly guard the Demilitarized Zone, or DMZ, a 160 mile-long, 2.5 mile-wide strip at the 38th parallel north that originally separated Soviet and U.S. administration after World War II.
Today, the U.S. has more than 23,000 troops in Korea, and almost 40,000 troops scattered across bases in neighboring Japan. U.S weapons in South Korea include the anti-ballistic-missile system known as "THAAD," whose presence has provoked a backlash from China, which says the system destabilizes the region.
Practicing war
Why continue to do perform joint exercises? When countries share a threat, the way to prepare for victory in a potential conflict is to practice, to figure out how to communicate effectively and to test how systems and weapons work together.
In a broader strategic sense, large military exercises in the Pacific demonstrate U.S. power to the region. Beijing can practically sip a Tsingtao on the patio while watching Uncle Sam gambol about its backyard — the Korean peninsula. That reminds the potential adversary that the U.S. supports the democracies of South Korea and Japan, and opposes what Princeton international affairs scholar G. John Ikenberry calls a "closed, illiberal Chinese sphere of influence."
The routine exercises practiced in South Korea are often mirrored by exercises in the North. The timing of Max Thunder, however, is perfect grousing material for Kim Jong Un as he prepares – perhaps – to join Trump at the bargaining table next month.