Over the past few weeks there have been a growing number of reports that Russia is recruiting workers and – according to some sources, using forced labour – to dig trenches and build fortifications in Crimea across areas they would be forced to defend were Ukraine to make the peninsula a major objective of its spring offensive.
Activity is mainly focused on the areas around the Isthmus of Perekop, a roughly 19-mile long stretch of land which connects Crimea to the Ukrainian mainland. Its strategic importance is obvious when you think there have been fortifications dug there on and off for 2,000 years.
Russia has been beefing up its defensive positions there since it first occupied the peninsula in 2014, but with talk now that Ukraine is planning to imminently launch a major push, work has apparently redoubled. In case of an attempted amphibious assault, fortification of Crimea's beaches has also been underway for some months.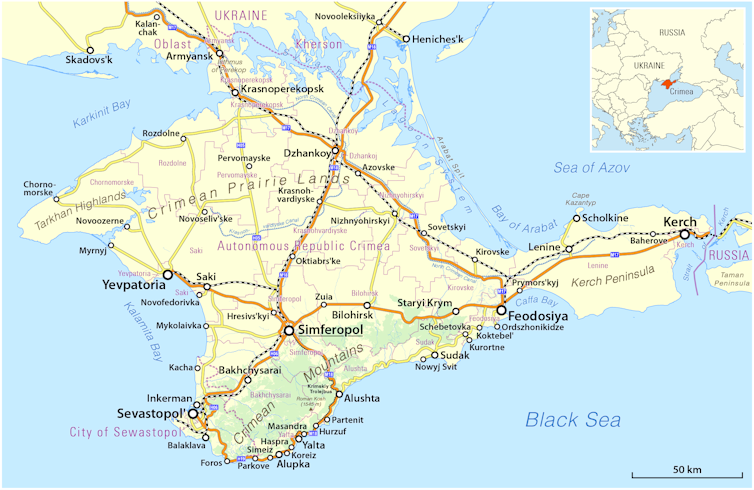 Ukrainian news outlets have also reported that plans are being prepared for a rapid "forced evacuation" of Crimea. Christopher Morris, an expert in military strategy at the University of Portsmouth, stresses here just how strategically important Crimea is in this conflict. It is a base for Russia's Black Sea Fleet, and provides critical access to trade through ports such as Sevastopol. It also provides the anchor for a southern front from which to threaten Ukraine.
---
Read more: Ukraine war: tensions rise in Crimea as Russia prepares for a likely spring offensive
---
A great deal will depend on how quickly the west can supply Kyiv with the promised military hardware it will need to launch its offensive. Then there's the question of what sort of shape Ukraine's troops will be in after so many months of bruising combat in and around the western provinces of Donetsk and Luhansk, especially in Bakhmut – which has been covered in some detail in previous recap articles.
---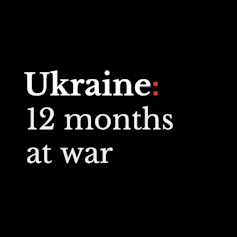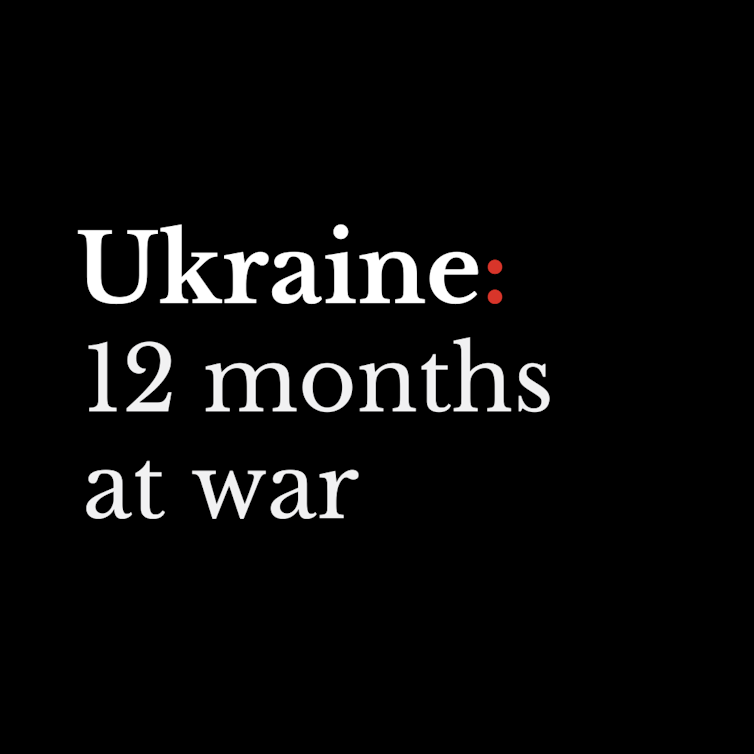 Since Vladimir Putin sent his war machine into Ukraine on February 24 2022, The Conversation has called upon some of the leading experts in international security, geopolitics and military tactics to help our readers understand the big issues. You can also subscribe to our fortnightly recap of expert analysis of the conflict in Ukraine.
---
The US this week signalled how urgently it sees its supply of Abrams tanks to Ukraine when it made the decision to replace the latest version of its Abrams tanks with refurbished older models that will be ready to go much sooner. The UK has reportedly already completed its training of Ukrainian tank crews who will man the state of the art Challenger II tanks it is preparing to send and Germany announced it had already trained crews to operate its Leopard II tanks, which it has now dispatched to Ukraine.
Identity cards
The bewildering array of weaponry being provided to Ukraine by Nato and other western allies will, of course, present its own challenges – not the least of which is how to tell whether they are friend of foe. The New York Times reported this week that the Pentagon had designed a deck of cards (52 playing cards and two jokers), each of which bears a picture of a piece of Nato military equipment including tanks, helicopters and rocket launchers.
This immediately gave rise to memories of the playing cards marked with senior members of Saddam Hussein's regime that were given to coalition forces in Iraq, 20 years ago, but apparently it is fairly standard for the US military to issue cards picturing enemy military hardware. But the frequency of "friendly fire" incidents in Ukraine over the past year has been such that it seems a good idea that Ukrainian troops are given visual aids to prevent mistaking Nato-supplied materiel for Russian military hardware in the fog of war.
Matthew Powell, who lectures in military strategy and air power at the University of Portsmouth, writes that friendly fire incidents have occurred throughout the history of war and are often difficult to avoid. He points out that – by all accounts – Russian units are experiencing more of these incidents than Ukraine. When you consider that Russia's military relies on a far larger complement of conscripts and mercenaries who haven't received the same level of training and whose communications are not as robust, this would appear to make sense.
---
Read more: Ukraine war: US issues Nato weapons playing cards to help Ukraine avoid friendly fire
---
Shifting narratives
According to the daily updates from Washington-based thinktank, the Institute for the Study of War, Russia is boosting its recruitment efforts – both via the mercenary Wagner Group and through the regular army, with the plan to sign up 400,000 new recruits from April 1. Just recently, Kremlin mouthpiece Dmitry Peskov is reported to have told a dinner party of some of Russia's business and political elites to prepare for a "forever war", which could "take a very, very long time". So much for the "special military operation" promised by Vladimir Putin, which the Kremlin predicted would be over in days, if not weeks.
But then Russia's narratives about this conflict have changed as rapidly as its fortunes on the battlefield. What Putin billed as essentially a police operation to free the country from the "gang of drug addicts and neo-Nazis" who were preventing Ukraine from assuming its natural role as a part of the motherland is now, according to the Russian president, a "a task of the survival of Russian statehood, creating conditions for the future development of the country and our children".
Anyone who watched the terrific BBC documentary series, Putin vs the West, will have seen how adept Putin and his inner circle are at bending facts to suit their own ends. Stephen Hall, an expert in Russian and post-Soviet politics at the University of Bath, has been following the serpentine logic of some of the messages coming out of the Kremlin, and wonders why the west failed to pick up on Russia's intentions vis-a-vis Ukraine a long time before it did. Perhaps it didn't want to?
---
Read more: Ukraine: Kremlin warning of 'forever war' reflects shifting Russian rhetoric about 'special military operation'
---
A wanted man
Whatever else it may mean, the recent announcement by the International Criminal Court (ICC) that it had issued a warrant for the Russian president and his children's commissioner, for the alleged illegal deportation of Ukrainian children to Russia, is likely to put a crimp in Putin's travel plans.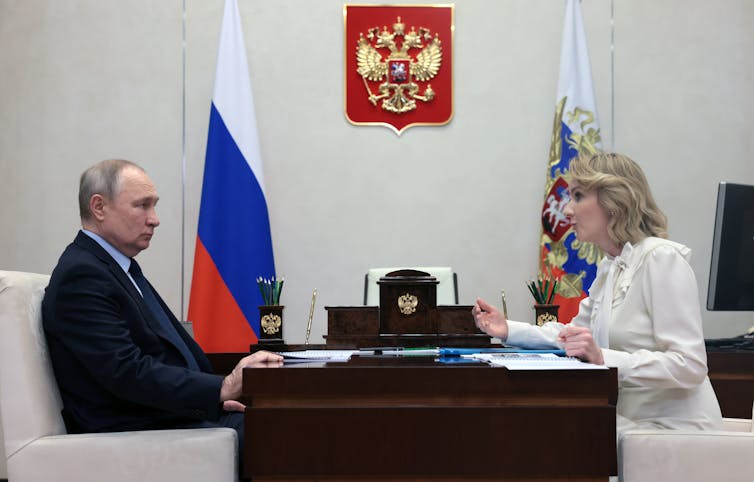 As Stefan Wolff – an expert in international security at the Univesity of Birmingham – writes, this warrant is, at this stage at least, purely symbolic. But it does lay down a marker that the world is serious about impunity and accountability.
---
Read more: Ukraine war: ICC's Putin arrest warrant may be symbolic but must be the beginning of holding the Russian leader accountable
---
Meanwhile, as Catherine Gegout – an associate professor in international relations at the University of Nottingham – points out, this is the first time officials of a permanent member of the United Nations security council have been indicted for a war crime. And to make the situation the more surreal, Russia takes over the chair of the Security Council on April 1 (more about this in the next recap).
Gegout discusses here quite how hard it is to bring a head of state to justice. It has not been for the want of trying: Muammar Gaddafi was murdered before he could face trial, for example, and we are still waiting to hear whether Sudan's highest court approve the country's decision to ratify the ICC's fouding treaty in order to prosecute the country's former leader, Omar al-Bashir, for his alleged involvement in the genocide in Darfur.
---
Read more: Putin and the ICC: history shows just how hard it is to bring a head of state to justice
---
Beijing-Moscow axis
If Vladimir Putin's ability to travel abroad has been circumscribed by the ICC's warrant, that doesn't stop him receiving guests in the Kremlin. The most important recent visitor has been Chinese president, Xi Jinping, fresh from being confirmed in his unprecedented third term in the top job.
Jonathan D T Ward, a China expert with the University of Oxford, who has published two major books on the rise of China, sees this as a momentous meeting, drawing together what he calls the "heirs to two of the most violent revolutions in modern history". Xi, of course, has his reasons for at least a tacit approval of Putin's Ukraine adventurism. As Ward notes, the Chinese leader has his own plans for Taiwan.
This is a story with a lengthy arc – as Ward writes, Joseph Stalin told his counterparts in communist China: "There should be some division of labour between us … you may take more responsibility in working in the east .. and we will take more responsibility in the west." The power dynamic between the two countries may have changed somewhat, with Beijing now very much the "older brother" to Russia's junior partner, but the same ideas are in play to this day.
---
Read more: Xi and Putin meeting signals the return of the China-Russia axis and the start of a second cold war
---
Fascist is an easy insult
Reflecting on this Vladimir Putin's assertions that his only motivation in invading Ukraine was to free the people from the yoke of the Nazi gang that had destroyed the country's democracy, it's easy to see why the Russian leader chose to describe Ukraine's leadership this way. It's pretty much impossible to defend Nazism – if the mud sticks, then it beings with it all the baggage you'd expect, including the murder of six million Jews in Europe.
Stalin understood this as well. Richard Sambrook, a professor of journalism at the University of Cardiff – and a former head of global newsgathering for the BBC – tells the story of British journalist Paul Winterton. Winterton, who was the Moscow correspondent for the News Chronicle and a regular contributor to the BBC World Service, was one of the first correspondents to write of the horrors of the Nazi death machine, reporting from the Red Army liberation of Majdanek concentration camp in August 1944.
Winterton also wrote this rather clearsighted passage about an insult that is thrown around these days with great frequency, but which – as Stalin knew – could be a very powerful propaganda tool:
The word 'fascist', for instance has rightly become a word of abuse and shame throughout the world. Very well, argue the Russians, if anyone attacks us or offends us or effectively disagrees with us, we will call him a fascist. Some people are bound to take up the cry.
More than seven decades on, his words still ring as true as ever.
---
Read more: Ukraine: reporter's notes from WWII shows how Russia used claims of fascism to stem independence
---
Ukraine Recap is available as a fortnightly email newsletter. Click here to get our recaps directly in your inbox.