A British woman seeking to divorce her husband must remain unhappily married to him until 2020, after the Supreme Court "reluctantly" ruled in his favour. By 2020, Tini Owens will have been separated from her husband, Hugh, for five years, which is grounds for divorce under the current law.
The couple married in 1978 and in 2015 Tini Owens left the matrimonial home and petitioned for divorce. Among many reasons, she alleged that he had prioritised his work over their home life, the marriage lacked love and affection, he was often moody and argumentative, and as such, he had behaved in such a way that she could not reasonably be expected to live with him. Hugh Owens denied the allegations and refused to agree to a divorce.
In England and Wales, the only ground for divorce is that the marriage has irretrievably broken down, however, the court cannot grant a divorce unless it is satisfied that one of five facts has been established. Three of these are what is called "fault based" – adultery, unreasonable behaviour and desertion. The other two are based on periods of separation: two years separation with both parties consenting and five years separation without consent.
The case is a rare example of a court rejecting a behaviour petition on the grounds that the behaviour was not bad enough. It also demonstrates that the current divorce process is not fit for purpose.
---
Read more: Divorce can be nobody's fault – the law should do more to recognise that
---
In her closing remarks, the president of the Supreme Court, Lady Hale, stated that the Owens situation was "a very troubling case", but that the court's role was not to change the law, but to interpret and apply it as laid down by parliament.
Since the last unsuccessful attempts to introduce "no fault" divorce, there have been continued calls for reform of the current system, including from senior members of the judiciary.
A 2018 report published by the Nuffield Foundation found that in a national opinion survey, 62% of people applying for a divorce and 78% of people against whom an application for divorce had been made, said the use of fault made the process more bitter.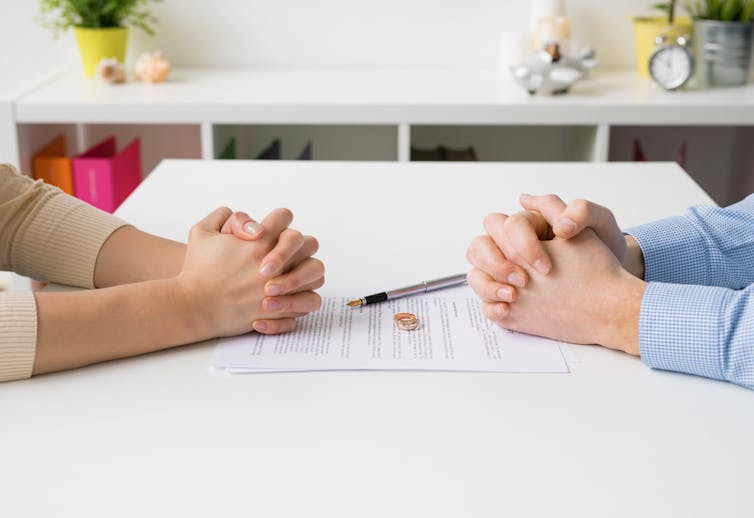 Lagging behind
The Owens case is also significant as it highlights that England and Wales is lagging behind other jurisdictions.
Australia has had no fault divorce since 1976. The sole ground for divorce there is the irretrievable breakdown of the marriage, demonstrated by 12 months of continuous separation. The regime doesn't require the airing of alleged unreasonable behaviour and doesn't force couples to apportion blame for the breakdown of the marriage. Similarly, under Dutch law, it's not necessary to allege fault against the other party for a divorce to be possible.
The basis for divorce in Scotland was originally very similar to that in England and Wales. But following the implementation of reforms in 2006, couples can divorce after one year if they both agree, or after two years if one party does not consent. While the fault-based facts of unreasonable behaviour and adultery have been retained in Scottish law, the reliance on these is very low. The Office of National Statistics found that in 2015, 60% of English and Welsh divorces were granted on adultery or behaviour, while in Scotland this was only 6%.
One of the main objections to introducing no fault divorce is that it would make divorce easier and lead to higher divorce rates. Scotland saw an increase in divorce rates in the two years after the reforms, before a 14% drop in 2012. But recent figures show that in 2016, there was a 5.8% increase in divorces in England and Wales, suggesting that current divorce laws don't act as a deterrent to couples wanting to get divorced.
Divorce is never easy; but the introduction of a no fault system would enable couples to end their marriage in a dignified and non-adversarial way. While there is the possibility of an increase in divorce rates if a no fault system is introduced, this is unlikely to be significant and long-lasting. Instead, a greater advantage of reform is that it will alleviate unnecessary family conflict, surely reason enough to encourage parliament to replace the law.