As Venezuelans prepare for a congressional election amid increasing political violence and an unprecedented economic crisis, Nicolás Maduro's already beleaguered government is quickly losing ground. With an empowered opposition and an increasing number of disillusioned Chavistas, the Bolivarian Revolution is facing the most difficult test of its 16 rambunctious years.
Lilian Tintori, human rights activist and wife of imprisoned opposition leader Leopoldo López, has become one of the most influential voices of the anti-government struggle. Since her husband was arrested last year, Tintori has embarked on an international crusade to expose human rights violations in her country. She has met with political leaders, prominent NGOs, heads of state, and even the Pope.
As she attended an election rally in the central state of Guárico in the election's home stretch, the regional opposition leader Luis Manuel Díaz was shot dead just 10m from where she was standing. In a press conference that followed the incident, Tintori said "they want to kill me", and that she held President Maduro responsible for anything that could happen to her.
The same week, the private plane that her team uses to travel across the country caught fire when it landed. Tintori accused the authorities of being behind the fire: "That aircraft was tampered with by the regime and I am not scared to say it."
These are not isolated incidents. In the last couple of weeks before the polls open, the opposition has denounced various violent attacks against its leaders, including a shooting by government supporters at a political rally in the southeastern state of Bolívar, where former opposition presidential candidate Henrique Capriles Radonski was going to speak.
This violence has been accompanied by a clutch of new criminal scandals. Last month, two nephews of first lady Cilia Flores were caught trying to smuggle 800kg of cocaine into the US. They are currently being detained by the American authorities.
Carrots and sticks
As most independent polls predicted the opposition will win by 15-20 points, Maduro announced on national television that his party will not relinquish power no matter what the results.
In a meeting with community organisers only a week before the polls, he said that he was sure his government was going to win the election. Then he added: "But if something negative happened, I would go to the streets to fight alongside the people, as always, and the revolution would enter a new phase."
Maduro's strategy has been twofold: instilling fear through threats of violence if he loses the election, and illegally using millions of dollars of public funds to buy votes. He even gave away 2,500 new cars to private taxi drivers: "As per the decision of the President of the Republic, all taxis will be given away with keys, papers, and without charging anything. I donate them to you," he said. In the last few days before the vote, the government has also given thousands of computer tablets to voters.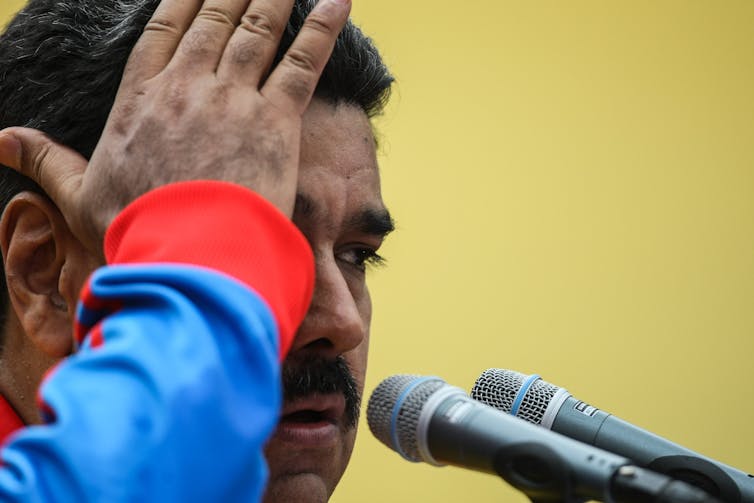 Although Venezuela's polling procedure is considered relatively clean, the government has previously used various illegal and unconscionable methods to help it win votes before the polls open. These include hugely imbalanced coverage in the mainly government-controlled media, an electoral body staffed by pro-Maduro officials who turn a blind eye to the government's abuses, a network of local operatives who control and intimidate voters in poor neighbourhoods, and even the naming of several voting centres after former president Hugo Chávez.
According to Transparencia Venezuela, a local NGO focusing on corruption, there have already been 401 complaints of electoral law violations committed by the government and its candidates.
One of the most alarming cases is that of Ernesto "Chacho" Rodríguez, the government candidate for the northeastern state of Anzoátegui. He admitted in an interview with the national TV channel Globovisión that he is receiving public funds for his campaign from the Venezuelan state oil company PDVSA.
Feeling the squeeze
Unlike his predecessor Hugo Chávez, who turned international criticism (particularly from the Bush administration) to his nationalist advantage, Maduro faces a harsher climate of international opinion.
Although the Obama administration has been cautious about being cast as "interventionist" in Venezuela, the candidates vying to succeed him have stepped up their criticism.
At a recent conference on Latin America, Hillary Clinton called on leaders across the Americas to speak out against the Maduro administration's attempts "to rig the elections".
Meanwhile, for the first time, two of the leading Republican candidates have Latino roots: both Ted Cruz and Marco Rubio are Cuban-Americans, and both have been sharply critical of Maduro's regime and its ties to Havana. A strong advocate for sanctions on Venezuela, Rubio has characterised Maduro as a "payaso corrupto" ("corrupt clown"), a phrase that resonates deeply in Latin America.
He has not done much to defy that stereotype. In contrast to Chávez, who invited election monitors from the OAS and the US-based Carter Center, Maduro announced in August that "Venezuela is not being monitored, and will not be monitored by anyone!" Instead, delegates from the South American Union of Nations (Unasur) will "accompany" the electoral board to visit a few select voting spots.
Under Chávez, the newly created regional blocs of Unasur, the Bolivarian Alliance for the Americas (ALBA) and PetroCaribe helped to bolster regional support for the country's Bolivarian Revolution. But under Maduro, the strength of that support has waned, even among allies. In Argentina, chavista ally Cristina Fernández de Kirchner has been replaced by Mauricio Macri, who has called for Venezuela to be suspended from the Mercosur trade bloc due to human rights abuses.
In a joint letter in El País entitled "Venezuela Screams for Freedom", the prime ministers of the UK and Spain, David Cameron and Mariano Rajoy, were among the leaders who called on Maduro to ensure free and fair elections. They also pressed the Venezuelan government to free political prisoners.
All in all, this election has become a lose-lose situation for Maduro. If the government recognises its defeat at the ballot box, and the opposition wins two thirds of the seats as polls predict, the new Congress is likely to call for a referendum to remove the unpopular president.
But if Maduro refuses to play fair, he and his government will finally shed their last vestiges of democratic legitimacy. In that event, he said in October, "I would govern with the people, always with the people, in a civic-military union."