If you scan Australia's media headlines you might notice that the words "refugee" and "asylum seeker" rarely feature positively in mainstream news stories. This week's front-page headlines were no exception with news that people smugglers were reportedly paid to turn around asylum seeker boats and, in doing so, fulfilling the federal government's 2013 election promise to "stop the boats". The message from Prime Minister Tony Abbott is deliberately a very negative one about asylum seekers coming by boat:
What we do is we stop the boats by hook or by crook, because that's what we've got to do and that's what we've successfully done, and I just don't want to go into the details of how it's done.
A global tribute to refugee resilience
Saturday is World Refugee Day, and it is meant as a day of celebration and commemoration. UN Secretary-General Ban Ki-moon is urging member nations to ponder the generosity of countries and communities that have helped the "forcibly displaced", including both refugees and asylum seekers.
Celebrities from across the globe have recorded 30-second messages on the UN website. These pay tribute to "the strength and resilience of the millions of people around the world forced to flee their homes due to war or human rights abuses".
These are positive messages about the more than 35 million people living in dismal circumstances. Ban makes the point that most displaced persons, 86%, flee to the developing world and the proportion in poorer nations is increasing. It was 70% ten years ago.
Reporting fuels negative public attitude
While Australia is among the developed nations that accept a capped number of refugees each year, recent studies show Australian news stories about asylum seekers – those claiming refugee status – are overwhelmingly negative, often promoting damaging stereotypes and fear.
This is no great surprise. Much of the political discourse about asylum seekers is negative. Neither is it surprising that successive public opinion polls reflect these negative attitudes about asylum seeker boat arrivals.
One study showed the mainstream media's role in shaping Australians' perceptions of asylum seekers through its use of "dehumanising" distant images of asylum seeker boat arrivals. Roland Bleiker and colleagues argued that these depictions serve to reinforce the political debate not as a humanitarian issue, but as a security and border control threat.
Other researchers over the past decade have studied the pejorative language used within, and by, Australia's media to report on asylum seekers. Common negatively framed expressions have included: "floods", "waves", "tides", "queue-jumpers", "illegals" and "economic migrants".
Together, these studies find that mainstream media's repetitive use of dehumanising images and negative language about boat arrivals can serve to promote public anxiety about a perceived threat to the Australian way of life.
This includes a public view that asylum seekers arriving by boat exploit Australia's humanitarian processes and systems, as identified by Fiona McKay and colleagues. Their 2010 survey of 585 Australians about asylum seeker issues found that most people do not know asylum seekers first-hand – they rely on news media for information about them.
Political control frames the story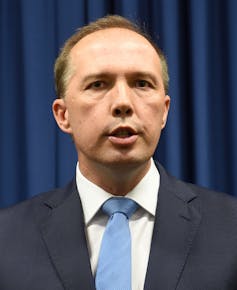 Before pointing the finger at the media for promoting negative attitudes about asylum seekers, it should be noted that recent Australian governments, on both sides of politics, have denied journalists access to asylum seekers. The result is that the asylum seekers are not able to tell their own personal stories.
A veil of secrecy about boats at sea – the government refuses to discuss anything deemed to be "operational matters" – is another technique, as is politicians' choice of language on the boat journeys asylum seekers make.
A study of federal politicians' comments recorded in Hansard found:
… a continued prevalence of populist rhetoric through the Gillard government's discourse on asylum seekers, although it was less overt than the language of the Howard era.
A more sympathetic understanding of how the public acquire sometimes thin understandings of complex political issues could be explored through the demands of the contemporary fast-paced media cycle. British academic Aeron Davis finds that the insatiable demand for news leaves time-pressured journalists, and also politicians, gathering "pseudo" rather than substantive forms of expertise. This serves to weaken key components of the democratic process.
A 'good news' story from Melbourne
Yet there are positive stories to be told about asylum seekers and refugees and their relationship with the Australian community. One is the work of the Brotherhood of St Laurence with Australian employers and asylum seekers and refugees from 19 countries.
A very generous donation from a 30-something businessman, who does not want to be named, enabled the Brotherhood to set up the Given the Chance program to get asylum seekers and refugees with work rights into paid work.
The program has been running almost two years and has exceeded its targets. It has found 232 jobs so far for asylum seekers, with a range of qualifications, across diverse industries (see below). To help asylum seekers into work, the program provides mentoring, life and job-readiness skills and English classes.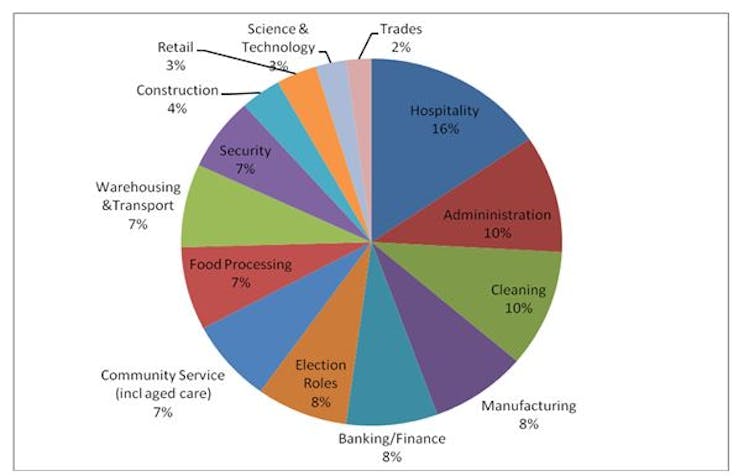 The Brotherhood has strong relationships with employers and has signed up major companies, including the ANZ Bank, to give asylum seekers and refugees a chance at engaging in reputable and sustainable work. Small businesses have also said yes to giving asylum seekers a chance. One small-business employer said:
I find that I get very loyal employees, which help me to reduce my staff turnover, and it's just a lovely thing for our business to be involved in, you know, welcoming refugees and asylum seekers into our workplace.
The success of the program, which started in Melbourne, has enabled it to expand to regional Victoria. Now that is something to celebrate on World Refugee Day.