Last week the United Kingdom announced one type of Viagra will be made available to men without prescription in pharmacies. The Commission on Human Medicines made this recommendation after taking into account several factors including the potential dangers of use without medical supervision and the level of expected side effects.
The commission stated pharmacists are expert healthcare professionals with the skills and expertise to assess whether a treatment is appropriate and to give advice about the use of medicines.
In Australia, some men are at increased risk of harm because they rely on access to counterfeit medicines when they're unable to obtain a prescription. Making Viagra available over the counter in Australia would be reasonable and safe if pharmacists are given adequate training and take appropriate steps before deciding to dispense the drug.
---
Read more: Weekly dose: the hard facts on Viagra
---
Viagra Connect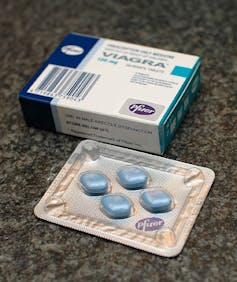 Viagra (generic name sildenafil) is a drug used in the treatment of erectile dysfunction, also known as impotence. The drug is sold in doses ranging from 25mg to 100mg. Under the UK decision, the drug will be supplied under the brand Viagra Connect, which comes only in a dose of 50mg and in a maximum pack size of eight tablets.
This change will move the drug from being a prescription-only medicine to a pharmacist medicine. In Australia, these drug classifications are equivalent to our schedule four medicines (prescription-only medicine) and schedule three (pharmacist-only medicine), respectively.
A schedule three medicine can be supplied to a patient without a prescription, but only after consultation with a pharmacist. Other schedule three medicines sold in Australia include the morning after pill, oral antifungal treatments such as those for thrush, and some antibiotics such as an ointment to treat conjunctivitis.
Risks when supplying over the counter
Like all medications, Viagra has known common side effects. These include rash, diarrhoea, abnormal vision and an increased risk of urinary tract infections. Less common side effects include increased heart rate, fainting and low blood pressure.
Given these risks, Viagra Connect will not be available without prescription in the UK to any patient who has a diagnosed heart disorder, is at risk of heart disease, has liver failure or severe kidney failure, or is taking any medicines that are incompatible with Viagra. For these men, they can still potentially access the drug through a prescription from their doctor.
---
Read more: A sexually satisfying event for women, or just a new identity for an old antidepressant?
---
Should Australia follow the UK lead?
There's no reason Australia couldn't undertake a similar reclassification. Potential benefits include less demand on already overworked GPs, and reducing the growing prevalence of counterfeit medicine use in Australia. When men have difficulty obtaining a prescription for Viagra many turn to buying counterfeit medicines from either sex shops or illegal websites.
It has been estimated up to 1,800 illegitimate internet pharmacies exist in the world. Many of the medicines these sell either have the wrong drug or the wrong amount of drug in them, which presents a serious risk to consumers. Down-scheduling Viagra in Australia would give men safe access to the drug and prevent complications and deaths from counterfeit medicines.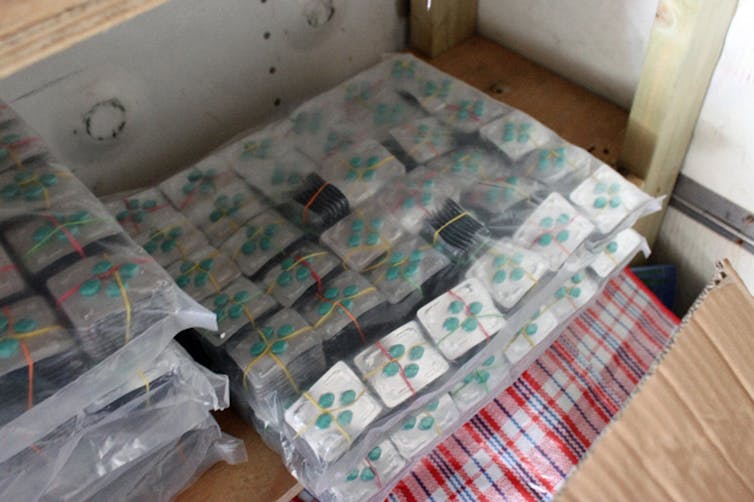 Over-the-counter supply in Australia would be safe as long as the right processes are put in place to minimise the risk to the patients. Such processes could include a tailored training program for pharmacists. This would cover the essential steps for them to follow in deciding to dispense the drug, which might include use of a checklist.
The first step would be to obtain a comprehensive patient history to check if the patient has taken Viagra before and whether they have any heart, liver or kidney problems, or other risk factors.
As alcohol is a depressant, the pharmacist would also use the consultation to talk to the patient about moderating their alcohol intake when using the drug.
The second step would be to measure the patient's blood pressure, a service many pharmacies already supply free of charge.
The final step would be for the pharmacist to check verbally with the patient, and in their own dispensing records, whether they are taking any medicines that are incompatible with Viagra.
Viagra is known to lower blood pressure, so in Australia other blood-pressure-lowering medicines, such as nitrates or nicorandil, would prevent the pharmacist from dispensing Viagra. Viagra is also to be used with caution when the patient is taking boceprevir, a medicine used in the treatment of hepatitis C.