Scanning through the media coverage of the major parties' health policies one could be forgiven for thinking that hospital beds are the key to health.
Sure, hospital spending dominates the health budget. But hospitals are not the most frequent point of contact with health care providers. And beds are declining in importance as a measure of what hospitals do.
In 2012-13, more than half (57%) of patients admitted to Victorian public hospitals were in and out on the same day, sometimes occupying a bed, sometimes a trolley in the emergency department, and sometimes a dialysis or chemotherapy chair.
Trust is an important issue in politics and keeping commitments made about the number of beds to be opened is important. But there is an art in counting beds.
When I worked in Queensland Health, we had to develop clear rules about how to define an "open" bed (what does it mean for a bed to be "available"?) and how to count "bed equivalents" (which include not only chairs but hospital services in the home).
Basically, the more horizontal a patient is, the more the media will accept a bed equivalent as a genuine bed.
Yet from a patient's point of view, what matters is not the absolute number of beds but whether one is available when they need it.
Promises ought to be about access – waiting times, for example – and about outputs such as the number of treated patients rather than inputs such as beds. Ideally, we should be aiming to measure outcomes (was my pain relieved; did I get well) but this is not the stuff of election campaigns.
More beds ≠ more beds ≠ more access
Hospital activity in Victoria increased marginally over the four years to to 2012-13 (see below). Over the four-year period, the number of patients treated increased by 3%, though it declined by 7.6% in the year 2011-12 to 2012-13.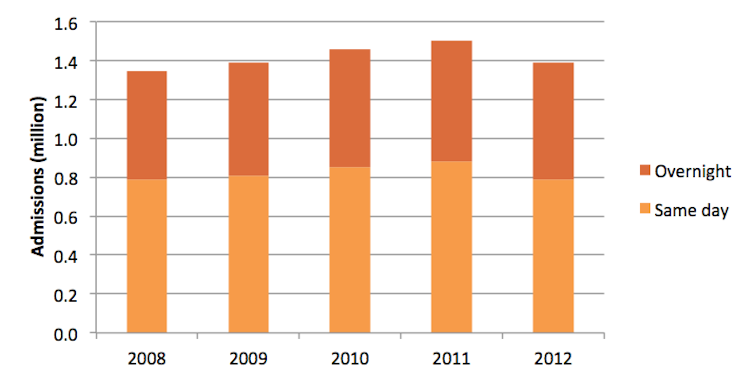 Public hospital beds increased by 4% over the four-year period. Over the same period Victoria's population increased 11%, so per capita provision went backwards.
The picture for public sub-acute care – rehabilitation care, for example – is much better, with an increase of 25% in patients treated over the four years to 2012-13. Yet national growth was 37% in patients treated over this period, following a major drive to improve sub-acute care. Victoria is falling behind other states here and had fewer sub-acute admissions than Queensland in 2012-13.
Victorians also wait too long for access to hospital care. Using elective surgery as the example, in 2013-14 3.2% of Victorian public hospital patients waited more than a year for surgery, up from 2.8% in 2009-10. The national average was 2.4%. New South Wales improved its performance from 4.9 to 1.8% over the same period.
The major party promises
The Liberal government has a comprehensive policy that involves a new "heart hospital" at the Monash Medical Centre, redevelopment of the Shepparton hospital, and expansion at the Norther Hospital in Epping. All this is part of a near billion-dollar splurge (A$944 million) on "boosting hospital capacity".
Labor has also promised a bed bonanza, adding a Casey hospital expansion and a new hospital in the western suburbs for women and children. Labor has also not only matched but doubled the Coalition's heart hospital promise.
Both parties continue to focus on inputs – more beds – rather than make promises directly related to patients' needs. These include adopting targets to ensure disadvantaged groups can access quality care, as recommended by the National Health and Hospitals Reform Commission, and guaranteed maximum times for access to care, as Queensland has recently promised.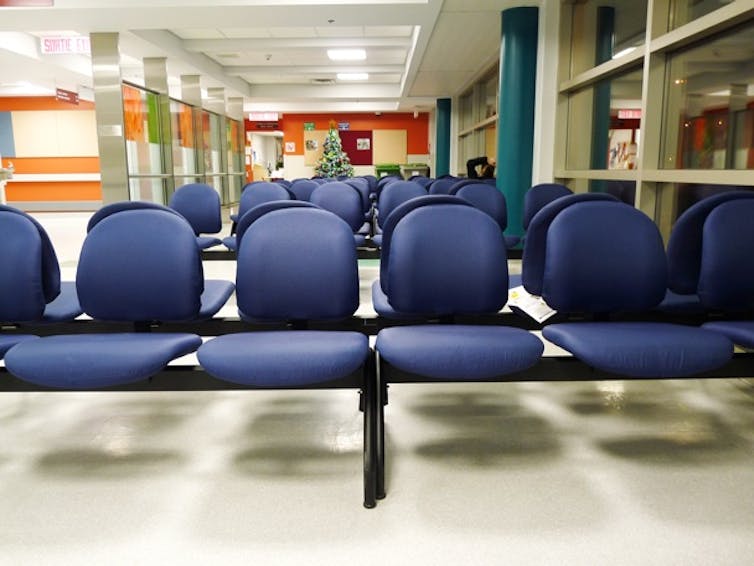 Both parties have missed an opportunity to provide more contemporary acute-care options, such as a significant boost to hospital services in the home. Western Australia, for example, has a 650-bed equivalent home hospital providing an "emergency care" visit within four hours, ordinary acute care and rehab care.
Although the hospital promises have received the most attention, both Liberal and Labor have articulated comprehensive visions for mental health. Both have promised improvements in ambulance services, with Labor pledging a shake-up in ambulance service management. Both have promised to expand medical research.
Both the Liberal policies and Labor's platform address building communities and primary care but these commitments have attracted little media attention. That is unfortunate since a critical issue in health care is how the health system repositions itself to address the increased prevalence of chronic illness and people with multiple chronic diseases.
The system will need to be reinvented to focus on multi-disciplinary care teams, building community capacity to help patients to manage their own conditions and strengthening patient empowerment. Such policies require cooperative action between the Commonwealth and state governments, which seems sadly lacking at present.
The elephants stampeding into the room
Regardless of who wins, there is an A$8 billion elephant, or herd of elephants, in the room. This is the amount the federal government cut from its funding to states in the last budget. The cut will put enormous pressure on the Victorian budget.
The good news is there is still room for some improvement in hospital efficiency. Although 20 years of activity-based funding in Victoria helped make Victorian hospitals the most efficient in the country, recent Grattan work shows savings could be made from tightening up on hospital efficiency through improved pricing strategies.
More can be saved by improving role allocations in hospital through greater use of health-care aids and expanding the role of nurses. Yet Labor's promise to enshrine current nurse-patient ratios in legislation may make this a challenge.
As important as these changes are, they won't make up the Commonwealth-imposed funding gap. Further system reform will be required. This will demand innovative thinking, careful negotiation with affected interests and engagement with the public. Getting the Commonwealth to pay its fair share will also be necessary.
These are the big challenges for Saturday's winner. Announcing beds and buildings is easy, but developing new and better ways to provide health care and improve efficiency is not.