With health care spending accounting for 30% of the Victorian budget, or A$20 billion, health is a major policy area for the Victorian election on Saturday.
While the Commonwealth pays for general practice, private specialists, pharmaceutical benefits and aged care, the states are responsible for running hospitals, community health services and ambulance services. They also want to keep Victorians healthy and out of hospital.
This election campaign, Labor has committed $4.3 billion to health; the Coalition has promised $1.3 billion, and the Greens have pledged $1.35 billion. Much of the difference comes down to infrastructure spending.
---
Read more: Waiting for better care: why Australia's hospitals and health care are failing
---
Labor
Labor's health policy emphasises its commitment to a public health system. A re-elected Labor government would build a new hospital in the western Melbourne suburb of Footscray ($1.5 billion) and spend $1.2 billion on capital improvements to other hospitals in outer suburban Melbourne and regional areas.
Labor's hospital package also includes $675 million for ten new or upgraded community hospitals. These health services would provide day surgeries, diagnostic imaging and specialist outpatients, in addition to admitted and urgent care.
The remainder of nearly A$1 billion goes to a range of other promises, including:
The boost in hospital funding is likely to enhance care in the hospital catchment areas and ease the pressure on surrounding hospitals. Improved nurse-to-patient ratios will likely improve the safety and quality of care in the state's emergency departments and hospital wards.
---
Read more: Why do we wait so long in hospital emergency departments and for elective surgery?
---
Is it necessary to commit $3.3 billion to hospitals, presumably on top of current levels of funding?
Much of this goes to capital improvements. Without such investments now, the existing hospital capacity in and around Melbourne will not be able to keep up. But it's unclear where the money will come from to run these extra hospitals and hospital expansions. It's hoped that operating costs will not then be taken from existing hospitals.
Coalition
The Coalition's funding commitments are spread across the key sectors of health including:
There is evidence for much of the Coalition's commitments. In particular, palliative care has been shown in trials to not only improve quality of life, but also, in some cancers, survival.
---
Read more: Assisted dying is one thing, but governments must ensure palliative care is available to all who need it
---
Improving access to community care for disadvantaged groups and in rural and regional areas has the potential to improve the management of chronic disease, such as asthma and diabetes, leading to better health in the long term.
Greens
The Greens' platform is anchored in a social determinants of health and a population health approach that conceives of health more explicitly as an outcome of broader social and economic conditions.
---
Read more: Want to improve the nation's health? Start by reducing inequalities and improving living conditions
---
The Victorian Greens party's main priorities are:
The Greens' funding for free ambulance services would ensure nobody misses out on timely care for traumatic injuries and heart attacks because they don't have ambulance cover. A similar program operates in Queensland.
The Greens have a well-developed policy, conceiving of health and well-being broadly. The package includes substantial commitments to mental health, community health care and dental health.
But there is no extra funding for hospitals beyond the current budget.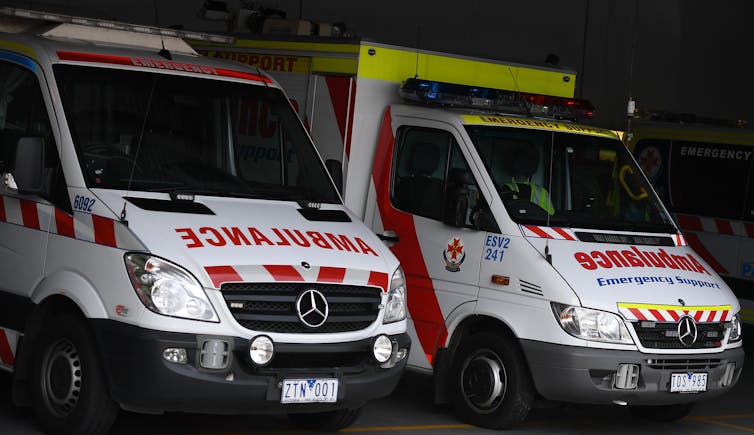 Comparing the three parties
The biggest difference in the health funding commitments between the three parties is Labor's focus on hospital infrastructure funding (which accounts for 78% of its health promises). It's not clear whether the Coalition and the Greens oppose the bulk of Labor's hospital commitments or are simply silent.
Although this level of funding to hospitals may seem like an inordinate amount, it's important to consider the role of modern hospitals. They have become the providers of not only admitted care, but emergency care (including GP-type visits), specialist care in outpatient clinics, chronic disease management and palliative care.
When this hospital infrastructure funding is taken out of consideration, the three parties are hard to distinguish. Labor is promising $960 million, Coalition is pledging $816 million and the Greens have committed $1.3 billion to a range of community, mental health, ambulance, chronic disease and prevention services.
---
Read more: If we're to have another inquiry into mental health, it should look at why the others have been ignored
---
The most evident gaps are Labor's lack of funding for prevention and innovation, and the Greens' lack of extra hospital capital funding.
A change to the Coalition would likely mean less hospital funding, particularly for a new Footscray hospital, but significant funding for community palliative care services and hospital in the home.
A more comprehensive list of the three parties' election health promises is available on the Victorian Healthcare Association's Election Alert.