Volkswagen Brasil has announced its plan to terminate production of its iconic Type 2 bus, better known to many as the Kombi van. Boasting the longest commercial production line of any vehicle since manufacture started in Hanover, Germany in 1957, this marks a milestone ending for what has become a modern day icon. The eventual end of line decision was forced by safety considerations after Brazil brought in new safety legislation for auto manufacturers.
Initially conceived as a utility vehicle based on the innards of the Beetle, a simple box-on-wheels solution that came from a napkin sketch by Dutchman Ben Pon met the need for a cost-effective, light goods vehicle to help much needed economic activity following the devastation of World War II. The Type 2 has many incarnations across the world, from ice cream van to ambulance, minibus, goods vehicle and, because of its low cost and reliability, a popular choice as a camping and surfing vehicle.
In auto manufacturing, the announcement of ceasing production would usually result in lower demand, and require price discounting, as consumers consider challenges they are likely to face in maintaining and reselling their vehicle. But VW are offset this with clever marketing. When the stopped European production of the Porche-designed, Hitler-inspired Beetle in 1978, the company offered limited edition, end-of-line models in just silver and gold. I know this model well. For a short while, my family motor was a golden 1303 Special, which was eventually sold on to become a drag racer in Australia. A similar strategy is being adopted now for the last of the infamous buses - 600 blue and white commemorative edition vehicles will be produced to mark the event and undoubtedly see demand exceed supply.
There has been much speculation over a replacement Type 2. Two concept cars have been demonstrated at the industry shows in 2001 (deemed too expensive) and 2012 (boxy, boasting fold flat seats and iPad technology). VW remain tight-lipped about their plans for any commercial release of these models.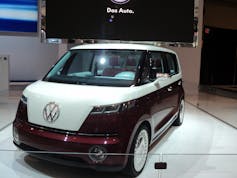 The modern day, retro Beetle (or Type 1) has enjoyed some commercial success, particularly in the UK and USA with its Golf-based reprise of the original concept. Now in its third mark, and boasting a fatter, flatter rear and pokey engine ranges, a clear attempt has been made to bolster its desirability amongst male consumers. (Even though I have driven new Type 1 and 2 Beetles for more than ten years now, it has generally been very much the choice of the middle-aged woman.) Only recently have the decade-old Type 1 cars become cheap enough for youngsters to pick up in the used car market.
So what would a new Type 2 look like? Great care needs to be taken with any re-launch. An important part of the allure of the original VW bus range was its out-of-the-ordinary looks, boasting curved panels and circular eye-like head lights that saw many name their buses and talk about them as if they were human. Any design that is too sophisticated or too expensive will cannibalise the existing and reasonably successful California range. It's a highly diversified and competitive market segment that needs to include consideration of caravans and variants such as the Dub Box.
All is not lost for the Type 2. Take a look at this advert from 2011/12 celebrating 60 years of VW heritage in the working van market.
Centre stage is a lovingly cared for Type 2 splittie. The emotional attachment and tremendous cultural capital the van holds surely makes it a prime contender for a re-launch some time soon. God only knows, this may not be the last we hear of the world's most charismatic van.