You would probably expect a middle-aged, middle-class academic to do their shopping at Waitrose, and yes, I do. So there was disquiet in our household at the news that Waitrose is planning to close six stores potentially putting 600 jobs at risk. Britain's favourite upmarket supermarket is apparently reining in expansion, but why? By all accounts Waitrose had a reasonable Christmas with sales up almost 5%.
So what prompted this change of heart after considerable expansion over the last few years? There seem to be a lot of factors in the mix, including a relatively new boss – perhaps wanting to make his mark – and the introduction of the new minimum wage for over-25s. The company has denied that the latter had prompted it to stop paying Sunday and overtime rates to new shop workers. The company is also now operating in a deeply competitive environment – by which I mean there is just so much more choice of where to shop that perhaps we have reached saturation point in terms of how many supermarkets we actually need?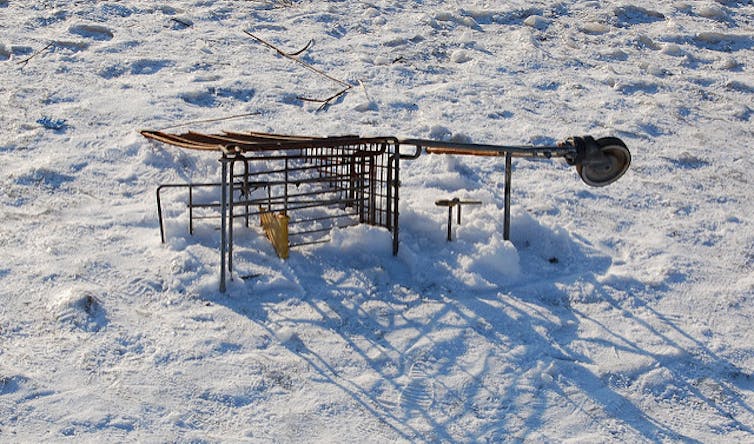 German challengers
Indeed Waitrose is not the first major retailer to reconsider store expansion. A couple of years ago Tesco started to rethink its expansion plans and bailed out on some new stores. Sainsbury's also announced that a large number of planned developments will not go ahead; in both cases after prolonged planning battles.
Back in 2014 the previous chief executive of Waitrose had predicted that there would be more large store closures. He argued that a rise in smaller stores and a move away from the single weekly shop revealed a change "as fundamental as supermarkets coming into the UK in the 1950s and reinventing what food shopping was all about".
But this change is more than a cultural shift in how Britons shop. A more important factor is the acceptance of the German budget supermarkets Aldi and Lidl by all kinds of shopper. In the 12 weeks to January 29, 2017, Aldi had 6.2% of the UK grocery market. Lidl wasn't far behind. Aldi is now Britain's fifth biggest supermarket by market share, having overtaken the Co-op.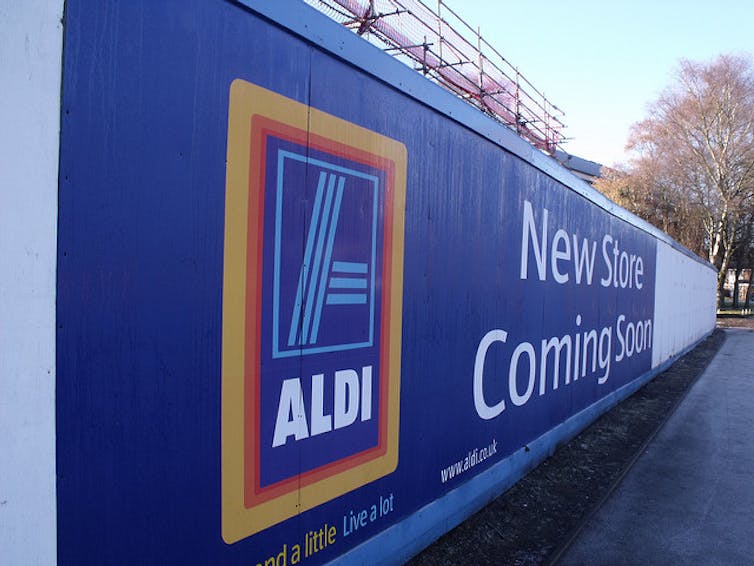 So-called portfolio shopping has become much more popular. Shoppers may prefer Tesco or Waitrose, but are not averse to ad hoc visits to the "discounters". Many food shoppers have also found that doing the whole of the weekly shop is pounds cheaper at Lidl or Aldi – and in many cases their stores are located close to one of the big four. That means if you simply must have an item only available at the major players, then it's not too inconvenient to pop in to grab it.
Saturation point?
The importance of these discount stores cannot be underestimated. Economic pressures on the average consumer have led to a shift from offering wide ranges to value. This is now exacerbated by the weak pound and the subsequent threatened food price rises.
While the German retailers' growth has slowed recently, that is not really surprising given the inroads they have already made. And they have not stepped back from their own expansion plans. Financially, the discounters attack existing supermarkets on their balance sheets through forcing down margins. This inevitably means that competitors such as Waitrose will consider closing less-profitable stores to keep the balance sheet looking good, for shareholders and partners.
So while the experience and atmosphere of shopping in Waitrose may be more enjoyable than that of its discounting competitors, price will always be important for food. We may vary the brands we buy, but our demand is fundamentally inelastic. There is a limit to the market. After all we can only eat so much and, with a greater emphasis on reducing food waste, a declining pound and uncertain economic future, many shoppers look to reduce outgoings where they can. Food is an easy target for such savings.
Waitrose can try to expand to other markets abroad, although history and the current political climate in obvious markets such as the US don't bode well for that strategy. I am a great believer in the importance of market share through gaining physical and mental availability – advertising your brand and making sure that your brand is constantly in front of potential customers. However, you also need to be distinctive and I think it probably is the right time for Waitrose to be building on its already considerable distinctive assets in terms of quality and service while letting others fight out the space and price wars.
Of course, one strategy Waitrose can adopt is to upscale the products its existing customers buy. That means fewer essential Waitrose products and more exotic, indulgent or healthy products to pander to the tastes of its core middle-class clientele. While other supermarkets have moved into non-food items, Waitrose is increasingly including deli and cafe options such as wine and tapas bars, eat-in bakeries and, in its latest initiative, high-quality, freshly-made sushi.
Whether these offerings provide the best financial margins is open to question but they can promote Waitrose increasingly as a "destination shop" – the kind of place where time-pressed, affluent customers go, primarily for the sushi or half-an-hour's relaxation over coffee, but come out with the baked beans and cereal too.