The callous bombing at an Ariana Grande concert in Manchester in May has focused Western eyes on the alarming trend of deliberate targeting of children by terrorists. Meanwhile, child refugees from Syria's war suffer trauma so extreme that a new term has been coined for it: "human devastation syndrome." And every year many thousands of Canadian children are victims of crime, abuse and neglect.
Schools in Canada urgently need to become trauma-informed — to respond to the growing number of children who have experienced war, terrorism, crime and maltreatment. Educators, school staff and administrators need basic training on how to recognize and respond to trauma and how to provide trauma-informed care.
As a professor of education at the University of Winnipeg, and a former school counsellor, I have been teaching, conducting research and writing educational resources on mental health and wellness for more than 25 years. I focus on education, refugee resettlement and teacher development in post-conflict countries. I have also been working on how best to prepare teachers in Canada to meet the needs of Canadian and refugee children who have experienced war, trauma and maltreatment.
As part of my research I have developed a model for educators. This incorporates guidelines for creating a trauma-informed school and steps for teachers to provide basic mental health support to students.
The scope of the problem
Some children have never lived without conflict. Violence and suffering has scarred their past and shaped their future. UNICEF estimates that 14 million children are affected by conflict in Syria and Iraq or as refugees in neighbouring countries. Of the current 21 million refugees globally, half are children. More than 20,000 of these children have been settled in Canada.
While some of these children will respond with conviction to right the wrongs they have experienced, others will become perpetrators of the violence they once received.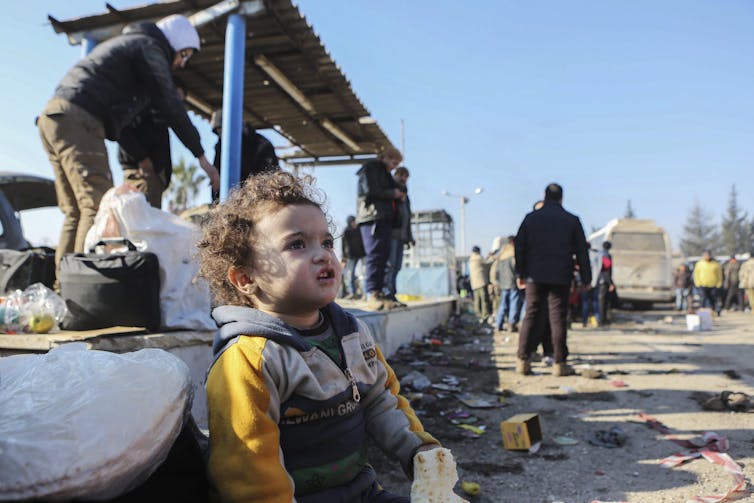 The escape from violence and the search for safety can also have perilous consequences for refugees. Arrival in a host country such as Canada, can represent a new beginning and hope for a better future but challenges often persist and memories are not simply forgotten. Approximately 30 per cent of refugees will suffer from post-traumatic stress disorder or depression.
Statistics Canada data from 2012 reported that in Canada too, thousands of children struggle with violent crime and maltreatment. In 2010, an estimated 74,000 Canadian children and youth were victims of crime. Research by the Public Health Agency of Canada reported that 1.4 per cent of Canadian children experienced significant maltreatment including exposure to violence and neglect, physical abuse, emotional maltreatment and sexual abuse.
Children who have experienced these traumatic events are also at higher risk of post-traumatic stress disorder, depression and substance use disorders as well as mental health related concerns. Most children who have been exposed to trauma are never identified and consequently do not receive psychological treatment.
Why schools need to be prepared
The Government of Canada has committed to support more refugees. The demographics of Canadian schools and communities are changing. Educators need to be properly trained to support children and youth who have been exposed to trauma. This does not mean that educators need to be therapists or counsellors. Rather, all school staff need to know how to approach children who they see are suffering or hurting. They need to know how to listen, comfort and respond without causing harm.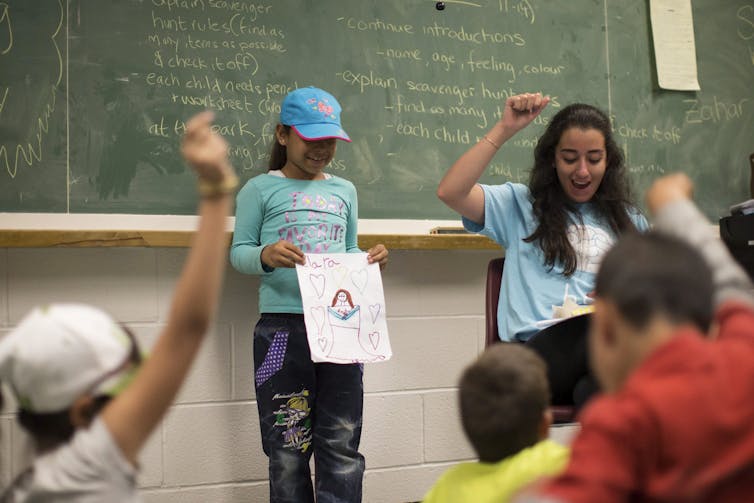 When children feel acceptance and trust, they choose the person with whom they want to talk. And as research in Canada revealed, this is often a member of the school environment. Teachers need to be prepared to respond, refer and recommend strategies to support these students.
Our research revealed that in some cases the teacher may be the only trusted adult in a child's life. It is imperative, therefore, that teachers are equipped with the appropriate knowledge and skills to respond appropriately.
A model for trauma-informed schools
While conducting a three-year national research program investigating best practices for supporting refugee students in Canada, I developed a model for teachers. The model is based on an adaptation of the 11-Point Toolkit for Primary Health Care developed by Richard Mollica and colleagues in the Harvard Program in Refugee Trauma. It includes 15 steps organized around three general stages.
Stage 1: Creating a Climate of Care is designed to help develop the kind of atmosphere that is essential for establishing trust and safety in any classroom or school environment.
Stage 2: Gathering Facts provides some suggestions for approaching and talking with students who might need additional support.
Stage 3: Healing and Support provides strategies for teaching and learning new skills to promote healing. This stage also includes a commitment for follow up work, a plan for the future and a process of reflection for the caregiver.
One of the first steps in the model is to develop a supported plan for teacher networking and self-care. Working with children who have experienced trauma can be exhausting. Compassion fatigue, or burnout, is common. Establishing a solid resource network of professionals, both within and outside of the school community, is paramount.
Healing our children — a societal obligation
We must now confront the reality that when violence occurs there is not only damage to the individual, but also to society. As an old African proverb states, "when elephants fight, the grass gets hurt." Educators need to start asking, "What happened to or what hurt this child?" as opposed to, "What is wrong with this child?"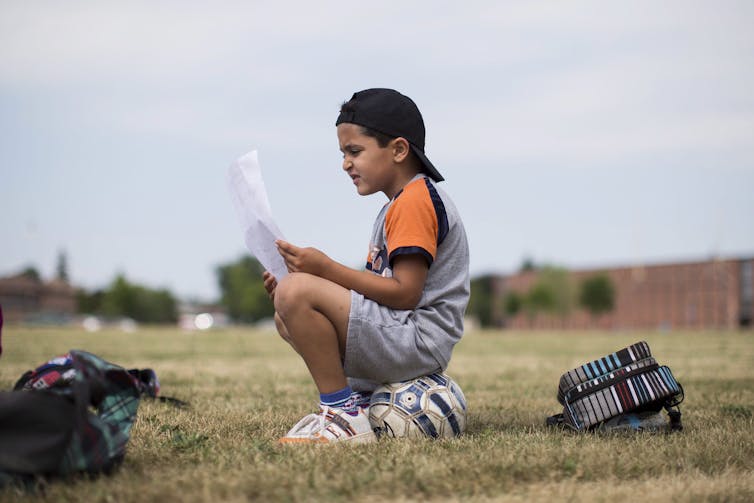 Resolutions and frameworks that champion the protection of children exist on paper, yet the international community has largely ignored the devastating impact that conflict and displacement can have on children.
Our collective failure to protect children from violence and our inability to provide children with basic human rights should be a pressing policy issue for educators, politicians, practitioners and world leaders. It is one of the most serious mistakes a society can make. There is, after all, no better reflection of humanity than the way it cares for its children.