At home games, FC Barcelona plays its club anthem – El Cant del Barça – to which the crowd normally responds by singing along in unison. Translated into English, parts of the anthem contain the following lines: "We all agree; One flag unites us in brotherhood; We've got a name that everyone knows; And we have shown; That no one can ever break us."
These words are emblematic of the histories shared by the football club, the city and Catalonia. This is bound up in a heady mix of republicanism and leftist politics, which has often manifested itself as a fight against bigger foes.
For FC Barca, the intoxicating nature of this mix is heightened by a club governance system that consists of members (socios), not owners, who periodically elect a president.
In the modern footballing era, Barca is almost unique, often held up as being the epitome of fan democracy and good governance. Indeed, even in an intensely commercial operating environment, this has helped define the club brand and underpin its commercial activities.
Charity case
This most poignantly meant that Barca didn't sign its first shirt sponsorship deal until 2006. Even then the deal was with UNICEF, a children's charity, which entailed the club paying its sponsor rather than the other way round. This was a great way of accentuating Barca's philosophy, as well as its brand proposition, of being "more than a club".
However, in 2010 (in a deal with the Qatar Foundation) and again in 2013 (when it signed a £125 million deal with Qatar Airways), the club moved away from its established approach to selling shirt sponsorships.
The latter deal was especially important for a club that had been struggling with huge debts, the result of heavy player transfer expenditure (and, arguably, poor management) over several years. However unlike, say, Yokohama Tyres at Chelsea or T-Mobile at Bayern Munich, Barcelona's Qatar associations have come with considerably more baggage.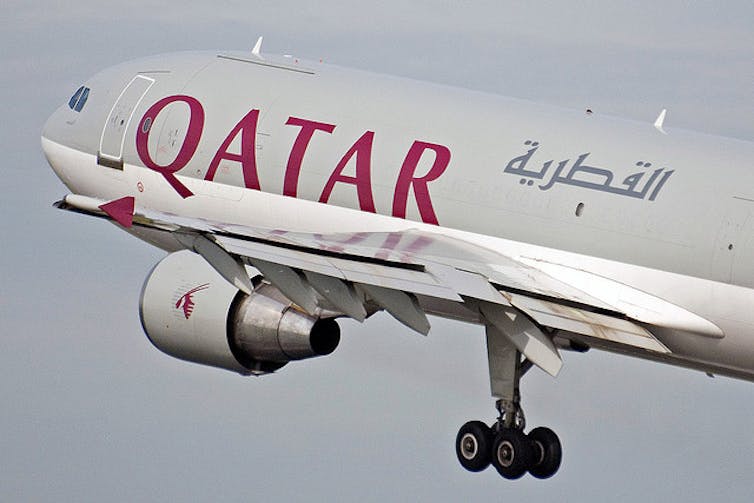 For a club with such strong political foundations, reports about employment conditions within Qatar Airways would appear to have put the football club in conflict with itself, its culture and the reputation it has always sought to uphold.
But it is a double whammy, as Qatar's successful bid to host the 2022 World Cup has also brought the issue of how the country treats migrant construction workers into sharp global focus.
And with these concerns the words "now we all agree; One flag unites us in brotherhood" have brought FC Barcelona's fans together. The club's associations with Qatar have finally proved too much for blaugrana supporters. In recent weeks, an online petition has been started, which has gone viral with 59,000 people now having signed it. The petition reads:
Right now, Qatar Airways sponsors one of the most famous football clubs, the Barcelona Football Club. Barcelona's millions of fans see the team as 'more than a club', revered not only for the quality of its players but for its allegiance to ethics, fairness and social justice. We cannot legitimize a company that exploits thousands of vulnerable workers. It is against the values of the sport. We need to drop Qatar Airways as a sponsor.
Presidential
At one level, this may be seen as a call to protect the heritage of a cherished social institution. At another level though, it is typical of direct consumer actions that have increasingly and more generally emerged over the last decade or so. Direct action normally involves a group addressing an existing problem, highlighting an alternative, or demonstrating a possible solution to a problem.
In some instances, direct action is perpetrated in the form of violence, but other, more peaceful means are often used too – the Barca petition being one example. As the Guardian newspaper, the Occupy movement and more recently Anonymous have all shown though, disgruntled people are no longer prepared to idly accept perceived wrongdoings.
It remains to be seen whether the Barca petition will achieve the fans' goal of removing Qatar Airways' name from team shirts. But one has to remember that the timing of the petition is not accidental. The club is in the midst of a presidential election that will reach it's climax on Saturday.
One of the candidates is former president Joan Laporta, who is a staunch Catalan nationalist and a firm advocate of the football club's traditional values. He also happens to be the arch nemesis of Sandro Rossell, who succeeded Laporta as Barca president in 2010 and then signed the deal with Qatar's state airline. Laporta has stated that he will terminate the Qatar Airways deal should he be elected.
Laporta's posturing orchestration may be entirely opportunistic, motivated by political ambition, conveniently underpinned by discontent among willing disciples. However, the form of direct action being taken by fans is especially resonant in light of recent problems at FIFA.
FIFA foe fum
As world football's governing body has plunged deeper into a mire of corruption, football fans across the world have called for FIFA's corporate partners to take action against the organisation. The response of most partners has been lame, their statements being a tightrope walk designed to placate fans whilst not undermining either their relations with FIFA or the sponsorship investment they have made in the World Cup.
What the Barcelona case illustrates though is that bringing about change at FIFA may rest in the hands of direct consumer action. Rather than looking to faceless executives in the boardrooms of sponsoring corporations across the world, Barca's socios are signalling to fans everywhere that consumer petitions and product boycotts may be a new way of tackling some of sports' most serious problems.
It will therefore be interesting to see how fans respond globally, particularly as Barcelona supporters are effectively challenging them to take matters into their own hands.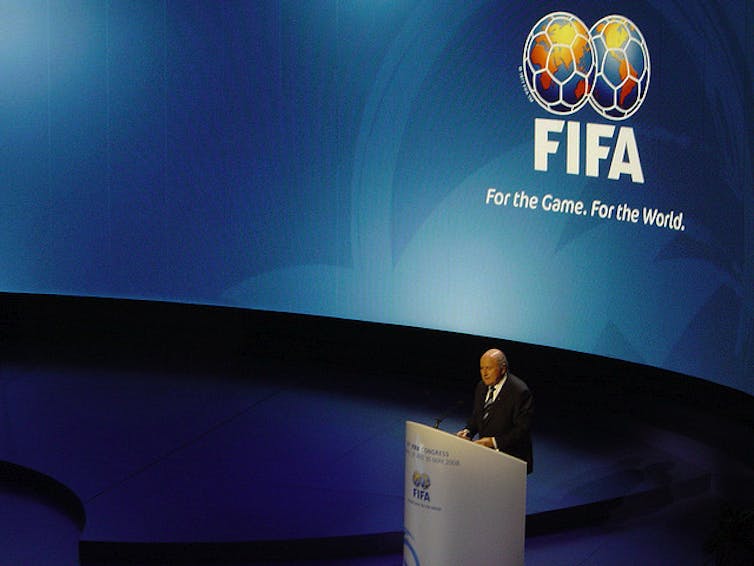 Sepp Blatter and the FIFA hierarchy presumably don't normally break a sweat when they hear "one flag unites us in brotherhood" echoing in their ears. Yet they should start learning the words of El Cant del Barça, while keeping an eye on developments over in Catalonia.
After all, should Barcelona fans be successful in their quest to oust Qatar Airways, then it creates a precedent that may expose both FIFA itself and its commercial partners to similar actions in the future – Blatter, be warned.