While political analysts and journalists obsess about President Donald Trump's executive orders and their constitutional significance, the investor Warren Buffett has made his judgement clear on how the economy could look during the Trump years. In a massive stockmarket move, he has dumped nearly a billion dollars of long-held shares in retailer Walmart in favour of tech and airline stocks.
This demonstrates an astonishing change of heart for Buffett, who as recently as 2013 referred to the US airline industry as a "deathtrap for investors". He was equally renowned for dubbing Apple's shares "grossly overvalued". His perennial faith in retail stocks seems to have evaporated, too, with the world's most influential investor selling off his entire $900m stake in Walmart.
Buffett's complete divestment of his Walmart stock, a company he once deemed his safest and most prized investment, comes at a time when America's traditional retail giant has seen its market share eaten up by Amazon and other online competitors. While Buffett is by no means a short-term trader, his sale of Walmart shares reveals a potential long-term shift in the tide of e-commerce and online retailing.
Former Walmart boss Mike Duke acknowledged in 2012 that his greatest regret as CEO was not pursuing e-commerce more aggressively to stave off competition from Amazon. "Right now we're making tremendous progress, and the business is moving, but we should have moved faster to expand e-commerce," he said at the time. This is reflected in a declining trend in Walmart's share price, which has fallen from almost US$92 in January 2015 to US$71.45 in February 2017.

Even though Walmart has since invested heavily in e-commerce, it remains a niche player compared to Amazon. In 2015, Walmart's online sales of US$13.7 billion were dwarfed by Amazon's mammoth US$107 billion.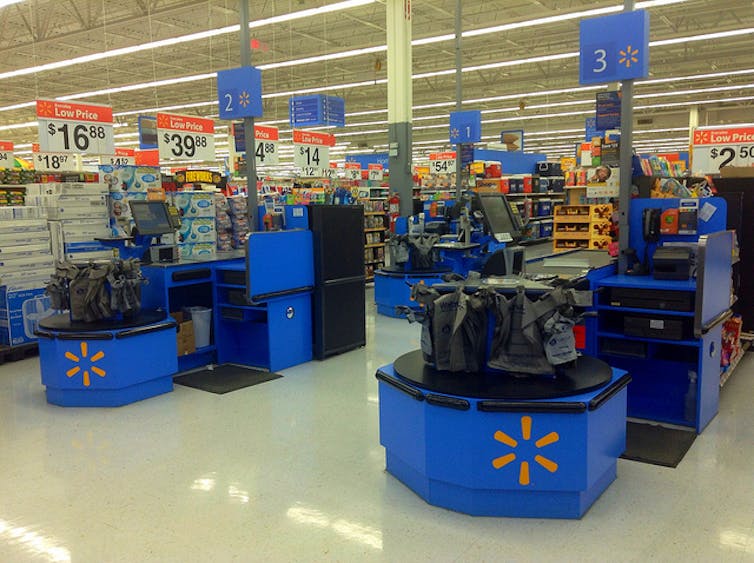 Moreover, 2017 could prove to be a particularly challenging year for Walmart. Since the last quarter of 2016, the US economy has witnessed increases in gas and food prices, pushing up inflation. In addition, delays in tax refunds will further crush consumer spending. Walmart's sales thrive during the tax refund period, with almost 35% of its yearly sales coming from the tax season alone. Walmart's flagship two-day shipping subscription service, ShippingPass, is also expected to struggle against the more popular Amazon Prime.
Big bite of Apple
The sale of Walmart shares enabled Buffet's Berkshire Hathaway to quadruple its stake in Apple and raise its stake seven-fold in the four biggest US airlines. The recent regulatory 13-F filings to the Securities and Exchange Commission reported Berkshire Hathaway owning 57.4m shares of Apple worth US$7.74 billion. This is up from 15.2m shares in September 2016. The investment seems to have raised a few eyebrows since Buffett has always been a reluctant tech-stock buyer.
Berkshire took advantage of periodic dips in Apple's share price during the final quarter of 2016 by amassing its stake in the company when the price was fluctuating between $90 and $118 per share. Apple's share price currently stands at $136 per share owing largely to high retention rates among iPhone buyers. In addition, analysts are expecting record sales of the new iPhone later this year, which is expected to push Apple's share price even further.
Apple is also set to benefit from Samsung's misfortunes, due in no small part to the farcical battery problems of its Note 7 and the resulting delay in the Samsung Galaxy S8. In the event of bumper iPhone 8 sales, the projected 16.6% gain in Apple's share price would leave Berkshire Hathaway with a $1.1 billion profit in 2017 alone.
High-flyer
Moreover, Berkshire also reported a $9.3 billion share purchase in the airline industry, with investments spread across American Airlines Group, Delta Air Lines, Southwest Airlines and United Continental. His stake in the four biggest US airlines follows his remarkable turnabout on airline stocks, an industry he famously detested for two decades after an unhappy yet profitable investment in US Air Group. Buffett's interest in airline stocks reflects the overall strength of the US airline industry and – from a consumer perspective – the lack of product differentiation in terms of flight quality, air fares and customer service.
The US airline industry has experienced astonishing growth since the financial crisis. All four airlines have reported record profits aided by consistent passenger capacity, lower labour costs, cheap oil and expansion to domestic and international destinations. The industry is also set to receive a significant operational boost following Trump's announcement of plans to scrap the Paris agreement on climate change, which would otherwise restrict airlines' ability to expand flight frequencies and new routes.
In addition, a wave of airline mergers and consolidations, coupled with homogeneity of air fare and in-flight services, have made the big four airlines a dominant force in the domestic market. According to Jim Corridore, a research analyst at CFRA, the big four US airlines are following a cost-control and flight demand model, which bodes well for shareholders – as their focus is not to be the biggest carrier, but the most profitable one. The Bloomberg US Airlines Index has witnessed a steady rise over the past five years. The combined share price of the index has surged from US$30.91 in February 2012 to its current price of $131.53.

While the jury is still out on Buffet's astounding investment coup, they highlight Buffett's favourite investment axiom:
The trick in investing is just to sit there and watch pitch after pitch go by and wait for the one right in your sweet spot … And if people are yelling, 'Swing, you bum!' ignore them.
It seems traditional retail companies are no longer palatable to Buffett's precise investment delectation. The future, according to Buffett's recent stock trades, lies in industry consolidated, demand-led tech and airlines.