Rhino poaching in South Africa continues to be a problem. In recent months poaching incidents have spiked in Hluhluwe-iMfolozi Park in the northeastern province of KwaZulu-Natal. In one of the worst attacks nine rhinos were found dead, bringing to 23 the number killed so far in just one month.
Earlier this year South Africa's Minister of Environmental Affairs, Edna Molewa, announced triumphantly that in 2016 fewer rhinos had been poached than in 2015. Her statistics showed that nationally 121 fewer animals were poached in 2016 (1,054) compared with 2015 (1,175).
But my research into the evolution of poaching operations in South Africa – which I shared round about the same time – showed that while fewer had been killed, poaching efforts had simply shifted locations. In particular, illegal killings in areas outside South Africa's largest game reserve, the Kruger National Park, have been on the rise.
There are at most 5,458 black rhino, 21,085 white rhino, 3,500 Asian one-horned rhino, 100 Sumatran rhino and between 61 and 63 Javan rhino left in the wild. South Africa is home to 75% of Africa's rhino with between 19,000 and 20,000 white rhino and about 2,000 black rhino.
Successes in Kruger increase jeopardy elsewhere
Protection in the Kruger National Park has increased through the establishment of an "intensive protection zone" in the centre and south of the 19,485 km² park. This has reduced the number of killings.
But, to some extent, the poaching epidemic has simply changed focus and location. KwaZulu-Natal is home to smaller wildlife sanctuaries and reserves as well as private game reserves. All have substantial numbers of rhino which is why they have become the focus for poachers and criminal syndicates that run the illegal trade.
Zimbabwe and Namibia have been hit too. There are even fears that Botswana could be next on the hit list.
Rhinos under threat in South Africa have been relocated to the country's well-protected national parks and private reserves. Botswana lost most of its rhinos to poachers in the 1970s and 1980s. But the success of the wildlife department and the Botswana Defence Force in combating poaching meant that it became a safe haven. In December 2014, Botswana had 154 rhinos and 25 more were translocated in 2015 and 2016.
In March this year, another 12 were sent from South Africa to the Okavango Delta, with 88 more due to follow this year and possibly another 100 sometime in the future.
But now their security is threatened. Budget cuts have forced Botswana's Department of Wildlife and National Parks to cut funding for rhino protection. This has affected the elite Rhino Squad, set up to protect the relocated rhinos. It has even run out of money to buy fuel for its vehicles.
Botswana's Environment Minister Tshekedi Khama II has bemoaned the lack of resources and the poor response from donors:
If you have given us money to establish the Rhino Squad, it will come with operational costs. We are always at war with poachers and we try to do as much as we can, with little.
The lack of funding could seriously imperil the relocation programme, which is reliant on security and well-resourced anti-poaching.
There has already been a surge in elephant poaching in northern Botswana.. Elephant poachers would see rhino horn – worth over $60,000 per kg compared with $1,000-$1,200 for ivory – as even more lucrative contraband than tusks.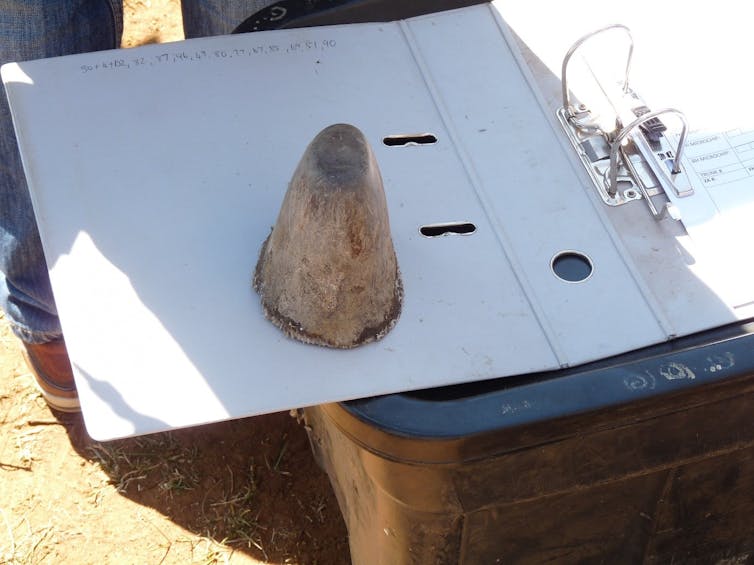 KwaZulu-Natal bears the brunt
If Botswana could be a target, Namibia and Zimbabwe have already felt the effects of the shifting poaching operations. The numbers killed in Namibia have risen in recent years, reaching 80 in 2015 having been down at 25 the year before. Zimbabwe lost 50 rhinos in 2015, double the previous year's level. Figures for 2016 have not been released.
But it is South Africa's KwaZulu-Natal province that is now bearing the brunt of renewed rhino poaching. Ezemvelo's official 2017 statistics show that 89 rhino have been poached in KZN province so far this year, compared with 55 rhino this time last year. This is a rise of 48%, attributed to Mpumalanga poaching syndicates who were operating in the Kruger National Park targeting Zululand reserves because of increased security and anti-poaching in their own province.
My visit to Hluhluwe-iMfolozi Reserve in September last year confirmed that 95 rhinos had been poached in the first nine months of the year. The latest statistics for 2016 showed 140 killed across the province (133 in protected parks) between January and November 2016. But with 89 poached across KZN in the first four months and killings up by 48%, the province could be looking at well over 200 dead in 2017 if the trend continues.
Cedric Coetzee, head of rhino protection in the park, believes that while it might take poachers days to track a rhino in Kruger National Park, the high density of animals in the KwaZulu-Natal reserve meant they might only spend two to three hours there before killing a rhino and escaping with its horns.
One thing that remains to be seen and analysed in detail is the effect that the unbanning of domestic trade in rhino horn in South Africa will have. In April this year South Africa's Constitutional Court refused an attempt by the government to overturn an earlier court suspension of the government moratorium of the legal trade in horn imposed in 2009.
The Environment Minister has put out draft regulations for a legal trade. This would control domestic commerce and allow the export for personal use (not commercial exports which are banned by CITES) of a maximum of two horns. The draft is vague. But it was welcomed by the Private Rhino Owners Association in South Africa, who want a legal trade. Conservation organisations which oppose any trade in wildlife products were highly critical of the court decision and the South African government's draft legislation for a legal trade.
The outlook for southern Africa's rhinos remains threatening. The trade issue is confused and the South African government under President Jacob Zuma hardly has a reputation for administrative competence, integrity and far-sightedness.
The police and wildlife authorities struggle to deal with poaching and smuggling. The ability of criminal syndicates to evolve their operations to take account of improvements in security in some areas suggests a shifting and complex war between anti-poaching units and the poachers, weighted in favour of the killers and smugglers.