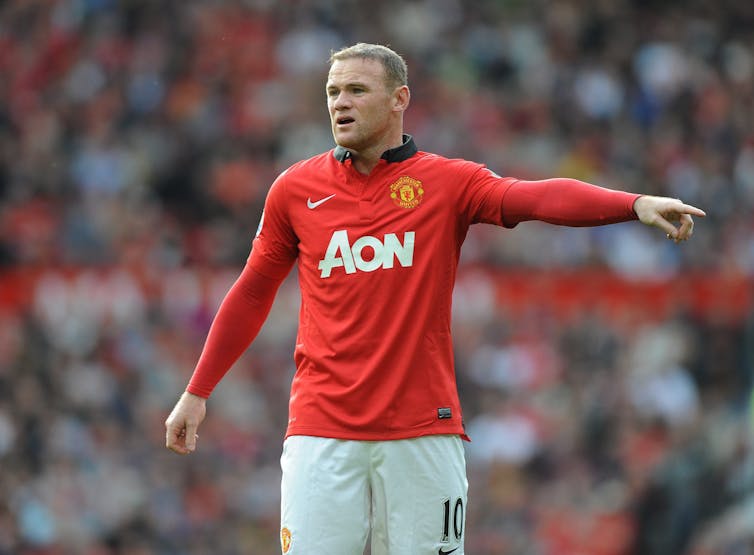 Even those Conversation readers with the highest of brows will have heard of Wayne Rooney. Without wanting to seem too condescending, it's not unreasonable to infer that someone who is apparently known to his teammates as 'potato head' may not be the sharpest knife in the drawer. And yet Wayne is paid £300,000 – or a bit more than half a million dollars – a week for his labour.
In Wayne's defence it has to be said that he's quite a good footballer. Whether he merits the description of 'genius' that greeted last Saturday's 'wonder strike' is moot, but there's no doubt he's spent a lot of his life kicking balls around – to the possible detriment of other, thus far unrealised potentials. It's also clear that he's also brought a lot of pleasure to many people, albeit somewhat diluted by the fact that he plays for Manchester United.
Yes, that was a cheap shot at one of the most successful clubs in the world. One of the reasons so many people dislike Manchester United is because it epitomises how much the game has changed. United is now more of a global brand than a football club of the sort favoured by traditionalists. Match day revenue accounted for less than 10 per cent of the club's 2013 revenue of £363 million, the rest coming from sponsorship, sales of merchandise and the all-important share of the television rights.
Football has become a lucrative commodity to be traded and fought over by rival corporations. Rupert Murdoch's Sky TV was able to transform itself into a viable entity in the UK – much to the surprise of the sceptics – by securing exclusive broadcast rights for the Premier League. When Sky recently lost the right to broadcast European competitions to BT immediately wiped more than $1 billion off the value of 21st Century Fox.
Genuine fans of United – there are some, apparently – now need to either fork out between £500-1000 for a season ticket, or take out a subscription to Sky TV. They will also need to subscribe to BT if they want to follow United's increasingly faltering progress in Europe.
So what, you may say. If you want to see the best in the world play, you should be prepared to pay for it. There is no doubt that some of the best players in the world do play in the Premier League, and Rooney is conspicuous in this regard as he's actually home grown. The rest are itinerant mercenaries who play for the highest bidder. Quite why we should feel any particular loyalty to one brand over another in such circumstances is an interesting question, and one best answered by the army advertising types, spivs and agents who spruik the merits of various clubs and players.
Whatever you may think about the round ball game generally and Wayne Rooney in particular, there's a serious point to be made here. Rooney symbolises the remorseless logic of what Robert Frank and Philip Cook called winner-take-all-economies. If nothing else, professional sports are relentlessly competitive and highlight how a handful of top performers capture the bulk of the rewards and prizes.
This logic applies across all areas of the economy, the argument goes. Whether its Bill Gates' dominance of the software industry, for example, or Taylor Swift's apparent ascendancy in 'popular music'. I have to confess, I'm not sure I've actually even heard her sing, but I assume she can carry a tune as she pulled in around $40 million in 2013.
Alas, this dynamic even applies to academia: Paul Krugman and Niall Ferguson sell books by the hundreds of thousands, rather than just the hundreds like the rest of us.
A similar logic applies to the world of high finance and banking. For example, Lloyd C. Blankfein, Goldman Sachs's chief executive, received a Rooneyesque $23 million in 2013. Goldman Sachs is famous for making money during the subprime crisis by astutely betting on a collapse.
Perhaps this is just reward for such brilliance. But it is also worth pointing out that another titan of finance, J.P Morgan's Jamie Dimon, still managed to rake in a more modest $20 million despite having to pay the Department of Justice $13 billion for misleading its own customers about the value of mortgage backed securities. Imagine what he might be paid for doing an unambiguously good job.
No doubt some readers will detect the smell of sour grapes. Perhaps. But there is ample evidence about the counter-productive impact of inflated salaries linked to short-term incentives such as the value of company share prices. Not only do they exacerbate increasingly unsustainable-looking levels of economic inequality, but they also privilege individual interests over collective ones – often with disastrous results, as the recent banking crisis reminds us.
In this context Wayne has one great redeeming feature: whether he does well or badly has no significant consequences for the rest of us. Even United saddos – are there any other sort? – would eventually get over a dip in form by player or club. For all Wayne's undoubted abilities he's unlikely to bring global capitalism to its knees, even if he does symbolize some of its more bizarre excesses.
The same cannot be said of other lavishly rewarded actors in the world's financial sector in particular. They could – and nearly have – wrecked the global economy upon which our collective well being depends. Perhaps Joe Hockey could propose AFL-style salary caps across the economic spectrum as Australia's contribution to the forthcoming G20 meeting.
Unlikely? Not as much as Bristol City winning the Premier League during my lifetime.