Depression affects over 80,000 young people in the UK every year. It can have a devastating impact on their daily lives, social and academic functioning, and family. As one young person in our research project put it: "I felt like I was missing out on being a teenager".
A team of researchers at the Anna Freud Centre and University College London, led by Nick Midgley and Mary Target, have been exploring young people's experiences of having depression and receiving therapy.
We recently came together with a group of professional filmmakers, seven young people, and three parents, to create two short films about the experience of having depression in adolescence and getting help.
Varied experiences
The first, Facing Shadows, is a short animated film about the young people's experiences, while the second, Journey Through the Shadows, is told from the parents' perspectives.
In Facing Shadows, the young people describe their experiences of depression, symptoms of which can include feelings of irritability and anger; sadness and tearfulness; emotional numbness; a loss of interest in doing things previously enjoyed, and suicidal thoughts.
But, ultimately, depression is experienced by young people in many different ways. As one young person put it:
Depression is a range of different things, a range of different feelings, and it's important for people to understand that.
Another young person alluded to how difficult it was to describe what depression is:
If I was trying to describe depression to someone who has never experienced it ever, it's like trying to explain a colour that they can't see.
It is also difficult to pinpoint the factors that cause depression in young people – there may be no single identifiable cause or there may be several potentially contributing factors acting at the same time.
From a parent's perspective, the onset of depression in their teenage child can be a bewildering experience and may be particularly confusing given the emotional and behavioural changes that are associated with general adolescence.
The impact on their families is often significant, too. As one parent put it: "You want your children just to lead normal teenage lives and when they can't, it hurts". It can also be difficult for parents to know how to respond to what their child is going through and to know where to seek relevant help.
A taboo topic
As the young people describe in Facing Shadows, therapy for depression can involve speaking to a professionally trained therapist. This enables them to get things off their chest and helps them deal with their feelings. "You've got to take the risk and tell someone", and "remember that you're not alone".
In addition, as one of the parents in Journey Through the Shadows indicates, parents often want and can benefit from being given support from a mental health professional, to help them to understand what their child is going through and how to help them. "It was a good time for me to explore what was going on because it affects the whole family and people don't realise that."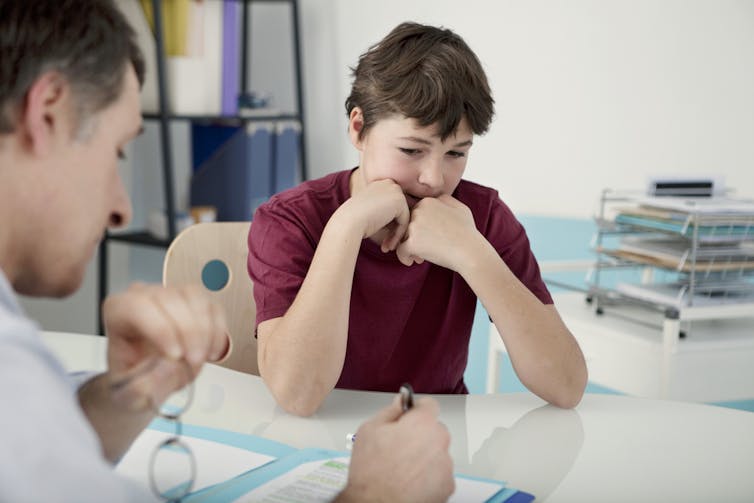 So why is it important to hear these accounts? One of the young people, who also spoke about her reasons for getting involved in the film project, said:
I want to get awareness of depression out there, because of what I went through. I know so many people going through the same thing and they don't get help or recognise it or they think their parents and teachers won't understand. Depression needs to stop being a taboo subject. People don't realise they're whispering when they talk about it. People need to be educated so that it is not something hidden behind closed doors.
Bringing the topic of youth depression out of the shadows will help other young people and families to seek help and communicate their difficulties.