American sprinter Tyson Gay and former 100m world record-holder Jamaican Asafa Powell are reported to be among six athletes to test positive for a banned substance: oxilofrine.
But what is this drug that has precipitated a crisis described as one of athletics' "darkest days"?
At first glance, 1-(4-hydroxyphenyl)-2-methylamino-propanol-(1), also known as oxilofrine, methylsynephrine, hydroxyephrine, oxyephrine and 4-HMP, seems to be an unlikely drug to be caught up in a doping scandal for runners.
Oxilofrine has been used for decades as a treatment for orthostatic hypotension (a condition whereby your blood pressure falls when you try to stand up).
As most athletes don't faint when they stand up, they're unlikely to be using oxilofrine for this purpose. But as well as being a synthetic drug, oxilofrine is also a natural product, a derivative of synepherine, found in extracts of bitter orange.
Stimulating supplements
Synepherine is used as a "fat burner" in supplements by athletes and body builders, but now oxilofrine is being used as well. The claims for oxilofrine as a fat burner are fulsome, but there is a distinct lack of evidence beyond personal testimonials that it's effective.
Synephrine is allowed in Australian supplements if the total consumed is less than 30mg a day. Oxilofrine does not appear to have any Australian regulation (at least it's not in the Poisons Standard), and I have found no limits as to its inclusion in supplements.
Yet both of these drugs are banned by the World Anti-Doping Agency because they are also stimulants. This stimulant property is directly related to oxilofrine acting as an anti-hypotension drug and a fat burner (sort of).

Oxilofrine has been referred to as an "amphetamine-like drug" but it's closer in structure and action to the nasal decongestant pseudoephedrine and the body's "fight or flight" hormone, adrenaline.
Adrenaline, as part of its action to prepare the body to run away from a threat (or deal with it), increases the burning of the body's fuel and alters blood flow. It does this by binding to specific hormone receptors on the surface of fat and muscle cells.
Oxilofrine also binds to these receptors as well as causing increased neurotransmitter release from sympathetic nerves (also crucial for the fight or flight response).
Is ignorance an acceptable excuse?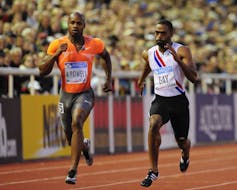 Powell claimed he has never knowingly taken banned substances or supplements, so could these athletes have been exposed to oxilofrine without their knowledge?
That's a very real possibility. Contamination of dietary supplements with drugs is widespread. In one study, tests of weight-loss supplements revealed an astonishing 70% contained ingredients not listed on the labels.
These contaminants included unacknowledged synepherine, so the athletes could have inadvertently consumed material containing oxilofrine.
The onus is on athletes to ensure all the materials they consume are free from banned substances, and the strict liability in sport means that innocent consumption is not accepted as an excuse. But if those materials are not declared on the product label, there's no way that an athletes due diligence can succeed.
Analysis of any supplements consumed will be important to establishing whether exposure to oxilofrine was inadvertent.
The role of supplements in sport is already a minefield, where banned substances may lurk under a plethora of obscure names.
Adding in contamination or adulteration, where the athletes may have no reasonable way to be sure their supplements are clean, makes this minefield even harder to navigate.