It has been all change at the Senedd this summer, with four of the five leadership roles of parties with Welsh Assembly seats up for grabs. While Welsh Labour and Plaid Cymru are yet to conclude their leadership contests, Paul Davies has been announced as the new leader of the Conservatives in Wales, having won a convincing victory over challenger Suzy Davies.
This marks a real shift in tone and emphasis for the party in the nation. While his predecessor, Andrew RT Davies was a man who proudly declared himself "19 stone of prime Welsh beef", Paul Davies is pleasant, congenial and softly spoken. Naturally, this has led to the inevitable accusation that he lacks charisma. When a politician has to be recorded by the BBC insisting that he isn't "grey", you tend to wonder if he might be.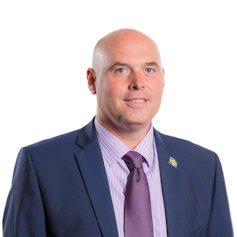 However, the election of this relatively unobtrusive man has the potential to change the landscape of Welsh politics. Labour has been in government for nearly 20 years. The party is hampered by the nature of devolution not letting them enact as much policy as they would like and so faces criticism for being inactive or ineffective.
So there may never be a better time – despite the Tory turmoil in Westminster – for an alternative party leader to enter the arena, and pose as a credible alternative to a Labour-led or Labour majority government.
The Conservatives are – and historically have been – Wales' second party, and the current official opposition in the Senedd. But they are never likely to have a majority. They struggle to gain support in parts of the formerly industrial Wales, but it is also because the Assembly's system is designed to deny a party a majority.
This would mean having to enter a coalition. A Westminster style pairing with the Liberal Democrats is a non-starter because liberalism seems to be a spent force in Wales - a result of appealing more to Richmond Park and Twickenham demographics as a single-issue party, rather than to Brexit-voting, harder-pressed Wales.
So it would have to be a union with Plaid Cymru, and this again is where Davies might just be credible. Of all Conservative politicians in Wales, he is the most appealing to the nationalists. He is a fluent Welsh speaker, and is open to ideas about augmenting the distinctiveness of the Welsh nation.
Since Plaid Cymru is now a left of centre party it will also find some kind of a friend in Davies. This is a man who, in 2012, was the only Conservative AM who stuck his head above the parapet and made a speech in the Senedd advocating the right of 16-year-olds to vote. The faces of his Conservative colleagues behind him were stony.
Time and time again, Davies has demonstrated that he is not the kind of Conservative that his predecessor was, nor is he like many of his well-known colleagues (including those associated with Brexit) who often speak for the Tories on the broader British stage.
Davies has already said he is "open" to talks about coalitions, and in this regard fate might lend him a helping hand. The Plaid Cymru leader Leanne Wood, who ruled out ever working with the Tories, may well soon lose the leadership of her party, making way for someone who is more willing to be pragmatic, and to make "sacrifices" to get back into office. Agreeing on some kind of legislative programme would be difficult, but government briefs could in theory be divvied up in a manner acceptable to both parties.
Selling this to the grassroots, however, will be another matter. Despite having elected Davies, the membership of the Conservative Party in Wales remains, as it has historically been, much more to the right, and much less enamoured by nationalism than the man himself. From speaking to many of these supporters through years of research, I was always struck by how resolutely and unashamedly right of centre many have remained. It's important to note that while Davies won his leadership contest convincingly, this was only on a 52% turnout, suggesting plenty were uninterested in either of the "moderate" and "centrist" candidates on offer. Similarly, many Plaid members and activists would rather be in opposition than in government with the Conservatives.
If they were shrewd, however, both sides might see a golden opportunity. Each could in theory make the other look obsolete by stealing their thunder. If Plaid pulled the Tories in a more nationalistic direction, for example, they might in the long run be able to ask voters why they need Conservatism at all when they offer a full-fat "Welsh" vision.
Picture this not completely far fetched scenario: despite a period of uncertainty over the EU, after the 2021 Assembly election Paul Davies is Wales' first minister with Plaid Cymru's Adam Price or Rhun ap Iorwerth as deputy. Wales could have its first Tory first minister, but it might, paradoxically, spell the end for the Conservatives in Wales.