By the time Dennis Nona turned 35, in 2008, he was hot property on the Australian art market. He was the winner of the of the most prestigious art prize for Indigenous artists, the A$40,000 Telstra National Aboriginal and Torres Strait Islander Art Award. He was exhibited nationally and internationally. He was headhunted for major international commissions and key national and state art collections extensively acquired his art.
One could argue that at the National Gallery of Australia there was, at a time, more of his work on display than that of any other living artist.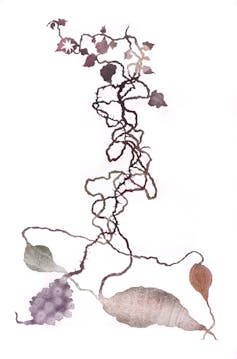 By last year he was a convicted felon facing a seven-and-a-half-year gaol sentence for serious sex crimes which he had committed almost two decades earlier, when he was studying at the Australian National University.
Virtually all of his art was pulled from display in all public collections and his name was hurriedly airbrushed out of the history of Australian art. Legal argument continues with appeals and counter-appeals and it would be completely inappropriate to discuss any aspect of the litigation, other than to say that he has been accused and has been already found guilty of exceptionally serious charges.
Should the punishment of the individual extend to a censorship of that person's art?
I am reminded of disappearing commissars in Soviet Socialist realist art. Then, a person who was "in disgrace with fortune and men's eyes" would be simply rubbed out from the composition of the painting, as if he or she never existed, and earlier reproductions of the work were destroyed.
By removing the work of Dennis Nona from public display is an institution basically saying that it was wrong to acquire the work in the first place, that it really is sub-standard and should not be shown? This would mean that virtually all of the Australian art world got it wrong. Such a case would be difficult to argue.
I feel that Dennis Nona is the most important artist to emerge from the Torres Strait in the past 50 years. He created the iconography that many other less significant artists, such as Alick Tipoti, have followed, and has been the crucial conduit between the "spirit people" and the contemporary realm.
Dennis Nona, as an artist is a curious mystic, who not only believes that ancestral spirits visit him while he works on his art, but much of the community on his native Badu Island believe in the authenticity of his vision. He has given visual form to the whole cosmography of the Torres Strait.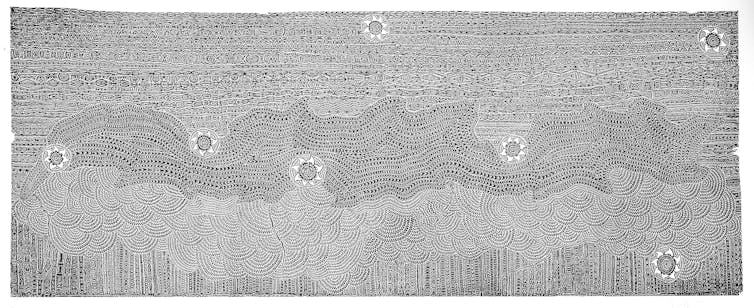 His art practice has been the focal point of key exhibitions, including Land, Sea and Sky: Contemporary Art of the Torres Strait Islands at the Queensland Art Gallery and the Gallery of Modern Art in Brisbane in 2011, the Culture Warriors National Indigenous Art Triennial, which toured nationally in 2009, and the Clemenger Contemporary Art Award at the National Gallery of Victoria also in 2009, to name three among a dozen major exhibitions.
His glorious huge relief prints held pride of place in major exhibitions of Australian printmaking and his art was a must have inclusion in many accounts of Australian art. Nona's central position in any discourse surrounding Australian art cannot be disputed and to leave him out is an act of falsification.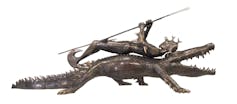 I hasten to say that I am not in any way disputing the seriousness of the crimes of which he has been accused. But, historically, should we airbrush Caravaggio and Paul Gauguin out of the history of world art as they have been guilty of very serious matters?
Perhaps we should not look too closely at the biographies of the German and northern European expressionists or for that matter key members of the European avant garde.
Censorship is a tricky path to follow in cultural matters and revisionism does invariably lead to some pretty false conclusions. I am all in favour of historical reassessments based on the reassessment of the art itself, but the moment we start to read our contemporary moral values into an artist's biography, no matter how justified, and use this as a yardstick in the assessment of their art, I suspect we are on a very slippery path.
Should we now dismiss the worth of the art of Donald Friend, just because we have now read his frank diaries and may be appalled at his behaviour with Balinese boys?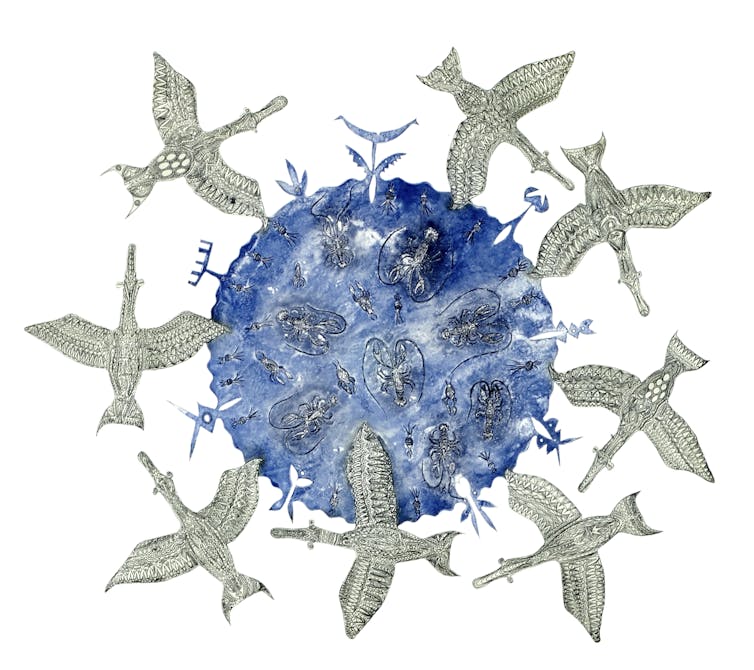 Conversely, I have no hesitation in dismissing Rolf Harris's paintings, not because of the criminal behaviour of which he has been found guilty of, but because they simply don't work as paintings. This is an opinion which I have held ever since I first saw them.
Dennis Nona may be a deeply flawed individual and is now being punished for his crimes, but let us not punish ourselves by denying the beauty, importance and profundity of his art. He remains one of the giants of Australian art and while the man may be behind bars, let us have the honesty and courage to acknowledge what he has achieved for the art of the Torres Strait.