Nicky Morgan's announcement that seven-year-olds at state-maintained schools could have to sit national, standardised tests could re-open a can of worms that was shut when such tests were phased out in 2005. But the move is not surprising and echoes the current political rhetoric of school accountability and Whitehall's micro-management of teachers.
Some tests are useful and valuable. For example, I want to know how my child is progressing as a reader or I want to be sure that the pilot who is flying me on holiday is capable and appropriately trained. So I have no principled objection to testing per se; rather my concern about this new proposal is the legitimacy of its goals.
Schools are still required to provide assessment of their pupils at the end of Key Stage 1, when children are seven-years-old, but teachers administer the process and schools choose when it is carried out. Yet Morgan seems to be suggesting that this is not enough – or not good enough – and will consult on the reintroduction of national standardised tests. In a speech at the Policy Exchange think-tank she said:
To be really confident that students are progressing well through primary school, we will be looking at the assessment of pupils at age seven to make sure it is as robust and rigorous as it needs to be.
She argues that tests administered by an external body will drive up standards, yet there is very little evidence to support this idea. It is more likely that such test results will be used primarily as an accountability stick rather than as a carrot to improve achievement.
The tests themselves are not a bad thing – it is the way that the results are used that could undermine their validity.
Tests first introduced in the 1980s
Tests for seven-year-olds were introduced as the National Curriculum began to take shape in the late 1980s. These were the first national, standardised tests (commonly known as SATs) in primary schools and were introduced for seven-year-olds due to the fact that Key Stage 1 is the shortest key stage, lasting from age five to seven. But it was acknowledged at the time that this was also a problem as the large-scale testing of children at this age was unknown territory.
While teachers were adept at assessing pupils and reporting to parents on a relatively informal basis, the new system meant negotiation of a compulsory and universal testing regime. Development and administration of the tests was run by three external consortia, comprising universities (including the Institute of Education), publishers and local authorities.
The original intention was a positive one, to provide a broad system that allowed an individual child to "demonstrate their best" – but this proved to be too challenging in such a large-scale testing situation.
The process of developing these tests provided unique data sets on infant classroom assessment and it changed many teachers' perceptions of how to assess children. But problems with managing them, and the increasing concern about the effects of the tests on children and their teachers ultimately precipitated their demise.
The pressure from the testing regimes resulted in some resistance and notable demoralisation among the teaching profession, with unions declaring that the new systems reframed the role of teachers as coaches whose job it was to ensure their pupils passed standardised tests.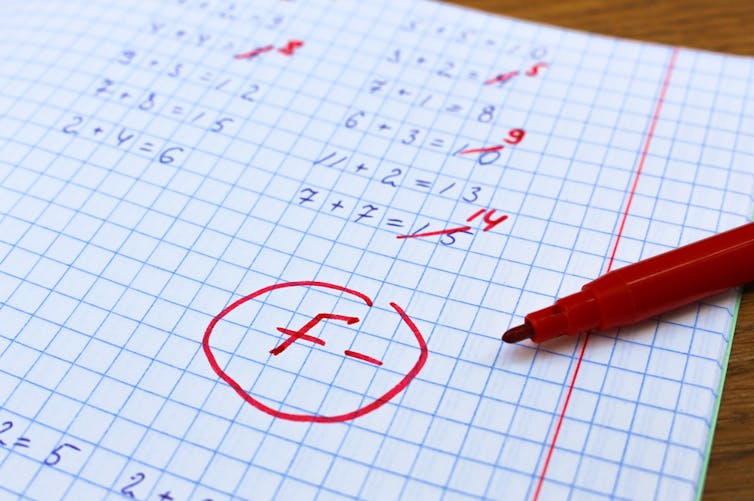 The impact of this was clearly described in reports from the early 1990s that found stressed teachers, stressed pupils and what was supposed to be a broad national curriculum being narrowed to ensure pupils were adequately prepared for the subjects that were most important: English and mathematics. The time allocated to preparing pupils for testing in these two subjects increased, and as a consequence reduced time allocated to other subjects.
Teachers back in charge
Public debates about the nature of school assessments in the 2000s revealed growing concern about the effects of testing in schools and this was deemed important enough for the Qualifications and Curriculum Authority to commission research into new assessments for seven-year-olds in 2004.
The results of trials for different assessment practices reversed the system, putting the emphasis back on teacher assessment, rather than national tests. This proved successful, so from 2005 this "new" system was used in all primary schools. This was not simply a return to how it had been in the early 1980s, rather schools had to use approved tests and procedures as part of the assessment process, which was conducted by teachers. It has continued until today.
Bearing in mind the fraught history of national standardised testing at a tender age, it seems perplexing that we may well see something similar reintroduced into state-maintained schools for seven-year-olds. While there is some evidence that the test results at the end of Key Stage 2, when children are 11, can provide a reasonable indicator for future academic success at GCSE, there is no such evidence that advocates such a regime at the end of Key Stage 1.
Morgan is keen to recruit more excellent teachers at a time when unprecedented numbers are thinking of leaving the profession, many because they feel de-professionalised. If yet more layers of accountability and public judgement are inserted into our primary schools via tests for seven-year-olds, then teaching may become an even less appetising career choice.
It will also narrow the learning experience for our youngest pupils at the very time that it should be becoming broader. The bottom line is that teaching for a test is not a strong model for nurturing a love of learning.