The recent election of a Coalition government will usher in a new era in Australian aid policy, with a likely re-emphasis on national interests, the Asia-Pacific and economic growth.
Last Thursday, the Coalition gave some indication of what its aid policies will look like, when it released its pre-election costings.
Rather than match Labor's promise to increase aid to 0.5% of GNI by 2017/18, it committed only to maintaining the aid budget in real terms, although it said it would work to achieve the 0.5 target in the longer term.
This shift in policy will mean scaling back planned increases in aid spending to the tune of $4.5 billion over the forward estimates.
Of course, it is possible that Labor would not have come good on its promise to increase aid to 0.5% by 2017/18 had it remained in office, given the fact that the national government budget faces a significant structural deficit and Labor backtracked on earlier commitments to reach the 0.5 target. But it probably would have increased aid by more than what the Coalition now proposes.
This reduction in spending is unlikely to be the only change in aid policies. I would expect there to be at least three other significant changes.
1. The purpose of Australian aid
Labor and the Coalition have different views about the purpose of Australian aid.
They both agree that the country's aid program should serve to promote poverty reduction in developing countries and Australia's "national interest", the latter being code for the government's foreign policy and security agenda. But they place different emphases on these two elements.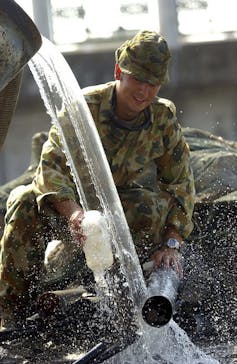 In its 2006 White Paper on Australian aid, the Howard government determined that the official objective of the Australian aid program would be to "assist developing countries to reduce poverty and achieve sustainable development, in line with Australia's national interest" (emphasis added).
During Rudd's first stint as prime minister, Labor changed this to "help[ing] people overcome poverty". It immediately added that "this also serves Australia's national interests by promoting stability and prosperity both in our region and beyond".
But the change in wording constituted an effective downgrading of the "national interest" in favour of poverty reduction, at least to the extent that the two are, as many have suggested, in conflict with one another.
Labor also emphasised the contribution of the aid program to helping Australia fulfill its role as a "good international citizen".
It is likely that, at some point, the Abbott government will revisit the wording of the official purpose of the Australian aid program. I would expect it to give greater emphasis to national interest considerations and back away from Labor's rhetoric related to good international citizenship.
2. Geographic scope
Another area in which there is likely to be change is the geographical distribution of Australian aid.
Historically, Australia's aid program has focused on the Asia-Pacific because of that region's geopolitical and strategic importance to Australia.
While in office, Labor dramatically increased aid allocations to sub-Saharan Africa, Latin America and the Caribbean in an effort to secure support for Australia's bid for a UN Security Council seat and, in the case of sub-Saharan Africa, expand the aid program to the poorest part of the world.
As shadow minister for Foreign Affairs, Julie Bishop criticised this move, suggesting that it stretched our aid effort "too thinly". She indicated that the Coalition would re-focus the program on the Asia-Pacific.
To what extent it will do this, however, is a little unclear.
There are two significant constraints to concentrating Australian aid on the Asia-Pacific: (i) aid levels in the South Pacific are already at saturation levels and (ii) developing countries in Asia are becoming increasingly affluent.
For instance, Indonesia, the Philippines, Vietnam, Lao PDR, and Timor-Leste –among the largest recipients of Australian aid – are now lower middle-income countries that increasingly have the economic resources – if not always the political will – to reduce poverty on their own.
Under Gillard, Labor decided to end its aid programs in India and China, in recognition of this reality.
It is possible, therefore, that the Coalition will not shift back to an almost exclusive focus on the Asia-Pacific but maintain a substantial aid program in Africa, at least.
In an early sign that this might be the case, Julie Bishop successfully opposed a proposal by Tony Abbott to axe the Africa aid program in order to fund reconstruction efforts following the 2010-2011 Queensland floods.
The fate of Australia's aid programs to Latin America and the Caribbean, however, seems much less secure because of that region's relative affluence.
3. Sectoral focus
A third area of aid policy in which there is likely to be change is the sectoral composition of the aid program.
Labor dramatically increased spending on education, health, infrastructure, the environment and rural development, reflecting a concern to promote social development and address environmental challenges such as climate change rather than rely solely on economic growth to promote poverty reduction.
Early indications are that the Coalition will shift the emphasis back in favour of economic growth and, in particular, aid for trade and private sector development.
Labor rationalised its focus on social development on the grounds that enhanced labour productivity makes a significant contribution to poor people's economic prospects.
The Coalition, by contrast, appears to believe that economic growth solves all ills.
More effective aid?
In opposition, the Coalition made much of the need to enhance the effectiveness of Australia's aid program. Whether these changes will help or hinder in that respect remains to be seen.
One would expect a stronger emphasis on national interest considerations to work in the opposite direction, given that aid is most effective in reducing poverty when directed towards developmental objectives rather than foreign policy or security ones.
A refocusing of the aid program on the Asia-Pacific might have the same effect, unless the government can devise effective strategies for promoting poverty reduction in middle-income countries (leveraging political will in these countries will be crucial) and dealing effectively with the challenges posed by aid saturation in the South Pacific.
In re-emphasising economic growth, the Coalition is probably on stronger ground given that evidence suggests that, in general, economic growth reduces poverty. But economic growth does not always occur evenly across countries and groups can be left behind.
A key challenge for the Coalition will thus be to promote growth in a way that benefits the poor, not simply the rich.