There has been mixed reaction to the deal agreed between the EU and the UK on December 8 that broke the deadlock in Brexit talks. A key part of the agreement was on the rights of EU citizens living in the UK after Brexit. But while the deal gave clarity on some issues, it left some big questions unanswered for those who have taken advantage of EU free movement rules to live in the UK.
Under the agreement, which applies to both EU citizens in the UK and British citizens in the other 27 member states (EU27), citizens who move before the day of Brexit – March 29, 2019 – will continue to have some, but by no means all, of the rights that they currently enjoy.
The agreement is aimed at cushioning migrant citizens from the effects of Brexit by creating a special post-Brexit status. This will allow protected citizens and their families to continue to live in their current host country, as well as a right to work and a right to equal treatment. Crucially for British pensioners currently living in the EU, this will allow them to maintain a European health insurance card and the right to export their British pensions.
Administrative formalities and costs for obtaining post-Brexit status will be kept to a minimum, and citizens will be allowed to maintain their status even if absent from their country of residence for up to five years. This is more generous than the normal EU regime, which allows for absences of up to two years.
---
Read more: What the EU's rules on free movement allow all its citizens to do
---
Spouses and partners
The post-Brexit status also extends to "protected" family members who are legally resident in the host state at the time of Brexit. These include spouses, registered partners if the country of residence recognises registered partnerships, children (even if only of the partner), and dependent parents or grandparents.
In a small victory for EU citizens, the post-Brexit right to family reunification will in some instances also apply after Brexit. If the family link already existed before Brexit, even if the family member was not yet living in the host country, the family member will have a right to join the citizen enjoying the post-Brexit status. This means, for example, that a Polish citizen living in the UK and married to someone living in Poland at the point of Brexit will continue to have a right to bring their spouse to the UK without having to satisfy the onerous economic thresholds imposed by UK law.
But it excludes citizens who fall in love or get married after the day of Brexit. This means that in the UK, economic resources will be a gateway to family happiness, as is the case now for non-EU migrants.
The grey areas
Beside the limited right to family reunification there are grey areas in the agreement: the first concerns the issue of non-economically active citizens. Under current EU law, they have to possess sufficient resources and comprehensive health insurance in order to have the legal right to reside in another member state. But in practice, those conditions are not always met and there are many "informal" residents whose residence status is neither wholly legal or wholly illegal. Migrants – usually women – who give up work in order to take up caring responsibilities for children or family members, are not automatically protected in EU law, and will not be protected by the Brexit agreement.
Children born or adopted after Brexit with at least one parent with post-Brexit status, will be protected by the deal as will children of single parents. However, the rights of children seem to have been overlooked: currently a child of a migrant EU worker who is in education maintains the right to stay in the host country until the end of their studies. Their primary carer also has the right to stay, since otherwise the child would not have a realistic possibility of finishing their schooling. The agreement does not mention these rights, and unless they are specifically included in a future section of the withdrawal agreement some children will be at risk of losing their right to reside in the country where they currently live.
Another problem relates to the extent to which those citizens who are affected by Brexit will be protected if they decide to go back to their home country – so for example a Spanish woman with settled status in Britain who decides to return to live in Spain. Under current EU law, when she returns to Spain she has the right to to bring her family back with her, regardless of the nationality of the family member.
This does not seem to be the case under this agreement which, in a bizarre turn of events, might make it difficult for EU citizens in the UK and UK citizens in the EU27, to return to their member state of nationality. Naturally, they might be unwilling to move back if they cannot be accompanied by their spouse or partner.
British citizens in the EU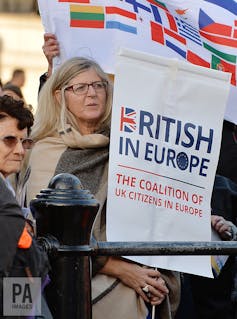 British citizens living elsewhere in the EU have been largely neglected by the UK negotiators, with their rights primarily championed by the European Parliament. As they will be former EU citizens, I have previously argued that their rights should be safeguarded beyond just reciprocating those rights guaranteed to EU citizens in the UK at the time of Brexit.
Particularly disappointing in this respect is the "locked in" situation for British citizens who will lose their right to free movement elsewhere in Europe and therefore have no choice but to remain where they are at the time of Brexit.
All in all, this agreement constitutes progress from the situation earlier in the negotiations, and yet it is not satisfactory for everyone. More rights will need to be granted to ensure protection of more marginalised citizens, and to ensure that UK citizens in the EU are fully protected as former EU citizens.