Recent changes to strata title legislation in NSW will remove the need for all owners to agree to sell or redevelop their apartment block as a whole.
This means that some owners may now have their apartments sold against their will. Only 75% of owners in a building have to agree to the sale for a block to be redeveloped.
The NSW government hopes that this change will increase the number of homes in popular parts of the city and allow older, run-down properties to be rebuilt. Other Australian states and territories are either considering implementing a similar strategy, or already have.
However, new research released today shows that while this may increase the rate of redevelopment of older blocks, on their own these changes may not improve housing affordability or availability.
Change on the way
In a report launched today, we anticipate that this change will:
Create more uncertainty for apartment dwellers, as it makes apartment ownership less secure than house ownership, and therefore makes these residents more susceptible to market pressures.

Depending on the location, increase either gentrification or densification. Low-rise blocks in expensive areas (around Sydney harbour, North Shore and Eastern Suburbs) are likely to be replaced with boutique higher value blocks, but not necessarily at higher density (gentrification). Low-rise blocks in lower value suburbs will be replaced by high-rise blocks where planning regulations allow this (densification). Whether this densification will improve affordability is less certain. The map below shows this process.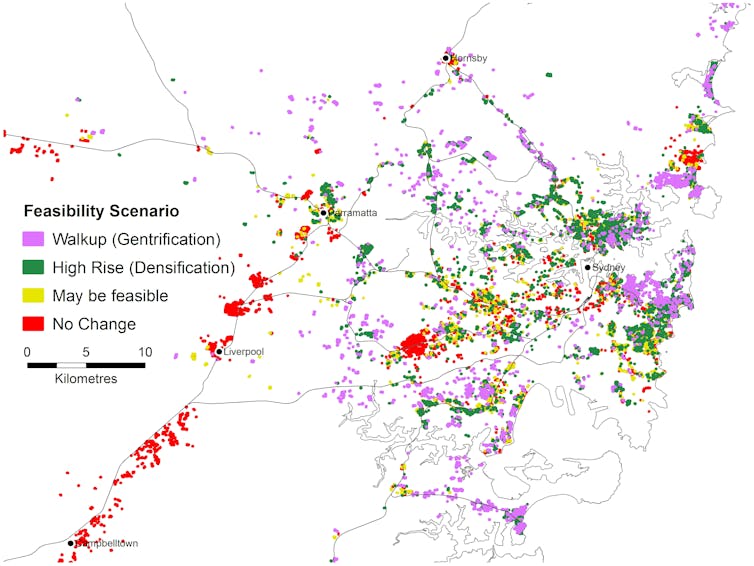 Create no significant improvement to affordability of rental and home ownership in Sydney. Old apartment buildings that might be knocked down and rebuilt often provide more affordable housing options. However, our research shows that very few blocks could be developed profitably by private developers into housing that's affordable to people already living in the local area. While the increase in housing supply may be welcomed, the scale of the increase in housing supply is also unlikely to result in increased affordability.
Qualified support
For this project, we analysed data from the 2011 census, the NSW Strata Title database and the NSW Valuer General's database. We interviewed 34 key stakeholders including specialist legal and financial professionals, strata management industry professionals, local planners and spokespeople for owner and tenant representative bodies. We also surveyed 1,261 strata residents and owners in properties registered prior to 1990 about their attitudes towards the redevelopment of residential strata schemes. We held workshops with strata owners in the Sydney suburbs of Cabramatta, Coogee, Mosman and Parramatta.
Our research showed that many people acknowledged the importance of these planning goals and supported the need for some type of change to allow for the easier redevelopment of strata properties.
However, many people qualified their support by saying it depended on the outcome for any given block redevelopment. Most people didn't want to see a single owner holding out on a development purely for personal financial gain, but they also didn't want to see a vulnerable resident removed from their home against their wishes.
People also saw the benefit of making the renewal of apartment buildings easier if this meant better buildings, better local services and amenity and increased housing affordability.
However, many people were sceptical that new buildings would be of a better quality than existing blocks, and that services and local amenity, including open space, would be provided to cater for increases in population.
Similar changes are planned in Western Australia, Queensland and overseas. The Northern Territory and Singapore and New Zealand have already made similar changes too.
Planners will need to tackle head on the challenges outlined in our research if they are to deliver a compact city that works for all residents – not just the wealthy ones.