Cricket is not a game. It is the truth of life. — JM Coetzee
I have not attended many games at Kingsmead, the cricket ground in Durban, South Africa. But the 2015 Boxing Day Test against the "old enemy" England was too much to miss. Hashim Amla is South Africa's captain. If other national captains were tyrants, managers or champions, the Proteas' Amla has garnered a reputation as the consummate gentleman.
A diminutive Temba Bavuma is selected in the middle-order. The South African team is short of a great black African batting hope and he is it. Stocking the team with players has become as fraught with statistics as stocking a factory with workers or a business deal with BEE (or black economic empowerment, as the official government policy is callled) partners. The Proteas have a terrible test.
Bavuma fails in both innings, making 10 and a duck. As he walks off, an old Springbok player says "he is history" (South Africa's cricket team changed their name from Springboks to Proteas in 1991). It's a suitably ambiguous statement.
South Africa loses the match and spectators dribble home. Amla steps down as captain. Bavuma is not dropped. Murmurings begin. Is he to be a token selection?
During the second test at Newlands in Cape Town, it once again looked bleak for the home side. England rattled up over 600 runs. But South Africa replied in kind. Amla, made a double hundred, perhaps freed from the heavy crown of leadership which often weighs down rather than inspiring the best technicians on the field.
However, this was all overshadowed by Bavuma's century. It's the way he went about it, refusing to get bogged down. Bavuma is no slogger though. His innings was replete with the classic drives of yesteryear. This diminutive batsman, barely five and a half feet (1.68m) tall, dominating the six foot plus English bowlers made it all the more compelling to watch.
The English bowlers started to sledge – taunting him in order to disturb his concentration. Really? This man-child who grew up in the Cape Town township of Langa. Who survived the alien white environment of St David's private school in Johannesburg's upmarket Sandton. Who, every time he walked to the wicket, carried the suspicious gaze of thousands that perhaps he wasn't really good enough. Could he in any way be shaken by the criticism of the coiffured Stuart Broad and Ben Stokes whose failed bouncers rose as if bereft of yeast?
In South Africa, where the shark of racism lies in the shallows of almost every social interaction, Bavuma's beautiful, unbeaten innings of 102 dashed the curses of many a white supremacist. It also reinforced the ideological zealousness of many an African chauvinist. For those in favour of racial quotas, it revealed the necessity of forcing quality black players into a side where they would thrive, if given half a chance.
For those opposed, it revealed the inevitability of the entry of quality black players through patiently nurtured merit. For a moment, we all suspended histories and social relations beyond the boundary and simply basked in an innings of class, the acceleration and the concentration, the studied correctness of the cover-drive and the brutal aggression of the pull shot as performed by a short limbed batsman.
As Bavuma reached the 90s, reality began to take hold. We knew then that we were witnessing an innings charged with immense social significance, that sometimes it is as author Mike Marqusee notes,
possible to challenge and overturn the dominant hierarchies of nation, race and class. The reversal may be limited and transient, but it's nonetheless real.
Putting black cricket in context
How to describe Bavuma's century? The first black African to score a Test century? But that would stand in stark contrast to white player who have been making Test centuries for 100 years. By isolating Bavuma as the first without context, one obscures a whole history of black cricket. If one doesn't label him as the first, this diminishes the fact that cricket since apartheid has overwhelmingly produced black Africans as fast bowlers.
Bavuma went to two of the best schools in South Africa; South African College Junior School (SACS) in Cape Town and St David's High School in Johannesburg. But he also came through Cricket South Africa's (CSA) development programme in the township of Langa.
Without township development, there arguably would have been no batsman to go to SACS. Without SACS and St David's, there would be no Bavuma, the Protea. So maybe this is the way it will be: CSA providing the rudiments of the game and private schools picking up the torch. It's a point not lost on Bavuma, who told a journalist that,
I attended top private schools … and had access to quality facilities and elite coaching. There were boys who were much more talented than I was, but early exposure gave me the edge over my peers who remained in the township.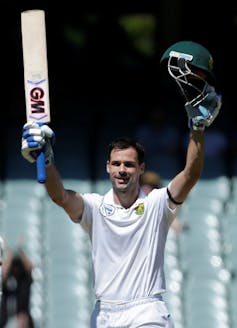 Alongside the new of Bavuma, there's also the old in the present to confound and amaze. New opportunities for old cricketing families. Jimmy Cook was an opening batsman who played in all 19 so-called "tests" against the rebel sides of the 1980s. Between 1982 and 1990 a number of controversial rebel cricket tours involving players from the main cricket-playing countries took place – despite sports boycotts against apartheid South Africa.
Cook finally made his debut for the Proteas in November 1992 at the age of 39 against India. Cook was dismissed with the first ball, and within a year retired. International cricket came too late for him. For a while, it seemed that his son Stephen would suffer the same fate, a prolific opening batsman at provincial level. But in January 2016, at the age of 33, he made his debut and scored a century. His father was in the stands taking in what could have been and what now is.
Mbeki vs Zuma
When South Africa toured England in 2008, despite the battles between Thabo Mbeki and Jacob Zuma, the ANC was a dominant force both inside and outside parliament. But eight years later, its position is under threat.
Beyond party politics, there's an emergent street politics, sparked by students' quest to decolonise universities. The initial catalyst was the struggle to remove the statue of Cecil John Rhodes at the University of Cape Town, which began in 2015. Overnight, and amid calls for free higher education, there were demands to decolonise the curriculum, as well as the removal of statues of other colonial and apartheid figures.
I watched Rhodes fall on my television screen. Pulleys and ropes did their work, while students snapped and clapped. For my generation, it's always heartening to see young people take up old struggles in new ways. But the removal of inanimate, lifeless statues, as much as their imperious presence offends, do not imbue us with the same delight as witnessing the South African pace attack in full flight at Lord's cricket ground in London, when English cricketers like Alastair Cook, Alex Hales and Joe Root duck and shrink, when English wickets fall.
Memories of men in red uniforms wielding Gatling guns against spears, scorching the earth, herding people into camps of death, come flashing back. When a newly liberated country meets on the turf of its old colonial master, as author CLR James would have it,
much, much more than cricket is at stake.
This is an edited extract from 'Reverse Sweep', published by Jacana.