'Am I still a citizen of Nigeria? The soldiers are watching or running while thousands are being slaughtered.' – Mohammed, a graduate student at the University of Maiduguri speaking at a food distribution center, Yola November 14th
The disaster unfolding in Northeastern Nigeria is barely noticed by people around the world. Wars, conflicts and crises in Syria, Iraq and Ukraine are what tend to top the news headlines.
In the Nigerian crisis it's not just that the government has been and is largely unresponsive to the radical Islamist group Boko Haram that has killed thousands of people – mostly in northeastern Nigeria. According to citizens who have fled the fighting, the government is complicit in what is unfolding.
Muslims and Christians alike tell the same story.
"Months ago the military came, went house to house, and collected all small arms including cutlery. They collected it. We had to hide some cutlery in the bush. They want no one to have arms. So before Boko Haram came they disarmed us. They came and took it all. We had no way to defend ourselves and had to run for our lives when they came." – Dr. Francis, an Internally Displaced Person from the town of Mubi in a meeting at St. Theresa's Cathedral, Yola November 20.
Boko Haram has been active in Northern Nigeria for about five years. Their origins and ideology are contested. What is unambiguous is that they have killed thousands of Christians and Muslims, burnt churches and mosques and enslaved girls and women. Often described as Islamists, they definitely are terrorists who are opposed to modern – and not just Western – education.
The majority who have fled the Boko Haram in Adamawa State, have come to the safety of the city of Yola, where the American University of Nigeria (AUN) is located.
A town of about 300,000 now has over 400,000 internally displaced people (IDP) living in and around it. When they fled they left everything behind.
Government efforts, however, are limited. They have focused on the 10,000 or so IDPs living in camps and are taking almost no responsibility for the rest.
At AUN, along with the Adamawa Peace Initiative (API) a peace network that the university established in early 2012 and of which I am the chair, we have been desperately trying to help fill the void.
The API – whose members include religious leaders, business people and other community activists – was created to identify and support the development of vulnerable youth and adults through a series of AUN programs. We have taught and trained over 12,000 youth in Yola. But now we are focusing on feeding and housing over 207,000 IDPs.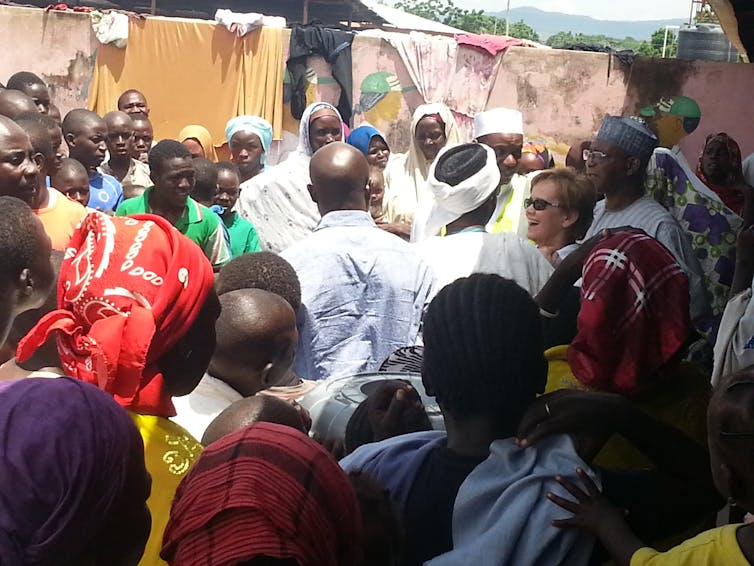 AUN students are helping in the feeding stations, the president of the student government leading the volunteer effort. That is where I, too, have have been spending much of my time, talking with the IDPs.
Over and over again, I heard the same story: the army came and disarmed the citizens months ago. But even though they had been disarmed — right down to kitchen utensils —-ordinary citizens are finding (we are not sure where) and taking up arms.
Called vigilantes by the government, these citizens and hunters are trying to defend their homes, their property and the lives of their families.
A group of these citizen soldiers helped take back the towns of Mubi and Chibok from Boko Haram in mid November. Chibok has global notoriety; it is the town where 219 schoolgirls were kidnapped in April. But, people told us, government forces immediately detained some of these so-called vigilantes insisting they had to be "screened".
In their effort to explain their failure to secure the area, the members of the Nigerian armed forces claim that the military is not properly armed and trained. Many of the IDPs, who have observed the fighting first hand, tell another story.
"In Mubi, there was not even a single gunshot. Not one iota of resistance. The military is properly armed. There were less than 70 Boko Haram. We had boots on the ground– more than 750. The military had weapons. Over 500 were sleeping and watching us run away. I know weapons– rifles, tanks, and RPGs. My father was military. I grew up in army barracks. We saw all of this. The army had the weapons. I have pictures." – Moses, a university administrator from Mubi
Many of the IDPs – Christian and Muslim – have stated publicly that the army is infiltrated; that Boko Haram takes over checkpoints that have been manned only hours before by the military.
How deep, then, is the connection between the government and Boko Haram?
"At night at the checkpoint, in the night, the soldiers melt away. Then it is manned by Boko Haram. In our last night in Mubi, we were to pass through the checkpoint. We were told by a friend in the army, 'Turn back they are not soldiers. You think they are soldiers.' We turned back and went over the mountains. One begins to wonder. What has happened to the military? Something is happening we don't understand." – IDP who does not want to be identified, November 21, 2014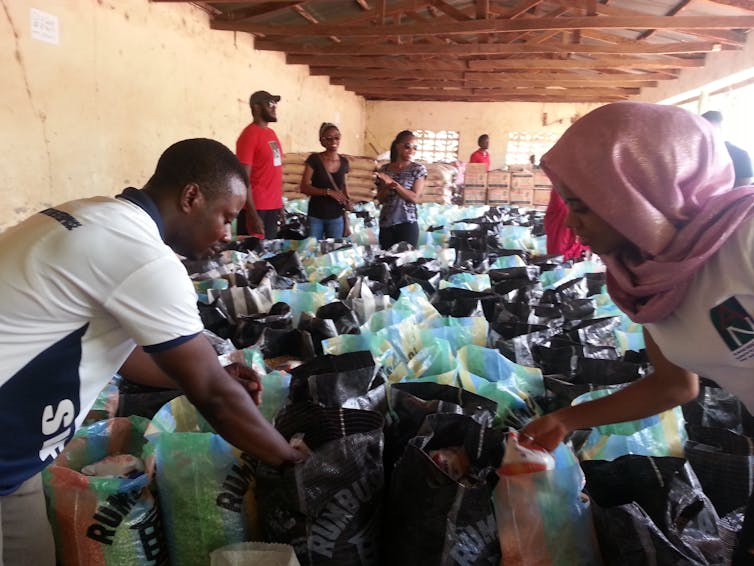 American University of Nigeria has been raising funds -— internally and externally to take care of the displaced people. We distribute the food through our Adamawa Peace Initiative members who have these people either living with them – 1500 are now living at the cathedral – or in their communities. USAID recently gave us $100,000: the money was gone in three weeks.
"I am an old woman and have nothing to eat."
She was also visibly ill as she stood with close to 3000 of her sisters in St. Theresa's Catholic Cathedral this week waiting for a food distribution from the AUN-API network.
The government may be taking care of nearly 10,000 people in the IDP camps, but this is a very small percentage of the the displaced living in Yola.
People are hungry, angry and losing hope.
" We just kept quiet. No one knew what to do. They came. When they came we had nothing. They had even taken our cutlery. What to do? Run for your life. The primary responsibility of a government is to protect lives and property. Where is the government of Nigeria; where are they?" – Alhaji Ibrahim, Muslim leader from Borno State, November 20, 2014
As Ibrahim and so many of the IDPs are asking: Where is the government of Nigeria?